Heading

Conga CPQ: Accurate, scalable quote generation that solves today's complexity
Enterprise deal-making often requires complex configurations during the quoting process and an array of unique pricing rules at a scale not even considered a few years ago. As organizations mature, that complexity only grows—and it's a significant hurdle to success for sales teams today.  
Many companies have simply outgrown their existing quote configuration and generation systems. They can't keep up with the number of moving parts during the sales process, nor can they integrate with downstream processes like contracting. The result is disjointed quote generation riddled with errors, inconsistencies, and outdated information that impacts efficiency and ultimately customer relationships. 
 
What is CPQ software?
Configure, price, quote (CPQ) software is a tool designed to empower sales teams to configure complex product offerings efficiently and accurately. CPQ automates the quoting process in a way that mimics the actions of your best sales reps, creating more consistency across your business. Pre-configured guardrails ensure teams only sell using the latest approved pricing and discounting rules. 
With CPQ, organizations can deliver personalized prices and quotes for each customer—no matter how complex your offerings may be. This streamlined approach enables you to increase sales, improve your margins, and create a better buying experience for customers.  
What are the benefits of CPQ?
CPQ tools let you take control of your entire revenue lifecycle and optimize every aspect of the revenue process. Benefits of implementing CPQ include: 
More consistent selling: Leverage the sales processes of your top sellers to increase win rates for everyone.

 

Greater efficiency: Save time and effort by automating your pricing, configuration, and approval processes.

 

Improved accuracy: Reduce the potential for human error by automatically enforcing pricing and configuration rules.

 

Standardized pricing: Eliminate rogue discounting and offer customers prices that are more likely to be accepted.

 

Better customer experience: Not only do your customers receive personalized quotes designed just for them; they're also quicker and more accurate than ever before.

 

Increased profitability: CPQ streamlines the end-to-end selling process so your sales team can close more deals, faster. 

 

   


 
Why is quote generation so difficult?
Sales teams are often stuck with legacy tools they didn't choose but have to use anyway. Meanwhile, operations leaders are apprehensive about taking on the responsibility of either building a new CPQ solution or buying, configuring, and deploying one. In the end, it seemingly always leads to: 
Profit losses due to inconsistent and inaccurate pricing and product data pulled from too many systems 

 

Quote generation software that can't handle hundreds or thousands of line items 

 

Difficult or limited configuration rules and pricing discounts 

 

Errors and process delays that create frustration and drive customers to other vendors 

 

Disconnected contracting tools that wall off sales from legal, and vice versa

 

   


 
Conga CPQ makes it easier
Conga CPQ is the only enterprise solution built around a single, common data model with the ability to easily incorporate thousands of line items, rules configurations, and discounts with stunning accuracy. With Conga, you funnel the right data, opportunities, and materials into your sales process and documents—eliminating errors and speeding up cycles.  
Conga CPQ is adaptable to your needs. Conga makes it easy to: 
Move massive amounts of pricing information contained in a manual program like Excel into a powerful, automated, accessible database 

 

Rely on one data set—no matter the size—for improved accuracy and efficiency and greater automation capabilities

 

Help sales stay within your organization's sales guidelines through built-in deal guidance 

 

Integrate with Conga's contracting solutions for a seamless, consistent flow of information from the quote process all the way through to the contract phase

 

   


 
Conga CPQ key benefits 
Conga CPQ lets you configure, price, and produce accurate quotes in a snap, even in the most complex scenarios. With Conga CPQ, you have everything you need to: 
Produce accurate quotes

 

   


Stop worrying about rogue pricing and inconsistent information. Generate full-spectrum quotes from a single source of data that pulls accurate, up-to-date product and pricing information every time. 

 

Manage complexity 

 

   


Complex product and service catalogs don't have to be a sticking point. Manage unlimited product complexity with flexible pricing rules and nested product and option bundles you can easily configure to fit your needs. 

 

Scale sales activity 

 

   


Increasing the number of products and rule types used to overwhelm your team. Easily scale sales activity to accommodate thousands of line items, products and services, rule types, and discounts—whether geographic or market-driven—with an outstanding level of accuracy. 

 

Gain visibility and insight 

 

   


Understanding who purchased what and which discounts apply can be a challenge. Get visibility into all customer contracts throughout the cycle—from quote to contract to renewal—to gain the right insight and boost accuracy. 

 

Close deals faster 

 

   


No more slow or confusing approval processes that take too long. Speed up sales cycles with built-in eSign capabilities and automated sales guidance that lets sales teams know exactly when they need discount approval. 

 

Reduce revenue leakage 

 

   


Delays, slowdowns, and errors hurt revenue and frustrate customers. Increase your sales process efficiency, accuracy, and velocity to quickly create quotes with confidence and achieve higher win rates.

 

   


 
Real outcomes from Conga CPQ customers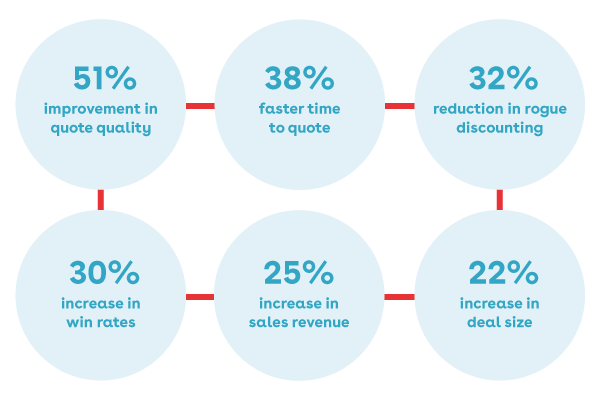 7680_Conga-CPQ-SS-Graphics-1.png

 "With the foundational capabilities implemented with Conga CPQ, Extreme Networks is now able to make giant leaps forward in the handling of its service and subscription business, knowing the underlying system can support our future growth needs." 
— Bob Rosa | Sr. VP of Global Services | Extreme Networks 
"Choosing Conga CPQ to help us streamline our quoting processes has helped sharpen our competitive position, drive continued sales excellence, and enhance the customer experience. Conga CPQ enables our sales team to provide complex quotes faster and more accurately, improving productivity." 
— David Bibby | Global Digital Services | Finning International 
 "Conga is key to managing our quote-to-cash process for our subscription-based business to deliver a better customer experience critical to maintaining and growing revenue." 
— Jim Steele | President & Chief Customer Officer | InsideSales.com 
 
Get started with Conga CPQ
With the right CPQ solution, you can save your business time and money while improving overall customer satisfaction. Read more about Conga CPQ and how it drives more profitable sales through accurate, efficient quoting and pricing—then get a demo to see Conga CPQ in action. 
Download Card
Subheading
Make quote generation easier and close deals faster