Going from zero to hero
Eliminate the legal bottleneck in your contracting process and speed up contract creation, redlining, and approvals, all while ensuring contract compliance. Your sales team will love you!  
Featured use cases 
Master Services Agreements (MSAs)

Improve control of high-transaction processes like negotiations, amendments, and other sources of contract risk. Manage contractual obligations and drive efficiency with intelligent discovery and smart search.

Non-Disclosure Agreements (NDAs) 

Quickly generate and send NDAs for signature that protect your business and accelerate safe information sharing between parties.

Clause management

Reduce legal involvement in standard contracts with pre-approved terms stored in clause library.

Outsourcing agreements 

Ensure faster and frictionless outsourcing agreements with automation while managing business and compliance risk with standardization.

Vendor contracts

Automate the vendor contract process with document generation, collaboration, workflows, and a central agreement repository. 
Document automation not only saves us valuable time but ensures we can serve and reach more customers effectively...Through document automation, we can ensure the customer gets the information they need as quickly as possible.

James Nash

Product Owner

Oodle Car Finance

Before Conga CLM, the only way we could find information was by pulling all contracts and assigning lawyers—internal or external—to review them for specific terms. This costly process would take a day or more to find what we needed.

Steve Prisco

Associate General Counsel

Aramark

Working with Conga as our only contract management solution, we'll be able to manage fewer templates and create a truly one-stop portal for self-service contracts.

Marie Pilon

Contract and Legal Operations Analyst

Adobe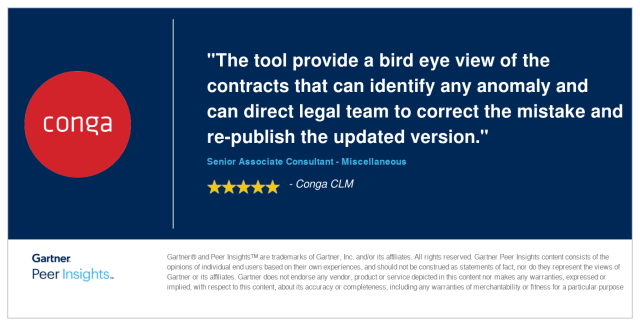 Decrease in time needed to create and execute complex contracts
Increase in contract volume
Increase in speed of contract reporting
Increase in contract transparency and user adoption
Stats provided by Conga customers