Legal compliance and obligation management: why contract intelligence for Legal is so important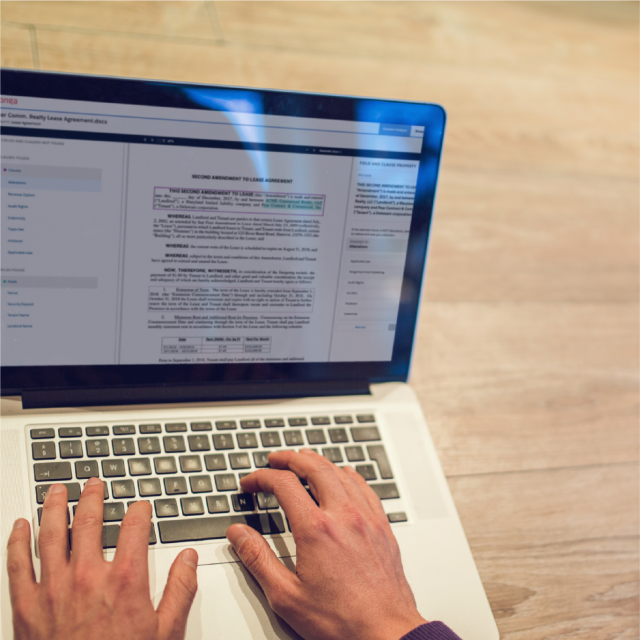 For regulated industries such as financial services and healthcare, it seems like the rules and regulations are constantly changing.  From healthcare reform to tariffs, the effects on the financial and healthcare industries are not only vast but unforeseeable. This revolving door of policy requires a structured environment to ensure accountability and accuracy throughout every step of the contract lifecycle.  
A sophisticated contract lifecycle management (CLM) system is a legal team's best friend and plays an important role in any organization's risk management strategy.  
Risks in the contracting process  
Risk is part of every contractual agreement, but the purpose of risk management is to mitigate as much of this risk as possible. The coronavirus (COVID-19) pandemic has only further underscored the need for transparency, visibility, and online collaboration when it comes to contracts.  
Now, companies need to do more than offer unique products and services to stay competitive. To thrive in the current climate, organizations need to extract maximum value, productivity, and performance throughout the entire revenue lifecycle all while ensuring compliance for their safety. 
Some of the risk factors many industries face include unauthorized access to contracts, lack of contract compliance and governance, broken contractual obligations, and missed renewal and expiration dates.  
Here are four critical risks a company could face unless equipped with the right CLM technology: 
Compliance failure. While it's never good to be in non-compliance with relevant laws and rules, it's even worse when the situation could have been avoided. Without a sophisticated CLM system, a business can fail to comply simply because they don't know which regulations apply to your contracts or they are unable to perform required audits. 
Data leaks. Without a single secure contract repository, information is likely dispersed, managed inconsistently, and used ineffectively. Sensitive information can fall into the wrong hands—whether through malicious acts or simple oversight—leading to possible regulatory issues and other risks. 
Business interruption. Without the right CLM system, companies are at significant risk of breakdowns that could shut down the whole business, damage reputations, or cause loss of revenue. Well-managed contracts ensure a seamless process for the legal team to avoid risk and ensure policy compliance. 
Talent deficiency. Using outdated processes and technology for procurement puts organizations at a disadvantage. Most legal teams spend their time driven primarily by risk avoidance. It's not a flaw—it's required to do the job well! An unfortunate side effect? This mindset doesn't lend itself well to innovation. The opposite is also true. Innovators sometimes don't worry enough or have the time to mitigate risk. This is where contract intelligence technology steps in, allowing every team to thrive. 
Common contract challenges 
When it comes to contracts, many organizations face the same challenges. Some of these include: 
Poor contract visibility which leads to missed renewals and obligations  
No contract process compliance which creates business and legal risk   
Risk exposure caused by non-standard contract language   
Inability to standardize 3rd party contracts into the process creates gaps in data  
Lack of data cleanliness and education around why data and metrics are important 
Any of these sound familiar? You're not alone. 
Paper, spreadsheets, and risks—oh my 
Businesses that currently use hard-copy paper contracts to do business face a daunting landscape filled with possibilities for risk in their contracts. Manually creating, amending, updating, approving, and managing contracts is not only time-consuming but also prone to human error. The manual process is especially cumbersome for managing auto-renewals on cost-generating contracts.  
In some instances, like the case of INRIX, corporate counsel kept a spreadsheet of auto-renewal dates, manually updating it each month, and chasing down the business development team for decisions on each renewal. To make matters more complicated, their physical paper contracts and documents were stored in a variety of places including corporate headquarters and regional offices. 
It was clear that INRIX needed a more robust and reliable solution and that's where Conga stepped in. Our unique, cutting-edge contract intelligence AI and self-service tools provide INRIX teams with accurate, actionable data insights in minutes. 
How contract analysis with Conga Contract Intelligence (CCI) can help meet legal compliance and obligations 
With Conga CLM, we've got you covered with end-to-end contract intelligence. Our holistic solution unlocks the unknown in your contract data to optimize ROI and capture revenue at every opportunity. 
More and more companies are realizing that crushing the complexity of revenue management starts with automating systems across the board. From removing risky contract language and updating renewals to expediting processes and approval cycles, legal teams are key partners in saving, recouping, and generating revenue. However, currently, only 20% of legal teams say they're leveraging tools to automate routine tasks. 
Regulations and compliance laws require clauses, terms, and obligations to be standardized, updated, and included in all documentation and processes. If there's no centralized and templated system for teams to intelligently search for, update, and reuse clauses and other legal language, it's nearly impossible to mitigate risk and reduce liability.  
Legal teams are charged with scrutinizing every deal and transaction to ensure compliance, from proposals and negotiations to renewals and beyond. With contract intelligence, organizations that deal with large volumes of legal agreements are able to significantly reduce their document processing costs and meet critical deadlines, all while quickly obtaining valuable insights into the information hidden in their contracts. This solution helps better assess risks and liabilities, compare sensitive clauses, standardize legal framework, and prepare an organization's balance sheet.   
Contract intelligence offers: 
Standardized workflows, negotiations, approvals, and amendments to minimize risk   
Search and discovery capabilities help manage contractual obligations  
Ingestion of 3rd party paper with AI and machine learning enhances visibility and consistency   
Standard clause and term libraries  
CCI is a powerhouse for legal teams, extracting commercial terms and transforming them into verified data that drives business performance. 
Conga CLM works hard for your legal team 
CLM allows you to own the entire contract process from creation to renewal and enjoy the many benefits of having one unified system—not several fragmented ones. Managing your organization's deals and contracts is hard work—not to mention all the associated data. With Conga CLM, your legal team can accomplish more in less time and with less exposure to risk. Conga CLM users see: 
45% increase in contract accuracy   
43% increase in compliance   
42% faster contract processing   
CLM software offers a shared, centralized platform so that teams can simultaneously review, negotiate, and redline agreements at peak efficiency.  
Make it easy to streamline negotiation and approval processes, track renewal opportunities, and avoid risky terms and clauses with the power of contract intelligence and CLM.  
By automating and streamlining every aspect of the contract lifecycle, you can set your legal team and entire organization up for success while dramatically reducing risk. Is your business doing everything it can to minimize risk and drive contract transparency?  
Learn more about risk management and the power of metrics for the legal team.