CLM
Industry insights
Guides
Ultimate guide to contract management
Effective contract lifecycle management (CLM) helps businesses manage contracts more effectively to increase efficiency, streamline sales, and reduce risk. 
Consider that contracts govern over 80% of transactions and value in an average organization. That means it's essential to get contract management right.
Download the Ultimate guide to contract management to learn more about how effective contract management can help you streamline processes, maximize deal values, and reduce risk.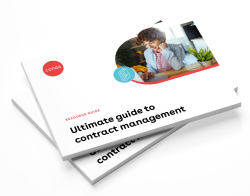 Get the guide