Confidently configure, price, and quote
Conga CPQ is a critical component of Conga Revenue Lifecycle Cloud, a set of unified products built on Conga Platform that enable you to crush your unique revenue lifecycle complexities and increase revenue certainty. Conga's open, flexible, and high-performance solution unifies, automates, and standardizes revenue processes across all teams to maximize customer lifetime value.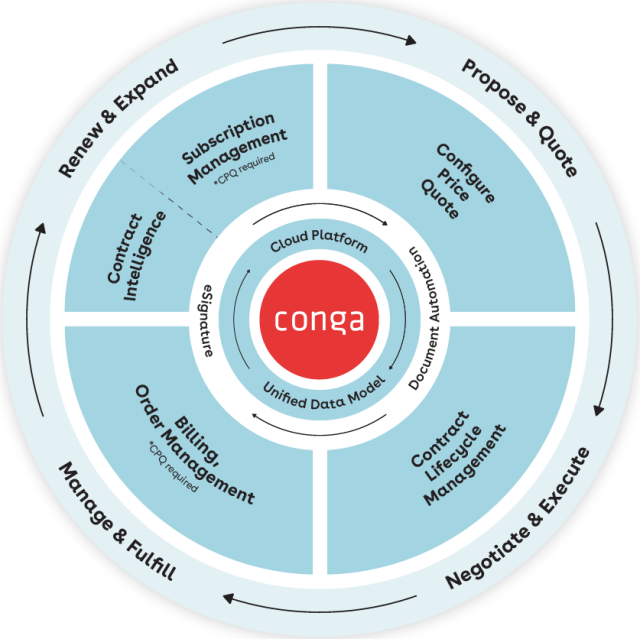 Conga CPQ features
Offer the right product 

Conga CPQ enables users to quickly search and select products and services, allowing for accurate configuration regardless of your product complexity.

Pricing that gets results 

Utilize advanced pricing to set up multiple price types, to generate dimensional and formula pricing, and to leverage pre-negotiated and contracted pricing

Collaborate on complex quotes 

Conga CPQ enables collaboration between teams, allowing them to share data to help configure pricing and to expedite the quote—without compromising on quality.

Manage the QTC process 

Conga CPQ is the only CPQ solution that is part of an overall Conga Commerce platform, supporting quote and proposal generation as well as the entire contract process.

Build trust 

Configure complex products and services, deliver accurate quotes, and create smarter deals with the most up-to-date information in a smooth, error-free process.
Automated quote-to-cash (QTC) processes
Reduction in rogue discounting
Increase in overall deal size
Increase in sales revenue
Statistics provided by Conga customers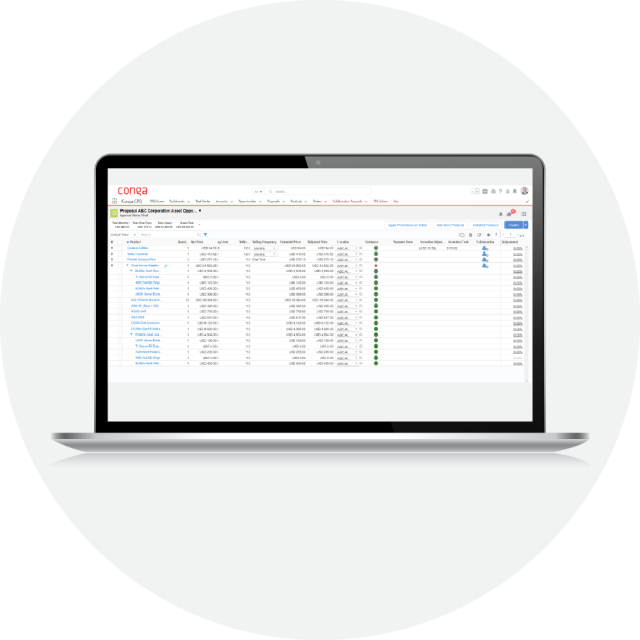 The trusted solution for CPQ 
The right CPQ solution can transform revenue lifecycle processes—but choosing a partner is no small task. Conga CPQ offers superior performance at scale and supports complex solution selling, with the flexibility to integrate with the tools you already use. See how Conga CPQ stacks up against the competition. 
We've achieved great business outcomes from our adoption of Conga's solutions. I'm very impressed with the benefits we've seen across our sales, executive management, and legal teams.

Daniel Feichas

Business Development, Services & Support

Embraer

This is about our customers, partners, and associates. Getting customers accurate quotes and contracts faster, and empowering our partners to do the same, is something we can easily champion.

We needed something that's nimble, agile, and best in breed. After assessing all the vendors, we felt Conga CPQ was by far the best enterprise order capture solution—it would enable a seamless experience for our sales team while automating much of the quote process.

Craig Eiter

Vice President of Sales Enablement

Thomson Reuters
customer success
End-to-end support with Conga CPQ 
With support from Conga Services, Conga Community, and our technical team, we're able to support our customers and to solve any Conga CPQ questions that come up along the way.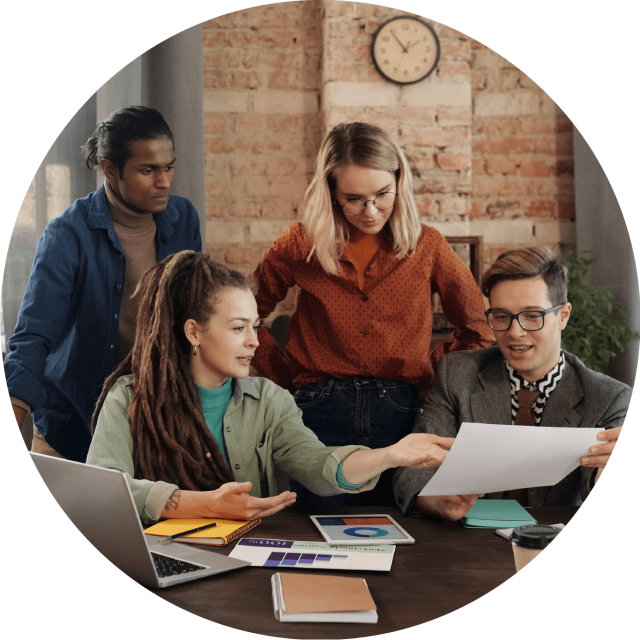 Conga CPQ plays well with others.
Conga's products are purpose-built to work together seamlessly, so you can automate and streamline commercial operations end-to-end.