What is CPQ? Definition, top considerations, and more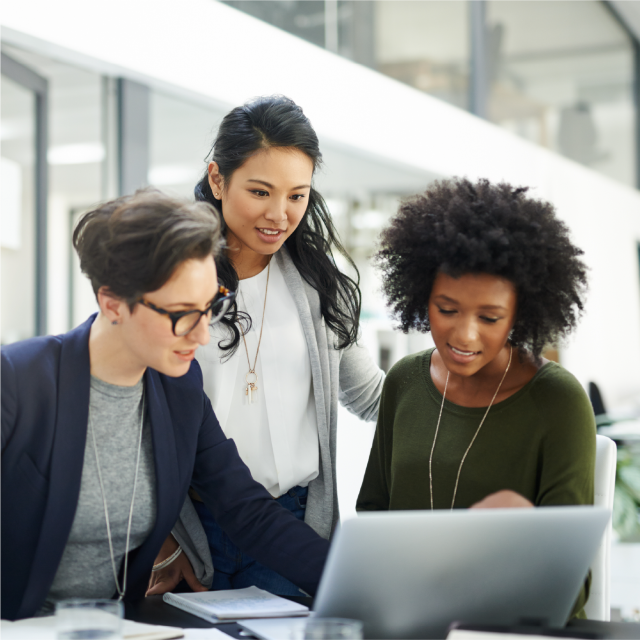 What is CPQ? 
Configure, price, quote (CPQ) software is a tool designed to empower sales, partners, and customers to configure complex products and offerings with efficiency and accuracy. CPQ allows organizations to provide personalized prices and quotes for each customer using codified product and pricing information. This expedited process gives sales teams a chance to boost their win rates and create a better buying experience for their customers.  
For most complex quote configurations, CPQ boosts effectiveness by giving sales the power to create the best quotes possible with accuracy and speed. CPQ software puts everything they need at their fingertips by aligning your revenue lifecycle from stage one. Complex product, pricing, and business rules are centralized and automated for real-time collaboration. Sales can maintain one price book, discounting structure, and quoting process across all channels.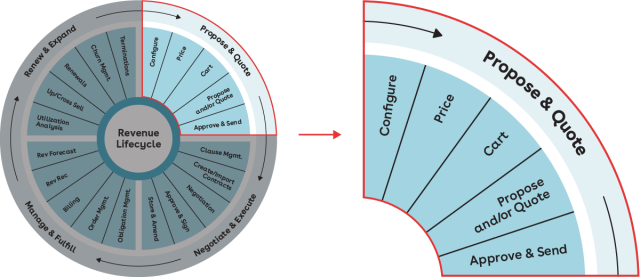 How does CPQ work? 
CPQ allows you to automate the entire revenue lifecycle by enforcing processes that mimic the actions of your best sales reps, driving faster and more accurate quotes at the optimal price. A better quoting process allows you to establish consistency across your business. Pre-configured guardrails ensure teams only sell using the latest approved pricing and discounting rules. These guardrails allow approvals to move along quickly without delaying your deals. 
For organizations selling complex offerings, CPQ helps automate the processes required to sell these solutions. CPQ automation enables you to increase sales and improve your margins—creating a more efficient and profitable sales process. 
Processes that can be automated by CPQ include: 
Ensuring sales reps use the correct product configurations with guided selling tools  
Determining optimal pricing for each component, including contracted prices  
Obtaining required approvals 
Finding upsell or cross-sell opportunities 
Providing an offer for the customer in hours rather than days, with a higher probability of closing the deal 
Core CPQ functionality 
CPQ identifies the ideal combination of products and services for each customer. The three core areas of CPQ each accomplish a different goal in the proposal and quoting process. 
Configure 
Within a configuration engine, CPQ solutions give you:  
Rule-based configurations 
Guided selling and deal scoring  
Nested bundles 
A nested bundle lets users select from a subset of options within a single product option. 
Product search catalog  
Cross-sell and upsell insights 
Price 
The pricing function within the CPQ tool contains: 
Discounting guardrails 
Simplified solution selling 
Assign pricing rules at the line level, allowing you to combine one-time, subscription, usage-based, and more to enable selling subscriptions, services, and products on the same quote. 
Promotion management 
Automated subscription management  
Quote 
To generate quotes, a CPQ tool provides: 
Quote collaboration capabilities  
Approval workflows 
Control margin erosion or rogue product discounting by creating advanced approval features based on criteria that your organization is trying to manage 
Quote templates and generation 
Why is CPQ used? 
The different capabilities of CPQ tools are clear, but what leads a company to bring this software into their business? You can take control of your entire revenue lifecycle with the integration capabilities of a modern CPQ tool. Organizations use CPQ for process optimization, including: 
Guided selling: Leverage the sales processes of your top sellers to increase win rates across all sellers. 
Standardized pricing: Eliminate rogue discounting and offer customers prices that are more likely to be accepted. 
Simplify selling of complex products: Codified, rules-based configuration simplifies the selling of complex products while offering insights into optional features and services. 
Quote collaboration: Collaborate on quote configuration in parallel with team members, expediting quote delivery.  
Approval management: Control margin erosion or rogue discounting by creating advanced approval triggers. 
Proposal generation: Create stunning proposal templates using Microsoft Word, without using technical resources or involving the programming team. 
Proposal tracking: Keep tabs on proposal emails to know when they're opened.  
Contract integration and eSignature: Quickly generate a contract that can be managed and signed to complete the revenue lifecycle. 
What are the benefits of CPQ? 
CPQ software allows you to improve selling efficiencies by automating a large part of the revenue lifecycle—improving win rates and driving higher margins. With CPQ, you can provide faster, more accurate quotes to prospects. Not to mention, you can create a better buying experience for both the buyer and the seller, regardless of the selling channel. 
Some overarching benefits of a CPQ tool include: 
Guided selling and deal scoring to increase win rates 
Improved accuracy of selling items using codified, rules-based configurations—regardless of product complexity 
Quotes delivered at unprecedented speeds  
Improved margins and win rates using robust pricing and promotions set up for contracted pricing to promote a better user experience 
Faster generation of quotes and proposals with cross-team collaboration, expediting the quote without compromising on quality 
Increased deal sizes with cross-sell and upsell insights, including full contract visibility 
Reduced SKU proliferation, allowing a single item to be sold as an item or as a subscription—reducing the need to create multiple SKUs for different product types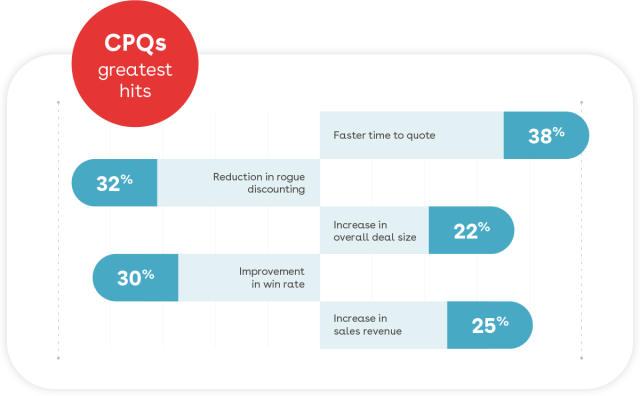 Benefits by team 
Sales: CPQ software allows sales teams and leaders to accelerate deal cycles, increase win rates, and provide a better buying experience for customers. With automation, productivity and accuracy can increase dramatically, leaving more time to close deals. Proposals can be quickly guided through an accelerated deal cycle, considering best practices from top sellers in the company. 
Operations: CPQ can automate selling processes that improve the sales cycle while preventing rogue discounting and faulty configurations. With these guardrails, operations can increase efficiency and margins by dramatically shortening quote delivery times, minimizing rogue discounting, and incorporating company policies across the entire revenue lifecycle. 
Marketing: CPQ makes it easier for B2B customers to buy through self-service portals that offer guided selling and pricing optimization. Marketing account managers can take advantage of the upsell and cross-sell suggestions from CPQ, streamlining the buying journey and garnering higher customer loyalty. 
Benefits to the customer 
Did you know that up to 50% of sales wins go to the vendor that responds first? Increased quote accuracy reduces the back-and-forth between sales and customers, so customers receive their quotes faster. A consistent customer experience can also lead to higher retention rates, not to mention more cross-sell and upsell opportunities.  
Does my organization need a CPQ tool? 
Ask yourself these questions to determine if CPQ software could benefit your business: 
Are you configuring complex products? 
Do you need pricing and discount control? 
Does your company struggle with manual errors or out-of-date product and pricing information? 
Are quotes taking too long to present to the customer? 
Does your sales team fail to take advantage of cross-sell and upsell opportunities? 
Are you selling configured products and services using a single quote? 
Is there a lack of visibility into your sales process? 
These common problems are where CPQ thrives. CPQ software can have an immediate effect on revenue growth and customer experience (not to mention sales rep satisfaction). If your company suffers from any of the problems above, it might be time to consider the benefits of a CPQ tool for your organization.  
Need more evidence? These examples demonstrate the impact of CPQ in specific industry settings. 
Manufacturing 
CPQ supports sales cycles that handle orders with unlimited product and service complexity. Quote collaboration allows for a quick turnaround of even the most complex configurations. The tool also provides cart support for thousands of order lines, allowing organizations to improve contract pricing and intelligent discounting.  
Manufacturing use cases for CPQ include: 
Guided selling of products and services with unlimited complexity 
Support for large orders with thousands of lines 
Self-service access with rules-based configuration 
Templated proposal generation 
Quote collaboration supporting multiple teams 
Price optimization that supports contracted agreements  
Technology 
Tech companies can use CPQ to manage unlimited product complexity, including nested bundles with multiple or complex attribution layers. CPQ allows these organizations to maximize margins, validate configurations, and generate profitability insights through rule constraints and pricing intelligence. 
Use cases for technology organizations include: 
Guided selling with rules-based configuration 
Optimized pricing and promotions 
Subscription-based order management 
Project and maintenance contracts  
Dynamic cross-sell and upsell suggestions 
Multi-channel functionality and communication  
Organizations with general complexity 
For businesses selling complex offerings, CPQ supports the entire revenue lifecycle by combining and automating the necessary processes needed to make the sale. Efficiencies can be improved with guided selling, rules-based configurations, optimized pricing, templated proposal generation, and automated contract generation.  
Use cases for complex organizations include: 
Guided configuration of complex products and services 
Optimized pricing 
Templated proposal generation 
Support for the entire revenue lifecycle   
What makes Conga CPQ different? 
Not only does Conga CPQ provide all benefits listed above, but it also works well with other tools to create a full revenue lifecycle solution. With an end-to-end solution, your pipeline, orders, invoices, and contracts always match because they all draw from the same data source.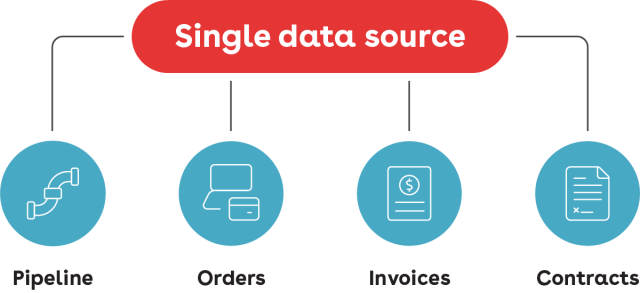 Our CPQ tool integrates seamlessly with these Conga solutions: 
Conga Digital Commerce: Customers, partners, and sales reps can place orders (or request and present quotes) through a single digital commerce platform, providing a unified and personalized B2B buying and selling experience. 
Conga CLM: Tackle the complexity of customer agreements with an end-to-end contract lifecycle management solution built within Salesforce. Automate highly complex contracting processes that span geographies, multiple departments, and both buy- and sell-side contracts 

Conga Order Management: Get a single source of truth for the entire order lifecycle, including the order release to multiple fulfillment systems. Combined with CPQ, Order Management enables a seamless flow across the entire revenue lifecycle. 

Conga Billing: Automate billing and invoicing management for your entire organization. Bill for blended business models, including subscription services, physical goods, professional services, and usage-based or consumption-based services. 
Conga CPQ empowers organizations, partners, and customers to efficiently configure complex products and services offerings. With Conga CPQ, you can provide personalized prices and quotes using the most relevant product and pricing information—ensuring higher win rates and a more pleasurable buying experience.