Conga + Apttus: The all-new Conga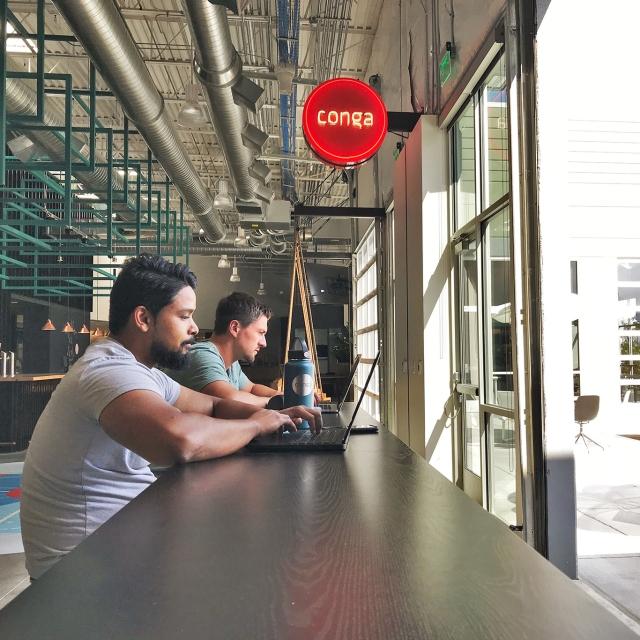 Today is a monumental day for Conga. We announced that Apttus and Conga are joining together, combining our companies to help businesses on their digital transformation journey as they evolve operations, streamline workflows, and create and deliver digital documents, quotes, and contracts more effectively. 
When you look back, Conga was founded to prove what was possible in the digital documents space. People were looking for a way to digitize their data into compelling digital documents; along with the way they managed those business processes and documents. Conga answered by launching a document generation solution—Conga Composer. From there, we hit a stride and never stopped. We experienced a phase of explosive growth in 2016, because in order to help even more businesses with their Digital Document Transformation, we needed to continue to innovate and invest in our people and infrastructure. 
Today, that growth is compounded. Together, Apttus and Conga are committed to improving how people do business at a much larger scale with additional resources to deliver on that promise. As two customer-first organizations, Apttus and Conga both put the success of their customers front and center. Combined, the company is relentlessly focused on helping customers achieve digital transformation so they can work at the speed of their customers.
Our companies combining comes at a unique time. It's a time when many are stepping away from opportunities like this. But in reality, we believe this is the perfect time, now more than ever, as businesses need digital transformation to keep moving forward. For example, the manual processes that were once conducted in-person and in-office came to an abrupt halt when the pandemic hit and we found ourselves limiting face-to-face contact and working from home. While we'll all head back to our offices, the need for digital transformation has catapulted us from an aspiration, to a non-negotiable requirement. That's where we step in. Together, we offer the most robust solution for digital document, process, and commercial excellence transformation. 
As we look to the future, there are a few things that will remain constant. First, as we looked at the two companies, it was clear that we have two customer-success focused cultures with core values that mirror each other as guideposts. Those values will remain central to how we continue to operate. Second, you'll continue to see the Conga name. As a combined company, we'll operate as Conga. Third, you'll experience the same commitment to innovation and a high level of dedication from our team. The five-star customer service you've come to know and love will remain unchanged. Fourth, there is a team here dedicated to your success. The only difference? The team that's here to help is now much bigger.
Moving forward, I'm extremely proud to join Conga's Board as Frank Holland, CEO of Apttus, helms the all-new Conga as CEO. Our leadership team will include executives from both Apttus and Conga.  
To the customers, partners, prospects, and employees who have been a part of our journey so far, thank you for your support. We couldn't have done it without you. I'm incredibly grateful to continue on the journey, one that I believe is really just getting started. 
Today, I'll sign off the same way I do every internal employee email.
Go Conga!
Matthew J. Schiltz
Board Member, Conga