How Conga is choosing to challenge gender bias and inequality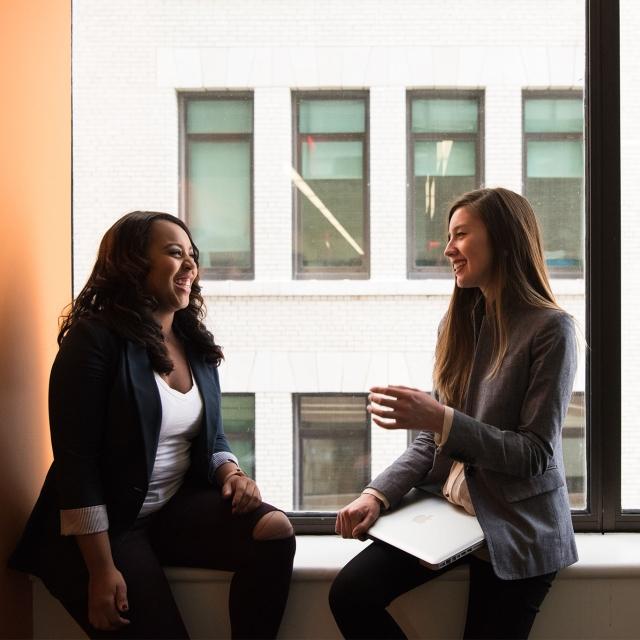 In a year characterized by crises, change, and uncertainty, companies around the world have faced unprecedented challenges and tough decisions. But in facing these challenges and uncertainty, organizations have an opportunity to show their true values in how they choose to react and overcome. As our CEO Noel Goggin said, "crisis doesn't create character, it actually reveals character." On the other side of 2020, but still very much facing some of the same challenges we saw come to light last year, it's time to ask ourselves: what did the year reveal about our organizations? And how will we respond going forward? 
The challenge for working women 
While the events of 2020 certainly affected everyone, and completely changed the way we work, the pandemic intensified the challenges that women already faced. Even as women have advanced and the notion of working mothers is now commonplace, working mothers still face inequity when it comes to balancing work with childcare and household tasks. And while many relied on the support they received from school and childcare, at least during the working hours, those supports were ripped away due to the pandemic, leaving working mothers to balance it all at the same time. 
According to McKinsey and Company, "women—especially women of color—are more likely to have been laid off or furloughed during the COVID-19 crisis, stalling their careers and jeopardizing their financial security." And for those who weren't laid off, more than one in four women are contemplating putting their careers on hold or leaving the workforce completely in order to do what they feel is best for their families. 
For corporate America, this leaves a bleak outlook for the future of the workforce. Companies risk losing the bright minds of women leaders, and future women leaders, and face taking huge steps backward in the fight for gender diversity and equality. So companies are faced with a decision: how will they react to this crisis, and work to ensure the women they employ feel supported, and like they are afforded opportunities equal to those of their male colleagues? 
The Conga Way—celebrating and supporting the women on our team 
The Conga Way is a framework for what we stand for and everything we do as an organization. Part of living the Conga Way is celebrating diversity—including gender diversity. In honor of International Women's Day, and as a larger effort to celebrate women's achievements and to challenge gender inequality, we organized a series of events and supporting resources that were open to all Conga employees throughout the week and beyond.  
On the actual day, March 8th, we hosted a women leaders panel, three networking and discussion groups focused on specific topics and issues, and a live Q&A session.  
To kick off the day, our VP of Demand Generation, Esther Flammer, led the discussion on imposter syndrome, and how it affects women. An estimated 70% of people experience impostor syndrome at some point in their lives, which is the feeling of doubting your abilities or accomplishments and feeling like a fraud. The group discussed how women have been uniquely affected by imposter syndrome, and shared  actionable ideas on how to overcome it. 
"It's so important to continue to be vulnerable and share our stories with each other," said Esther. "With how pervasive imposter syndrome is, it's important to know you're not alone in those feelings of hesitation or doubt and to encourage and celebrate each other along the way. Let's make an effort to discuss these types of issues and celebrate women on more than just one day a year for International Women's Day, and ensure that we are making this type of dialogue the norm in our organization and in our day-to-day lives." 
Britta Stilwell, Executive Assistant to the CFO, led the discussion group on self-advocacy. In the session description, she stated: "As women, we're fantastic at advocating for our friends, coworkers, employees, and children. So why don't most of us naturally advocate for ourselves?" The group chatted about why women often stay silent, discussed situations in which women should practice self-advocacy, and explored how to practically go about speaking up for what women need. 
"One of the best ways I've found to push myself into self-advocacy is being my own 'hype girl' and trying to follow the advice I would give a friend in my own situation," said Britta. "Figure out what you want, know that you deserve it, make a plan, and then speak up!" 
Finally, our Senior Director of Corporate Marketing, Stephanie Capouch, led the discussion on working with mentors. According to HBR, "The research on the power of mentorship is pretty clear: People with mentors perform better, advance in their careers faster, and even experience more work-life satisfaction. And mentors benefit, too. After all, 'to teach is to learn twice.'" The discussion explored how to engage with a mentor and how to benefit from the relationship. 
We also hosted a live Q&A on improving leadership effectiveness, hosted by David Simpson of Table Group. In the session, David drew on his 20+ years of experience to address the participants' questions about leadership. Attendees learned about developing their own leadership competencies, managing and supporting women's career growth, and more. 
Women leaders panel 
Our leaders panel was led by Conga's Digital Transformation Officer, Ash Finnegan. While every woman's leadership journey is different, they often share common experiences. Ash sat down with four of our senior women leaders to discuss the challenges they've faced and how they balance their career with the other demands in their lives. According to Ash, "it's important to build a culture that's a safe place to ask questions, to learn, and to challenge or be challenged—every business needs this dynamic in order to grow." Here are some highlights from the panel: 
Chetna Mahajan, VP of Business Applications, on her management style: "I've found it best to lead with empathy, and to ensure I'm empowering my team to succeed." 
Natasha Koledin, VP of Education Services, on the best advice she's received, and then put into practice: "I run my life on lists, and I break them down into the 'three Ds'—do, delegate, and defer. What do I need to get done? ('do' list) What can be delegated—what can I empower someone else to do? ('delegate' list) What isn't important to get done today? Is it a nice to have—can it be done in the background? ('defer' list)" 
Regina Ocwieja, VP of Software Engineering, on how to prioritize your time: "You have to learn to own the decisions that you make. Revisit the ways you manage your time, and know that you're making conscious choices in how you balance your time. Look at the small language choices [you use in your messages] that can make a big impact on the team." 
Sarah Bennett, VP of Sales Operations, on the best advice she's received and put into practice: "You don't know until you ask—it goes for everything. Do you want to change things within your role, within your team? The worst thing that can happen is someone says no. But if you have a vision, put it out there and explain it, and hopefully other people will see it as well." 
Fighting gender bias 
Later in the week, we hosted a webinar on "50 ways to fight gender bias." The session was led by Laurie Morse-Dell, a National Diversity Council Certified Diversity Professional, and the founder of Lean In Michigan, a peer mentorship community working to create an equal world through programs that counter gender stereotypes. 
Laurie discussed how gender bias can be deliberate or unconscious, but can hold women back in the workplace in either scenario, and companies that don't address it make it difficult to level the playing field. The webinar explored specific examples of the six most common biases women face in the workplace, and offered research-backed recommendations for what to do when women (and men!) encounter a bias. 
Incorporating inclusivity into our everyday 
To close out the month, we're hosting our first book club, covering the book, How Remarkable Women Lead. All who wish to participate have been asked to order the book (to be reimbursed by Conga), and will then participate in a regional discussion on March 31st. 
We've also put together an internal microsite available to the entire Conga team with additional resources, articles, and ways to give back and volunteer. We'll continue to add to these resources as we challenge gender bias and inequality through living the Conga Way.