Why Conga? 
Conga crushes complexity within an increasingly complex world. With our revenue lifecycle management solution, we transform your unique complexities for order configuration, execution, fulfillment, and contract renewal processes with a single critical insights data model that adapts to ever-changing business requirements and aligns the understanding and efforts of every team. 
Living the Conga Way 
Our approach is grounded in the Conga Way, a framework for what we stand for and everything we do as an organization — from hiring to decision making and product development. 
Developed with direct input from our colleagues, the Conga Way is the foundation for our culture.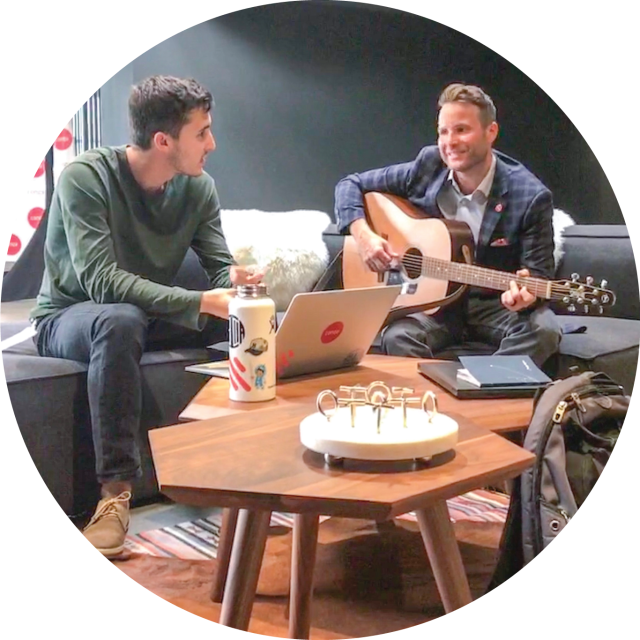 A foundation for a strong culture 
Three-pronged, the Conga Way framework is reflected in an entrepreneurial spirit and our ability to achieve together and champion our customers.  
These values are both operational and aspirational, helping to guide colleague behaviors both inside and outside of Conga.
Pillars of the Conga Way

Entrepreneurial spirit

We work hard with a sense of urgency, perseverance, and grit. 
We're agile and seek to inspire others. 
We're smart and we like to have fun. 
We innovate. 
We're curious and open to new ideas and ways of doing things. 
We think differently. 

Achieve together

We follow the Platinum Rule, treating others as they'd like to be treated. 
We prize teamwork and peer accountability. 
We're global and we celebrate diversity. 
We continuously improve by learning from colleagues, partners, and customers. 
We foster belonging and equality. 
We operate with a servant's heart. 
We're humble and collaborative. 

Champion the customer

As agents of change, we drive digital transformation and business impact. 
We're easy to do business with. 
Our products and services are fit for purpose, easy to adopt, and provide speed to value. 
We grow customer loyalty and advocacy via our ecosystem and with partners. 

A legacy of "customer first"

Putting culture at the forefront

Conga has a deep-rooted legacy of putting customers first and, by affirming the Conga Way, we've renewed this commitment. 

Living the Conga Way is a worthwhile endeavor, because culture is central to any successful organization. "When you define your culture and put real energy into focusing on colleagues and customers," said CEO Noel Goggin, "an excellent entity results." 

We succeed when our customers win

Our solutions enable success, and recent accolades reflect why businesses choose Conga to solve their problems:

Leader in the 2021 Gartner Magic Quadrant for Contract Lifecycle Management Applications
2020 Leader in both workflow automation and digital transaction management by Aragon Research Globe

As the global leader in Commercial and Revenue Operations transformation, Conga's technology services, and support can help you elevate your business and drive meaningful change.

Growth equals opportunity

Join the Conga team

At Conga, you can make an impact from day one and grow in ways you never thought possible. You'll have the chance to help build a culture grounded in meaningful values, one where our colleagues and their experience matter. 

There's nothing but opportunity ahead—learn more about working at Conga and join us!
Conga Spotlight
Conga Aspire
Embracing the Conga Way
In a first for our company, Conganeers from across the organization—beyond just Sales—were selected to participate in Conga's annual sales club event. No typical sales trip, Aspire is a way to come together, make lifelong memories, and celebrate the Conga Way.
In addition to those who qualified by meeting or exceeding a sales quota, non-Sales colleagues were selected to participate based on their performance and for embodying the qualities of the Conga Way: achieving together, championing the customer, and embracing an entrepreneurial spirit.
The event took place at the breathtaking Four Seasons Resort in Punta Mita, Mexico, and each attendee was invited to bring a guest. Event highlights included a reward reception, time to relax on pristine beaches, and group fun that strengthened working relationships in ways that a typical day at the office can't do.
Because Conganeers care about giving back, CEO Noel Goggin designed a community service activity as part of the program in Punta Mita. Colleagues spent a day repainting and fixing up a local primary school so that, when students returned in the fall, their classrooms and grounds would be beautiful, clean, and ready to receive them.
An unforgettable experience, Aspire demonstrates how much the company values those who live the Conga Way and is an event to which every Conganeer can aspire.
Innovation, expertise, and implementation success
11,000+

Global customers

+

$190K

Conga Cares charitable donations

+

10 yrs

Most downloaded app

+

9 out of 10

Customers renew

+
Globally available
We're here for our customers when they need us most. Conga's global teams support customers across more than 85 countries—any day, any time.