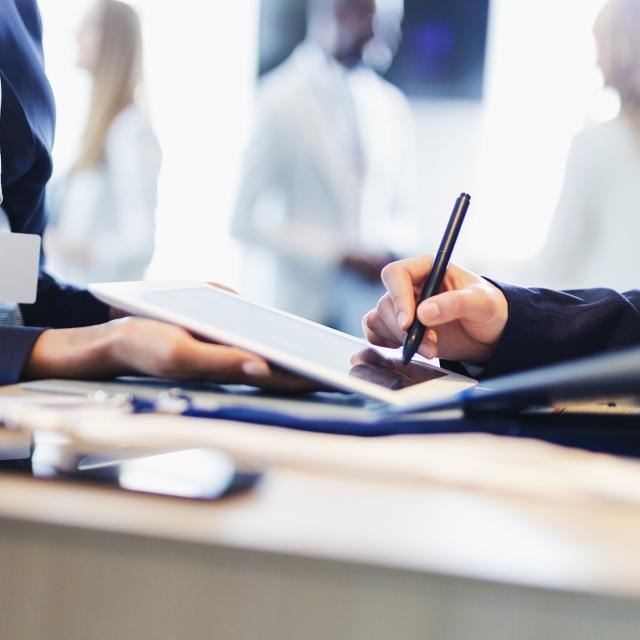 eSignature doesn't have to be super expensive or difficult to use. eSign technology has come a long way since it first became widely used and we'd like to discuss how Conga Sign, an advanced electronic signature solution, can be used effectively by various organizations, affordably. Financial institutions, government agencies, insurance providers, and enterprise organizations can streamline their document signing processes, create a trustworthy and secure signing process for their customers, and enhance their overall efficiency all with the branding-friendly white-labeling capabilities of Conga Sign. This tutorial focuses on the process of receiving signature requests via email and signing documents electronically. 
Let's dive into the step-by-step process: 
Start by accessing the email invitation sent to you. Click on the provided link to navigate to the Conga Sign platform and gain access to the document requiring your signature. 
Once you access the platform, you might be prompted to review and sign e-signature disclosures and consent forms. Read through the document carefully and confirm your agreement by ticking the checkbox. Then, click the Accept button to proceed. 
You will be directed to the document(s) that need your signature. The user interface will display a preview of the document(s) on the left-hand side toolbar.  
To add your electronic signature, simply click on the designated Signature field. This functions as a "Sign" button. Complete any additional required form fields and click Confirm. 
Review and sign any remaining documents within the transaction. 
Congratulations! You have successfully signed your documents using Conga Sign. 
Electronic Signatures vs. Digital Signatures: In the realm of electronic signatures, it is important to understand the distinction between electronic signatures and digital signatures. While these terms may seem interchangeable to the layperson, they possess distinct meanings within the industry. Electronic signatures serve as digital representations of handwritten signatures, capturing the signer's consent and agreement to the document's terms. On the other hand, digital signatures refer to the encryption and decryption technology employed in e-signature solutions, ensuring the security and integrity of each signature. 
Benefits of using electronic signatures 
There are numerous advantages to leveraging electronic signatures for your organization's signing processes and approval workflows, including: 
Superior customer experience: Customize the signing experience with your brand's identity, style, and colors, ensuring continuity and building trust throughout the process.

Process efficiency: Create end-to-end digital processes, leverage reusable templates, and automate signature workflows to enhance efficiency and streamline operations. 
Easy integration: Conga Sign offers open APIs and fully supported SDKs, enabling seamless integration with your core business applications and workflows. 

Flexible pricing: Conga Sign provides flexible pricing plans to cater to your organization's specific requirements.
Conga Sign empowers organizations to digitize their document signing processes and unlock a multitude of benefits. By adopting electronic signatures, businesses can enhance customer experiences, streamline operations, facilitate integration, and ensure legal compliance. Conga Sign's robust features, security standards, and compatibility with various devices and file types make it a compelling solution for organizations across different industries. 
Let's take your signature process to the next level today with Conga. See our different eSignature use cases to learn how you can revolutionize the way you do business with Conga Sign.