Praises for Conga's favorite cheerleader and a quintessential Renaissance man, Bob Pinkerton
As we prepare to bid a fond farewell to Bob Pinkerton, I want to sincerely thank him for his service and massive contribution to Conga. Since announcing his departure, we've been celebrating him inside the company, but I think it's important to publicly acknowledge him as well.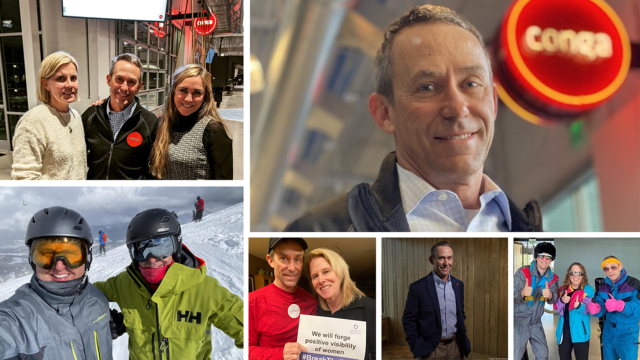 As anyone who's met him knows, Bob is a consummate culture carrier who faithfully embodies the Conga Way in all that he does. He's first (and always been) a team player, carrying himself with deep humility and serving as Conga's head cheerleader.   
More than a CFO, Bob is also an exceptional colleague. He makes equal time for everyone in the company and treats them the same without regard for role or station. And as an esteemed member of our leadership team, he managed the financial and accounting aspects of the company and provided strategic guidance.  
A true servant-leader, Bob has been a beacon for Conga's culture at Broomfield headquarters and beyond. During his nearly five years with Conga, Bob led work critical to Conga's growth. Here are just a few of his many contributions: 
Drove incredible growth. Bob joined Conga in November 2018. Since then, he oversaw massive growth to the ~$500M plan for this year and helped enable Conga to become a healthy and profitable growth profile company. Additionally, he helped manage the integration of Conga and Apttus during the COVID-19 pandemic, tirelessly serving as a model of collaboration. 
Created a unique Broomfield vibe. Bob was instrumental in conceiving Conga's Broomfield office, from its design and build through to daily operations. He's often first to the office and last to leave. Whether it's serving as the creative mind behind Congapalooza, showing up our young colleagues in the gym, or filling the halls with joyous music, he's constantly building the connective tissue that helps make Conga a great place to work. 
Embodied the principles of the Conga Way. He not only showcases these principles in his own work; he encourages them in others. He's known to be inordinately accessible to everyone, often to share a meal or beer. He has a passion and a gift for nurturing relationships and truly cares about people. He's truly unique among CFOs for his personal commitment to nurture the overall health of the organization. 
Every CFO brings a focus on money, profit, and capital—it's the nature of the job. But great executives find a way to deliver beyond the foundational aspects. Culture champion may not be in the standard job description for the 'numbers guy,' but that's what Bob has been for Conga. He broke down barriers between colleagues and the C-Suite, encouraging Conganeers to grow, both personally and professionally. 
On behalf of all your fellow Conganeers, thank you, Bob. You're a true Renaissance man, class act, and treasured friend.