CLM
CPQ
Document Generation
Guides
Business document automation: a complete guide
Conga's automation solutions can help you transform your organization into a more nimble, productive, and profitable engine.
In this download, we'll cover:
Why business document automation is essential for success in today's business landscape.
The secrets to increasing team efficiency and improving performance without requiring additional resources or expenses.
How to improve brand consistency, customer service, and sales velocity while eliminating time-consuming and error-prone manual data entry.
The seven most important business documents to automate for success now and in the future.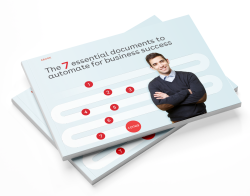 Read the eBook
Did you know? Over 50% of sales organizations have improved their win rate by automating their proposal process. (Source: 2017 Proposal Automation Market Pulse. Qvidian.June, 2017.) 
With Conga's business document automation solutions, you can begin to reduce the delivery time of your documents almost immediately. You can also gain additional insights with notifications and document history to increase visibility.