Salesforce Optimizations
Blog
How to evaluate B2B eCommerce software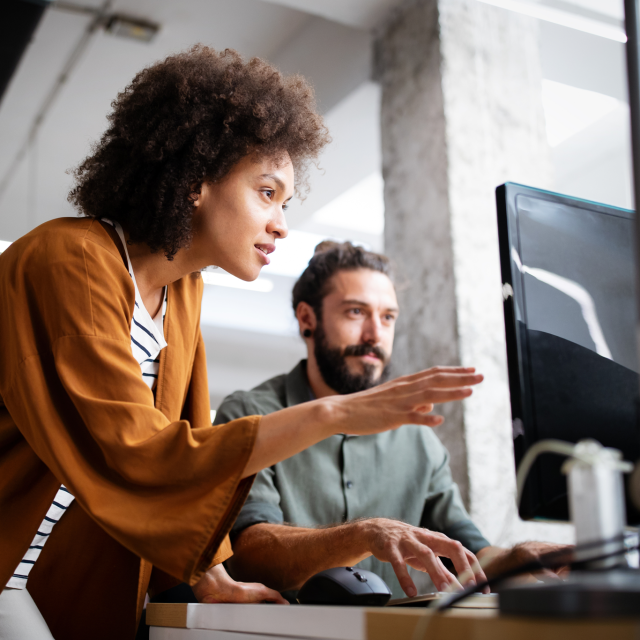 While eCommerce was once solely the domain of B2C brands, digital commerce is on the rise among B2B companies. In fact, by 2023, Forrester estimates that B2B eCommerce transactions will reach $1.8 trillion in the US—accounting for 17% of the nation's B2B sales. 
Part of the reason behind this growth is the evolution of today's business buyers. It's important to remember that businesses don't make buying decisions—people do. And because people are now accustomed to the convenience of B2C eCommerce in their own lives, they expect the same convenience in their work. They want to buy when, where, and how they choose. They expect an easy, frictionless experience. Some may prefer automated chat for customer service issues, while others want to speak with a live representative. 
Amid these complex and rapidly changing expectations, it's no longer enough for B2B companies to simply build a website to sell their goods and services. Forward-thinking organizations are looking for ways to evolve their eCommerce using an omnichannel strategy. Doing so requires a powerful eCommerce solution that can transform your sales organization and provide a seamless buying experience for your customers—no matter how complex your product offering and deal structures may be. 
Of course there's no one-size-fits-all answer. B2B digital commerce is complex, so the trick is finding the right digital commerce solution to meet your company's unique needs. This means it needs to align with your business model, product line, geography, customer type, and third-party partners. But first, let's start with the basics.
3 categories of B2B eCommerce software
Digital commerce solutions for B2B companies are typically divided into three distinct categories, based on the type of products that will be sold. The first step in finding the right B2B eCommerce solution is identifying the category of software that best meets your needs.
1. Solutions for volume products
This is perhaps the simplest form of B2B eCommerce software, as it focuses on the transaction itself and streamlining the ordering process. Volume products tend to be simpler, lower-priced items that are ordered in large quantities. They are most common in CPG, apparel, and manufacturing businesses, such as hardware and automotive supplies. These companies must be able to support transactions like pre-orders, re-orders, and custom orders, and their priority is enabling customers to place orders with the fewest possible clicks.
2. Solutions for subscription products
In the digital age, many B2B offerings are delivered as a service or subscription, which can be purchased in monthly or annual plans with the option for automated renewal. In this model, customers don't purchase and check out with their items, but instead they sign up for a service. As a result, the B2B eCommerce solution for these companies must support a unique purchase flow and process. Since there's no physical product to deliver, seamless, automated communication is a priority. 
3. Solutions for configurable products
Certain businesses have an especially complex product lineup—including companies that sell networking products, medical devices, telecommunication solutions, and more. There may be product interdependencies, compatibility requirements, or bundling options, so B2B commerce software must accommodate a variety of possible configurations. Because these products often sell at high price points, customers often want to see a quote before making a purchase. 
3 important factors in evaluating digital commerce solutions
As you begin to narrow down your choices, you may find that several eCommerce solutions meet your basic requirements. So you'll need to take a strategic approach to evaluating those solutions to see which one best aligns with your priorities. Following are three things that may factor into your decision.
Speed to value
In the past, it may have taken two years or more to develop, build, and launch a custom eCommerce platform. But today's business moves fast, so companies need a solution that can deliver results, fast. Thanks to SaaS and cloud delivery, it's possible to evaluate and deploy meaningful solutions in just a few months—and begin to realize value from omnichannel eCommerce almost immediately. 
Agility
Change is the biggest constant in B2B commerce. So many companies start their digital commerce journey by focusing on a core set of use cases that will provide immediate business impact. From there, they can evolve and expand capabilities as dictated by performance metrics and changing customer demands. Today's cloud-based SaaS solutions can easily adapt and grow along with your business—rather than starting from scratch.
Customer experience 
Creating a better customer experience is one of the main drivers behind B2B companies' eCommerce efforts. That means not just enabling transactions, but personalizing communications, giving customers insight into their order and account information, and creating stronger relationships between customers and partners. Omnichannel digital commerce solutions enable this customer-centric approach through seamless integration with CRM, ERP, and other key systems. 
Critical questions to ask before selecting a B2B eCommerce solution
Finally, as you're evaluating your short list of finalists, you'll need to get very specific about how each potential solution addresses your company's eCommerce needs—both now and in the future. Here are some important questions and considerations in that final phase.
Can the solution handle your current business needs? This includes:
Ensuring a seamless customer experience across all touchpoints
Allowing customers to move seamlessly between channels; for example, they may request a quote and initiate orders online but complete them with their account executive—or vice versa
Enabling customers to "self-serve" if desired—updating account information, checking order status, etc.
Providing all users—including inside sales and external customers—with the same view of account information, contract terms, and renewals
Generating accurate invoices and allowing customers to view and pay them online.
Empowering the company to collaborate with business partners and resellers around customer demand and orders
Is the solution capable of managing your product lineup and deal structure needs?
For volume products this may include bulk order, re-order from history, pre-order or saved order, volume incentives and rebates, multiple ship-to/ship-from in a single order, freight, and other promotions—as well as quoting, workflows, and approvals.
For subscription products this could include new account origination, bundles, update/modify/upgrade plan, update account, renewal, cancelation, and bundle offerings.
For configurable products, you may need multiple configurations, bundles, quoting, guided selling, workflow and approvals, and order orchestration.
Can the solution evolve along with your products or business model? For example:
Changes in go-to-market strategy
Different products or customer segments
Moving from physical sales to subscription services
Shifting from enterprise to SMB customer focus (or vice versa)
Expanding from domestic to international sales
Evolving from selling through wholesalers and distributors to selling directly
Quickly realize value from your digital commerce platform
With the availability of modern, cloud-based SaaS solutions, launching a B2B eCommerce solution doesn't need to be expensive or time-consuming.  It's now possible to reduce time-to-value and time-to-revenue to as little as two to three months. 
The key is choosing an agile, flexible solution that lets you easily and continually add value, while personalizing the look, feel, and functionality to better serve customers over time. The ideal solution should enable companies to focus on the customer and partner experience, accommodate all touchpoints, and offer more than just a shopping cart. 
Conga's Digital Commerce solution provides a frictionless customer experience across every touchpoint. And our products are purpose-built to work together seamlessly, so you can automate and streamline processes from end to end. Request a demo to see Conga's solutions in action or download our Ultimate guide to B2B digital commerce for more guidance.