Change Management Plan: 5 Steps to Follow During a Technology Implementation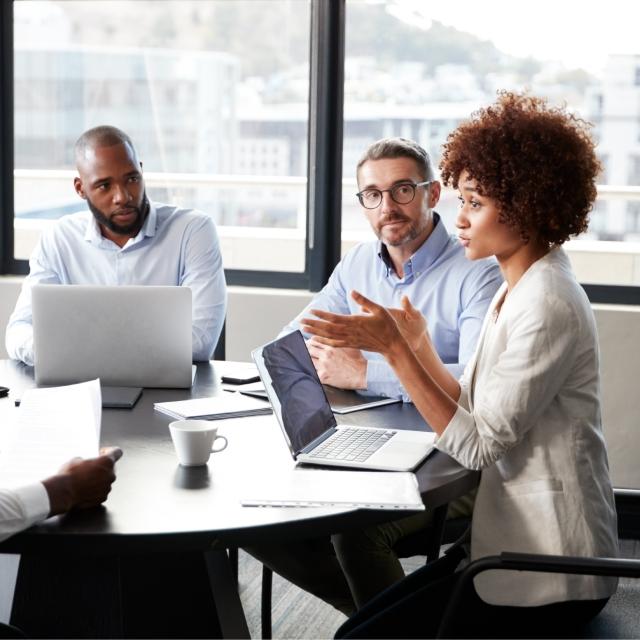 In the business world, the only constant is change. The ability to adapt in the face of today's challenges—like uncertain economic conditions, technological advances, ever-changing laws, and even a global pandemic—is one of the major differences between a thriving business and one that consistently struggles.  
But change is also hard, and there's no guarantee of success. A recent study from Gartner found that only 34 percent of business change initiatives end in clear success, while another 16 percent yield mixed results. Changes that impact day-to-day processes are especially challenging—which is why implementing new technologies like contract lifecycle management (CLM) can be tricky. 
To complicate matters further, everyone handles change differently. Within any given organization, certain teams prefer to stay on the cutting edge while others are less likely to embrace new technology. Legal teams in particular display a tendency toward skepticism—a valuable trait for their profession.  Because they're under tremendous pressure to reduce time-to-revenue, mitigate risk, and so much more, adopting a new technology may seem like more mental effort than it's worth. A proactive approach to change management is imperative to increase technology adoption and improve your chances of a successful implementation.  
Change is inevitable—especially for legal teams 
Over the past few years, the number of legal technology tools entering the market has steadily increased. This trend has been spurred largely by pandemic-related demand for streamlined business operations and unified work capabilities across remote locations.  
At the same time, a widespread push toward revenue lifecycle management has created a more cross-functional view of revenue processes. This philosophical shift takes the legal team out of its traditional silo, giving them a more significant role in driving business results. Implementation of CLM software is critical to helping the legal team become more integrated with a company's business operations. 
As IDC's Ryan O'Leary tells us, "Contracts are the lifeblood of an organization. They involve every team in sort of an assembly line, and legal is just one part of that process—which gets them involved in collaborating with the rest of the organization and driving the business forward." 
Amid these high-level changes, most legal leaders recognize the need to evolve their departments—with the help of technology. A thoughtful, intentional approach to CLM implementation can help to improve adoption of the technology and position the legal team as a driving force in revenue management. 
Implementation success is about more than technology 
Of course, implementing a new CLM solution is no small task. And because it impacts the business on so many levels, it's critical that the process runs smoothly.  
Ultimately, successful adoption of any new software depends as much on the behaviors and attitudes of its users as it does on the technology itself. That's why it's important to manage the human elements of the implementation—not just the technical aspects. 
Marc Flaum, Conga's Director of Business Transformation, puts it this way: "Big projects are always hard, and the hard part isn't necessarily the technology—it's the people. That's because people are creatures of habit. Once they know how to do something, they want to keep doing it the same way instead of learning new processes. Unfortunately, you can't just transform the application or technology; you have to also change people and their mindset." 
A well-defined change management plan provides a roadmap for helping the legal team transition to a new way of doing things—making it a must for any significant technology implementation. 
5 steps to successful change management 
While every legal team is unique and each situation is different, here are five steps to include in any change management plan: 
 
Step 1: Focus on collaboration 

Remember, technology implementation requires a cooperative, collective effort. Take the time to conduct a thorough, realistic assessment of the legal team's readiness and capacity for change, then use the information to customize your approach. Engage with legal professionals on an individual level, to keep everyone engaged and invested in the project outcome. Encourage participation and feedback throughout the implementation process to ensure that different views, experiences, and needs are addressed appropriately.  
 
Step 2: Communicate early and often 

Successful change management starts with consistent, top-down communication to keep everyone engaged and aligned. Design a communication strategy that clearly explains the need for the new technology, the plans for roll-out and adoption, and—most importantly—the positive impact the new solution will deliver.  
For legal teams, the benefits of CLM technology include: 
Streamlined processes that improve efficiency 
Automated workflows with less manual contract review 
Increased visibility for deep, meaningful insights 
More effective workload management 
Better legal service delivery 
Improved alignment with organizational goals 
Enhanced ability to support revenue processes and drive business outcomes 
 
Step 3: Start with a plan, but stay flexible 
Change is a journey, especially far-reaching change like a new technology implementation. While it's important to create a roadmap for managing the change, you should also be adaptable enough to take "detours" as needed, in response to real-life challenges that may arise along the way.  
At the same time, remember that completing the initial technology launch doesn't mean you've reached your final destination. Over time, new features and functionality will need to be reviewed and rolled out to the organization, to ensure the solution is performing as effectively as possible. 
 
Step 4: Review, measure, and analyze 
As management guru Peter Drucker once famously said, "If you can't measure it, you can't manage it." This maxim is usually applied to business performance, but it's true for change initiatives as well. That's why it's critical to establish the vision and goals for your technology implementation right from the start—as well as the criteria for measuring success.  
Throughout the implementation process, be sure you're collecting the appropriate data points so you can evaluate your progress toward the agreed-upon project goals. Use insights from this data to make adjustments as needed and keep the entire organization aligned toward a singular purpose. 
 
Step 5: Embody the change 
Leading by example is an important part of change management. An effective agent of change can help to overcome resistance, address objections before they derail the initiative, and ultimately increase adoption of the new technology.  
In order to create meaningful, lasting change, you need to not only articulate what that change looks like but also demonstrate its impact. In the case of CLM implementation, that means immersing yourself in the solution, looking for new ways to incorporate it into your work, and serving as a resource for others.  
Manage change to maximize value 
At the end of the day, it's important to recognize that people have a limited capacity for change. Major change initiatives—like implementing new CLM technology—take dedication, focus, and alignment across the entire organization.  
An effective change management strategy can keep employees engaged and motivated—without overwhelming them. At the same time, this approach will help to maximize the value an organization gains from its technology investment.