Get to know our 2023 Conga Inspire Award winners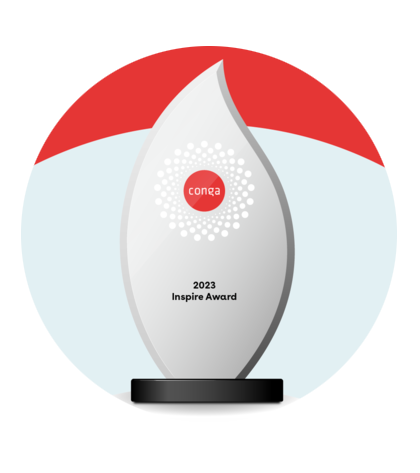 The Conga Inspire Awards were presented at Conga Connect 2023 and this year's winners are some of the most innovative, market-leading organizations we've ever had the pleasure of working with. Are you ready to get to know them? These impressive customers are an absolute inspiration!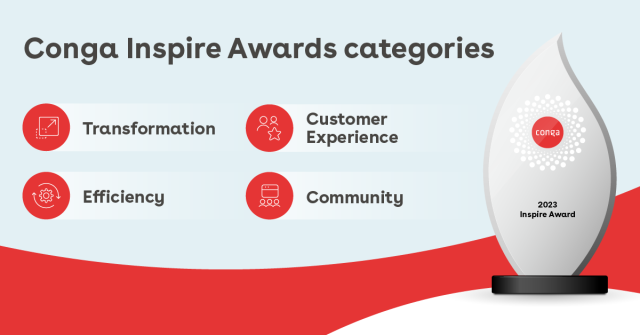 The Conga Inspire Awards are split into four categories: transformation, efficiency, customer experience, and community. Each recognizes companies or individuals who are digital transformation change agents—intrepid innovators and leaders in revenue operations and contract management utilizing Conga's solutions with demonstrated excellence.  Through innovation we create value. These Conga customers received this award for leveraging our solutions to drive returns on investment through unique and transformative ways.   For the second consecutive year, it is an honor to be able to recognize our incredible customers that are going above and beyond innovating in Revenue Lifecycle Management through the use of Conga's solutions," said Conga CEO and Culture leader, Noel Goggin.
These companies have truly been the rockstars of digital transformation! They're making waves as change agents, innovators, and leaders. And for that, we are thrilled to honor them. Presenting the 2023 Conga Inspire Award winners in:
Transformation
Twilio (Featuring Conga CPQ, Conga CLM, Deal Maximizer, Conga Approvals, X-Author, and Turbo Pricing)
Sony Pictures Networks India (Featuring Conga CLM)
Efficiency 
T-Mobile (Featuring Conga Composer and Conga Grid) 
Moody's Analytics (Featuring Conga CPQ, Conga CLM, and Conga Grid) 
Customer experience 
Edmentum (Featuring Conga Sign, Conga Composer, Conga Contracts for Salesforce)
Bayer Healthcare (Featuring Conga CPQ) 
Community 
Carl Harkness (Featuring Conga Contracts) 
Ready to find out how Conga can transform your revenue lifecycle? Get a demo and get inspired!