Heading

5 documentation problems and how to solve them
Are you or your sales team spending too much time putting together quotes, proposals, contracts, and renewals? Are most of your document generation tasks manual? If so, you're likely experiencing some of the five most common bottlenecks known to document generation. Bottlenecks are the worst! However, there are some remarkably helpful solutions that can crush them.    
If you've ever thought to yourself, "We're spending way too much time putting together documents such as proposals, quotes, invoices, contracts, and renewals," you are not alone. Many sales teams end up wasting a significant amount of time putting documents together, getting signatures, and manually handling other key steps throughout the sales process. Outdated, tedious, and paper-heavy processes are at the root of most bottlenecks.   
When time is wasted by these antiquated processes, revenue is affected. When time-to-revenue slows down, there also become fewer opportunities for driving revenue because you're spending all your time in document generation or waiting for important signatures.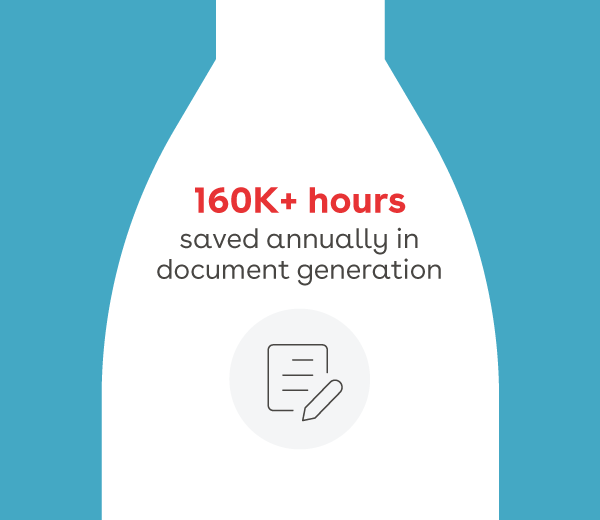 The solve: Conga's document generation solution, Conga Composer, can generate documents to address almost any use case in Word, Excel, PowerPoint, PDF or HTML emails. It can also improve workflow and reduce time—automatically log activities, create follow-up tasks, and even update fields.   
Why it's important: Automated documents drive the revenue lifecycle forward by communicating critical information faster, influencing every team and customer interaction. Conga's automated solutions provide real-time notifications, tracking, and analytics with unparalleled speed and accuracy to give you maximum value out of every document, every time.  
Limited automation power means you and your teams are performing more manual work as well as working on documents one at a time as opposed to in batches. Processes such as these put major bottlenecks within your workflow. Limited automation can also cause:  
The need to manually copy and paste from Salesforce and other data sources into your documents. 

 

Lack of automated workflows that can batch and trigger groups of documents simultaneously.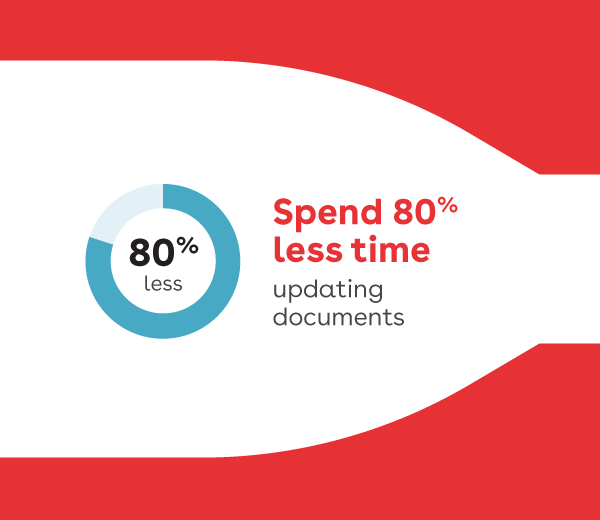 The solve: Conga automates and triggers batch capabilities for a seamless user experience for you and your sales team. Trigger Conga Composer solutions with a Salesforce workflow rule, batch and schedule hundreds of documents for a simplified, streamlined process. Then, easily get documents signed and stored with Conga Sign. Optimize key touchpoints throughout all phases of the revenue cycle—from proposals to contract management to renewals.  
Why it's important: Creating an automated workflow is cost-effective and intuitive for employees and customers to use. You'll free up time for your sales teams to get back to their best work—selling (and upselling) for not only increased revenue but more predictable revenue as well.  
Documents are often at the heart of your customer experience. It can sometimes even be one of the only interactions you have with your customers. Old templates that lack branding or use outdated messaging can cause confusion in your business identity and hurt the customer experience.   
One solution would be to make every document look the same. But it's not that simple! Different documents require different solutions—contracts might require a clean, uniform approach. However, other types of sales documents within your business might require formats with a more branded experience—your document generation tool needs to be flexible and accommodate your different document generation and business process needs.   
The solve: Conga's branding solutions, logos, and labeling will ensure you've got the right messaging every time. Incorporate professional, complex content such as tables, images, rich text, charts, dashboards, custom fonts, watermarks, and global currencies unique to your business for a customer experience that's never confusing, and always on point.   
Why it's important: Consistent branding is one of the most important parts of your brand identity. Ensuring consistency can not only provide for a better customer experience but can even boost your brand image. You'll be giving the best impression—through professional documents with your company logo and on-brand messaging—every time.  
Manual work and limited automation results in large margins of error. Inconsistencies and mistakes ultimately affect the end customer experience and can hurt your brand image or even create legal problems. Uncertainty of who needs to sign for what or if signed incorrectly, when it should go back for re-sign can cause delays, confusion, and a multitude of other errors.   
The solve: Automating contracts and reports can help you remove roadblocks, share data with the right people, and lessen the time it takes to fix formatting errors.  
Why it's important: Conga's automation capabilities and templates reduce the margin of error and keep your revenue lifecycle secure and on-track.  
5. Poor customer experience 
Without flexible delivery options for customer signatures and document delivery, you can limit the way you do business. Only sending documents to customers through email can cause missed opportunities and a lack of clarity on what actions customers should take—like where to sign.   
The solve: Conga's automation capabilities support the end customer and make closing deals easier and get business done faster. Send documents via different channels and deploy flexible and automated delivery mechanisms with output files that can be downloaded locally, stored within a file storage platform, or distributed via email and integrated with eSignature.   
Why it's important: By solving your document delivery woes and bringing it all together into one single document generation and eSignature process  
Don't allow bottlenecks to leave money on the table. Crush inefficient business processes and get the most out of your revenue lifecycle with the right solutions for your unique business.   
Automated document generation can drive your revenue management processes by communicating all your critical information and essential data for a streamlined, accurate, and efficient path to revenue.  
With Conga Composer, you'll be able to reduce errors and improve customer communications by automating your document processes with fully customizable templates that bear your branding—your voice.   
Speed up approvals and reduce the time to yes from days to minutes with your secure eSignature solution, Conga Sign. Sign documents quickly and securely, save money, and reduce risk—all while creating an easy, efficient experience for your customers and employees.   
 
Stop leaving money on the table! Elevate your brand and delight your customers all while crushing your complexities with Conga! Ready to learn more about how document generation and eSignature from Conga can rid your processes of its bottlenecks?   
Download Card
Subheading
5 document bottlenecks and how to overcome them with Conga Composer