Heading

A buyer's guide to choosing the right document automation solution 
No matter the industry, you're likely wading through a constant deluge of documentation. Whether it's physical paper, all electronic, or a mixture of both, the risk of getting lost in the stream is always present. With the push for paperless operations in the workplace, many companies rely on technology to ease the burden and cut down on tedious, repetitive tasks. By automating your key business documents, you can reduce manual work, improve data quality, and strengthen your brand.   
Document automation has been trending for a while now, but where do you start? We've put together this quick and easy guide full of the information you need to get started.    
What is document generation?
Document generation is the process of creating the critical documents needed to drive your business. For example, contracts, proposals, statements of work (SOWs), invoices, and work orders to name a few. When you add automation to the process, you can achieve a streamlined lifecycle built to optimize your business-critical documents.    
Benefits of document automation    
When it comes to revenue operations, documents propel each stage of the process forward, influencing every team and customer interaction. Document automation solutions can provide real-time notifications, tracking, and analytics with speed and accuracy. Other benefits of automation include:    
Eliminating time-consuming and error-prone manual data entry  

 

Increasing team efficiency and improving performance without requiring additional resources or expenses  

 
Delivering an exceptional customer experience through easy-to-understand documents, faster negotiations, and a quicker path to adoption  

 
Automation can transform your organization into a more nimble, productive, and profitable engine. 
Document generation use cases    
Documents are a critical element of nearly every industry. And while each sector has different requirements and customer bases, document generation offers benefits for a wide variety of use cases.  For industries like health and life sciences, financial services, manufacturing, software tech, and more, document generation software can be used for:  
Order forms  

 

Renewals  

 

Invoices  

 

Contracts  

 

Work orders  

 
Monthly operating reviews 

 

Reports and charts     

 

Welcome letters   

 

Support case reports   

 

Pipeline reporting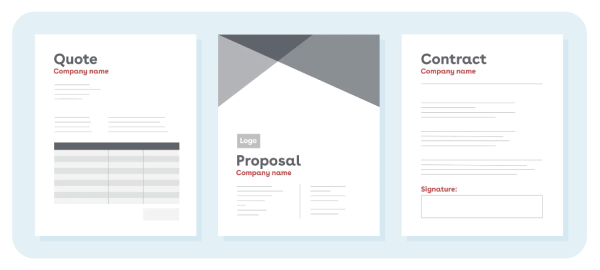 Document generation benefits by industry
Health and life sciences     
Conga Composer helps health and life science companies generate forms and documents created with relevant patient information and product information at scale.  
Example documents: 

 

   


Patient consents, clinical trial onboarding, hospital privilege agreement, office visit summary, HIPAA release forms, discharge summary, field service reports

 
Financial services     
Financial services companies rely on Conga Composer to manage their banking, investing, and insurance documents. Composer quickly generates documents with key customer information and keeps a clean audit trail throughout the entire process.  
Example documents: 

 

   


Fiduciary services, price fee proposal, contract, mergers & acquisitions, IPO presentations, invoices, billing

 
High tech     
High tech companies use Word-based templates and Composer solution building tools to easily roll out quote and proposal templates to close and execute more deals. By automating their renewals process, they also improve communication with their customers and drive revenue.  
Example documents: 

 

   


Quotes, proposals, contracts, sales decks, order forms, renewal agreements, SOWs

 
Identify problems your business can solve with document automation
As you consider investing in a document automation solution, it's important to define your goals and objectives. It's not enough to simply apply automation to all your document processes, and it's not feasible to automate every document your business uses. Some documents are used too infrequently to justify the effort and expense of automation. Others aren't impactful enough to prioritize in your initial implementation.  
Take the time to identify your most used and most important documents—and the ones that create the most operational headaches. Find out where your teams experience document-related pain points, and where they feel time is wasted on manual document management. All of these are likely candidates for automation.  
Depending on your industry, you may want to consider automating: 
Contracts

 

Invoices

 

Purchase orders

 

Financial statements

 
Customer profiles

 

Performance reports

 

Onboarding documents

 
Every company is unique, so make sure you understand which problems you're trying to solve with document automation—then find the software solution that best meets those needs. 
Research different document automation solutions
With all the document automation solutions on the market, you'll need to do extensive research to narrow down your options. Read reviews, get recommendations, and talk to current customers if possible. It's also smart to test drive a few of your top contenders before making a final choice. Many vendors offer free trials, so take advantage of this opportunity.  
As you conduct your research, consider factors like: 
Intuitive user interface. You want a solution that's easy to understand and simple to use, so there's no reason for users to revert to the old way of doing things. A complicated user interface is the surest path to a failed implementation.

 

Collaboration functionality. Most documents are touched by many people as they move through the process. Your chosen solution should enable seamless collaboration in real time, with features like automatic notifications to keep documents moving forward.

 

Integration options. To work effectively, your document automation software needs to work seamlessly with the business tools your company uses every day—like your CRM, email platform, accounting software, invoicing tools, MS Office suite, and more.

 

Scalability. Your document automation needs are likely to grow along with your business, so make sure you won't outgrow your chosen solution. Explore your options for future upgrades—and their cost—in case you need to add seats or additional features.

 
Security. Data privacy, safety, and security are serious concerns for any business—and they should be a priority for your document automation provider. Look for a solution with end-to-end encryption, password protection, two-factor authentication, and tiered access controls.

 

Customer support. When you (inevitably) encounter problems with your document automation software, you want to be confident you'll be able to get the help you need. While great service may not be the most important factor in your decision, it's worth considering.

 

Price. The bottom line is you need a solution that fits your budget. For some smaller companies with limited document needs, an entry-level or even free solution may be sufficient. For larger enterprise businesses, a full-service software package may be required. Whatever your price point, make sure you're comparing apples-to-apples to avoid costly surprises. 

 
Key features of document generation software
Choosing the right tool for your organization will take time and careful consideration. Consider the scope of your needs for every team involved and determine how each feature optimizes operations within your organization— today and in the future. To maximize effectiveness, look for a document generation solution that includes the following features:  
Create    
Generate documents to address numerous use cases in Microsoft Word, Microsoft Excel, Microsoft PowerPoint, PDF files, or HTML emails. 
Merge    
Merge data from standard or custom Salesforce objects or from external data sources. 
Conditional generation    
Conditionally display sections of a document, group data together, and calculate formulas according to business rules. 
Brand    
Incorporate professional, complex content such as tables, images, right text, charts, dashboards, custom fonts, watermarks, and global currencies. 
Deliver     
Deploy flexible delivery options with output files that can be downloaded locally, stored in file storage providers (Salesforce, Box, Google Drive, Amazon S3, etc.), distributed via email, and/or integrated with eSignature.  
Notifications, tracking, and history     
Receive real-time engagement notifications when a document has been viewed, including who has viewed it and for how long.   
Workflow     
Automatically log activities, create follow-up tasks, and update fields.   
Automate     
Trigger integrated solutions within your customer relationship manager (CRM) to automate documents using workflow rules.  
With Conga, your business needs come first
As the most popular document generation app on the Salesforce AppExchange, Conga Composer allows you to automatically generate error-free, on-brand documents. With our document generation solution, you can send accurate, consistent communications directly populated with your data to elevate your brand and delight your customers.   
Unlimited document formats for unlimited use cases     
Conga Composer allows you to create the documents your company needs internally and externally. With our per-license model, admins can create as many templates as needed and users can generate as many documents as needed without additional charge per document.  
Composer handles the most complex use cases when it comes to templates, formatting, and data gathering. You can use tables, images, rich text, charts, dashboards, custom fonts, watermarks, dynamic formulas, and global currencies.  Generate documents to address any use case with multiple template formats, including .docx, .xlsx, .pptx, and .pdf files, as well as HTML emails. 
 


Customer highlight:    
Islamic Relief Worldwide uses Conga Composer to automate donor reports, saving 161K hours annually. With Composer's ability to support and detect multiple languages, manual translation is no longer needed, saving them time and money.  
Merge data from multiple input systems     
With Conga Composer, you can merge data from standard or custom Salesforce objects and data from external databases into your Composer templates. Take advantage of advanced data retrieval through nested queries and semi-join queries and support complex SOQL queries for powerful and efficient document generation. 
Automation capabilities to simplify processes     
Set up automation and mass document sending with just a few clicks. With Conga Composer, you can send hundreds of documents at once without any human interaction. Free up time for teams to focus on other priorities, boosting efficiency and morale. 
Customer highlight:    
Autism CRC spends 80% less time updating their documents manually now that they use Conga Composer.  
System security    
Conga is proud to be part of the Cloud Security Alliance. Our Chief Information Security Officer (CISO) and security team are dedicated to best practices in security, privacy, and compliance. These security protocols enable Conga customers to meet a multitude of compliance, data protection, and regulatory obligations from around the globe. 
Start your document automation journey today     
Document automation can change the way you do business, so it's important to find the tool best suited for your business needs. With a 5-star rating on the Salesforce AppExchange, Conga works to maintain our high level of customer satisfaction and support.  
At Conga, we offer best-in-class capabilities that go beyond document generation. You can use Composer alongside the Conga Suite solutions, including eSignature, CLM, CPQ, approval workflows, process automation, billing, invoicing, and more.  
Download Card
Subheading
A buyer's guide to choosing a document automation solution