Predictable Sales: 5 Ways CPQ Can Help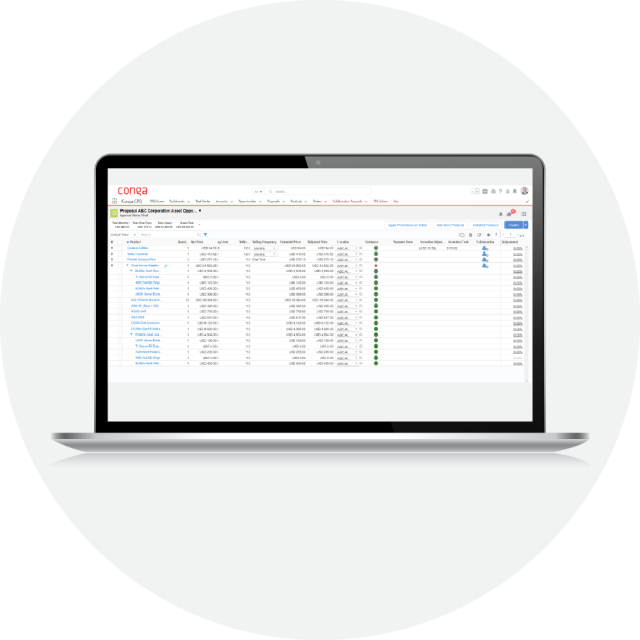 Across every industry, companies are looking for certainty. As the possibility of recession looms, increasing revenue predictability has become even more important for businesses that seek certainty in an uncertain market.  
A configure, price, quote (CPQ) tool helps to make revenue more predictable and reduce fulfillment delays by ensuring products are configured quickly and accurately. Here are five ways CPQ can deliver predictable revenue, no matter the economic landscape. 
1. Ensure consistency 
Consistency in your workflow and customer communications are the key to more dependable outcomes. After all, when you eliminate quoting inaccuracies, you'll see a more consistent time to revenue. When less time is spent going back-and-forth on contract terms, deals can close more quickly  and creates a positive customer experience. 
A CPQ tool allows you to: 
Quickly search for desired products or services based on features and options 
Use pre-defined rules to guide users through any required configurations 
Utilize deal guidance traffic lights and pricing waterfalls to determine the appropriate discounting and maximize the success of each deal 
Streamline the approval process with automated workflows 
Ensure consistent pricing and discounting across the organization 
2. Maximize the deal 
Taking advantage of cross-sell and upsell opportunities means money won't be left on the table. CPQ offers insights into optional components or services related to the existing order, enabling more opportunities for cross-selling or upselling. 
Sales reps can approach customers more confidently when they have a series of carefully designed needs-based questions meant to guide the process.   
The  most robust CPQ solutions should include guided selling capabilities that can intuitively produce a list of products, upgrades, and optimal price recommendations based on the buyer's specific needs.  They should also: 
Automatically trigger upgrades, upsell opportunities and cross-sell suggestions to increase deal size 
Ensure you're getting the most revenue out of every deal 
3. Optimize pricing 
A CPQ tool will centralize pricing rules and provide instant access to your most current offers and discounts. This ensures pricing accurate and consistency across customer interactions.  Accumulating transactional data with a CPQ tool means that you can build more predictable models to: 
Optimize your pricing model for the best opening dollar amount and discounts that have the best closing rate (without giving away too much) 
Review historical pricing data for deals with the same characteristics and target a "sweet spot" based on the pricing applied in winning contracts 
Determine which bundles are most successful—so your first approach is the best one and more likely to close quickly 
4. Create better deal timelines 
Make deals not only faster but more predictable—a CPQ solution provides an offer for the customer in hours, even minutes, rather than days, creating a much higher probability of winning the deal.  
The right CPQ tool can: 
Provide you with the information for better forecasting 
Determine the standard lifecycle of a deal closing 
Streamline deal approval for improved operational efficiency 
5. Support your team 
In this uncertain economy, teams may be stressed and running a bit leaner than usual. A CPQ tool can provide efficiencies to help support your teams and improve their overall effectiveness by: 
Providing time-saved configuring 
Pricing deals so that sales teams can focus more time on customers  
Reducing the number of people needed in the quoting process 
At Conga, we believe the right CPQ tool can guide the entire revenue lifecycle, improve the customer experience, broaden your stakeholder buy-in, and improve time to revenue. Where are you in your journey to predictable revenue? Begin gaining control of your revenue lifecycle, close deals faster, and ensure revenue predictability with Conga CPQ. 
Ready to recession-proof your business? Get a Conga CPQ demo or read our Ultimate Guide to CPQ to learn how to provide the ultimate user experience and master the revenue generation process.