How to Manage 2 Signatures on a Document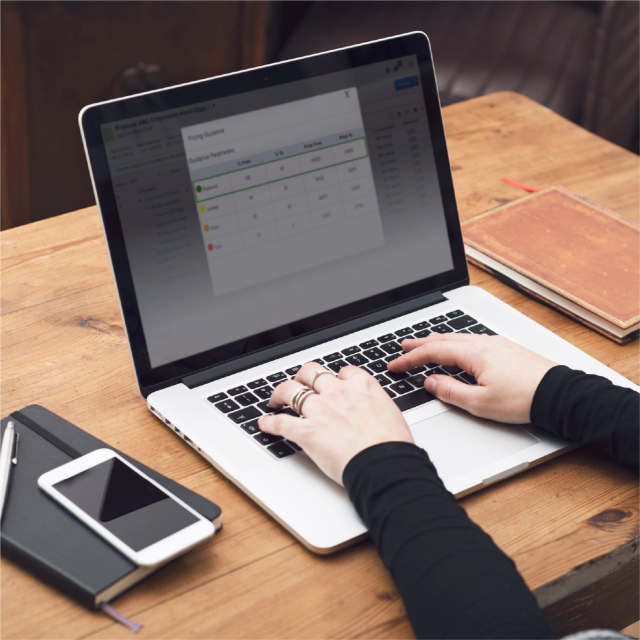 As technology and business models continues to evolve, traditional paper-based processes no longer align with the landscape's fast-paced demands. eSignature is essential for keeping pace, revolutionizing the way documents are signed, sealed, and delivered. When dealing with documents that require approval from multiple parties, the ability to add multiple signatures in an organized and secure manner becomes crucial. Adding multiple signatures may not always be intuitive for organizations but with the right tool, it can be a simple and straightforward process. Here is how you can enable your business to streamline workflows and enhance collaboration by adding two or more signatures with Conga Sign. 
How to add multiple signatures with Conga Sign
To start, it is super easy to upload a document for signature using Conga Sign. Just drag and drop the file you are looking for to set up for eSignature.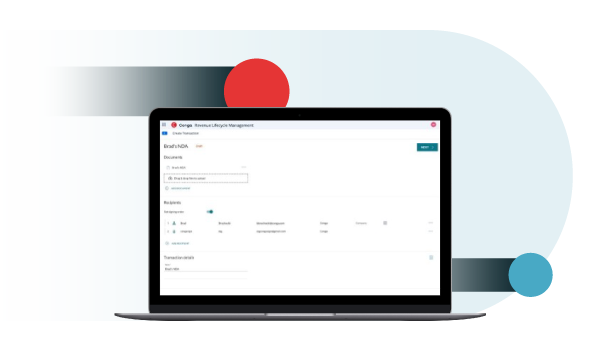 From there, you can simply add you recipients. If you need to add multiple signers, easily add multiple recipients, and assign them to be signers. You can drag and re-order the signers, send them out in parallel, and more. The goal of Conga Sign is to make it as easy as possible to set up documents for eSignature.  
Step 1: prepare your document
Before initiating the signature process, ensure the document is properly prepared. Review the content to confirm accuracy and completeness. Identify the sections that require signatures and any accompanying information, such as initials, dates, or checkboxes. Easily drag in tags, such as names, dates, and more, into the document with Conga Sign. It is here where you would drag and resize your signature tag. From there, you can send out the document to your end recipient.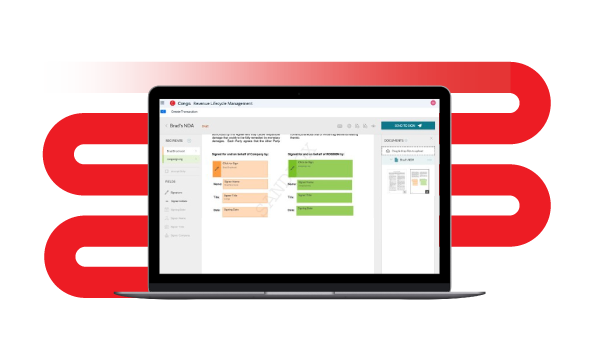 With the signatories and their roles defined, it's time to initiate the signature process. Conga Sign will generate emails or notifications to the respective signatories, prompting them to access the document and provide their signatures.  
Now let's imagine you are in the shoes of a signer. To start your signing process, simply open up your email and you should have a message that a document has been sent to you for signature. After just a few clicks, your signature tag will be in the document and the signature will be complete.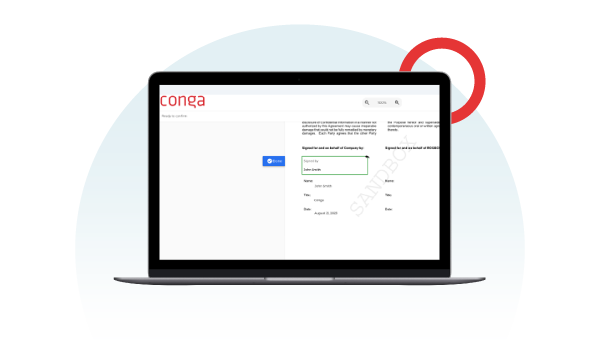 Step 3: monitor and finalize
One of the advantages of Cong Sign is the ability to monitor the progress of the signing process in real-time. You can track who has signed, who is pending, and who has yet to access the document. This transparency eliminates the need for constant follow-ups and minimizes delays in finalizing important agreements.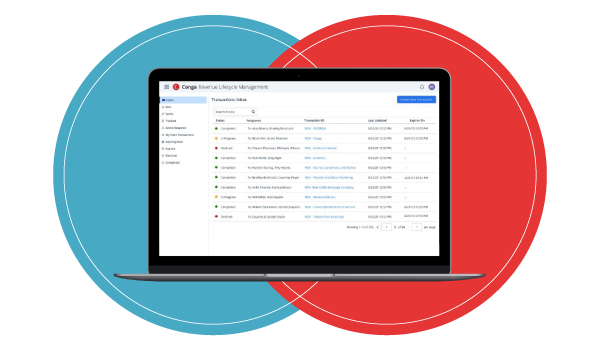 How to manage documents with Conga CLM
Take the management of signing your documents one step further and easily manage documents with Conga Contract Lifecycle Management (CLM). Managing documents effectively is a cornerstone of streamlined business operations, and Conga CLM offers a robust solution to achieve just that. With Conga CLM, document management becomes a seamless and efficient process. The first step involves document creation, where users can generate templates and assemble documents using a user-friendly interface. These templates can be customized to match specific business needs, ensuring consistency across contracts and agreements. Once the document is created, Conga CLM allows for easy collaboration and review. Multiple stakeholders can collaborate in real-time, making comments, suggesting edits, and ensuring that the document aligns with all parties' requirements. This collaborative process reduces bottlenecks and accelerates the document's progression.  
Tracking and version control are also key features of Conga CLM. Users can monitor the document's lifecycle, from creation to approval and execution, with full visibility into its status at each stage. The platform automatically tracks changes and maintains a history of document versions, which is essential for compliance and auditing purposes. Once the document is ready for signatures, Conga CLM supports eSignatures, simplifying the approval process even further. Furthermore, the solution aids in managing post-execution tasks, such as renewals, amendments, and audits. Overall, Conga CLM provides a comprehensive suite of tools to manage documents efficiently, fostering collaboration, ensuring compliance, and optimizing business processes.  
Go from document creation to signature simply with Conga
Manage complicated, enterprise-wide contract lifecycles with this powerful duo: Conga CLM + Conga Sign. Mitigate risk, reduce friction, speed up processes, reduce signature costs, and empower your business at scale. Get your free demo to and find out what Conga can do to streamline and simplify your contract lifecycle–from quote to renewal.