How legal teams can accelerate the sales cycle with CLM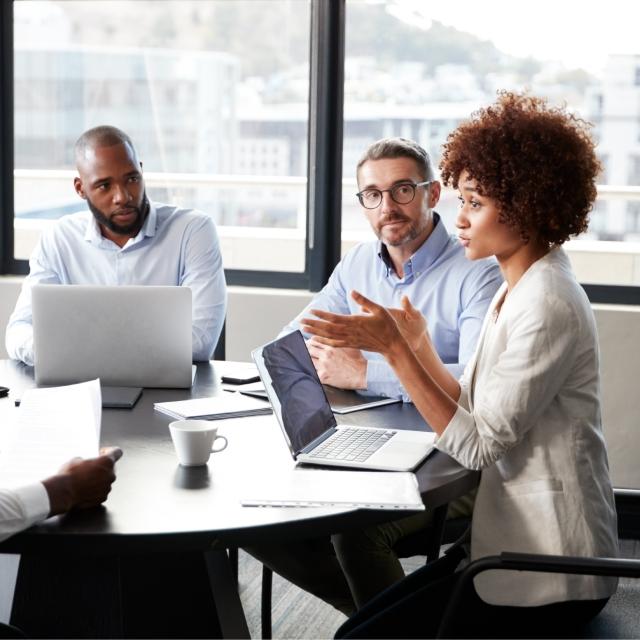 Contracts are the lifeblood of modern companies. They define relationships, outline rights and responsibilities, and spell out the details of any sale—including price, timing, payment terms, warranties, and more. In fact, contracts govern up to 80% of B2B business deals. 
There's no denying that contracts are an absolute necessity for conducting business. But the contracting process can be a major source of tension—especially between sales and legal teams. 
The issue comes down to a difference in priorities. Sales teams are focused on speed. They want to close deals as quickly as possible, in order to drive revenue and meet sales targets. The legal suite, on the other hand, is focused on control. They are responsible for protecting the organization and minimizing risk, so they take a careful, detailed approach to contracts—all of which can slow down the sales cycle. 
To balance these competing but equally important concerns, effective contract management is key.  
The importance of CLM software 
The volume and complexity of contracts in most organizations makes contract management a real challenge. It requires careful oversight throughout every stage of the contracting process, from preparation, authoring, and negotiation through approvals, amendments, and renewals—not to mention basic (but critical) tasks like copying, filing, and storing the contract. 
Manual contract management leaves a lot of room for human error. Inefficient or incomplete processes can also lead to approval delays, decreased productivity, compliance issues, increased risk, and—ultimately—lost business due to dissatisfied customers.  
To address these shortcomings, reduce risk, and ensure contract consistency, many organizations are turning to automated contract lifecycle management (CLM) software. CLM software is changing the face of contracts and agreements by automating the end-to-end contract lifecycle. It eliminates manual, disjointed contract processes and increases operational efficiency. In fact, implementing CLM software is becoming an essential part of many organization's digital transformation.  
Empowering legal and sales to work together—faster 
For sales teams, the benefit of CLM software lies in its ability to streamline the contracting process and accelerate sales. For legal teams, a CLM solution provides increased control over the contracting process and avoids exposing the company to unnecessary risk, all while creating greater efficiency and faster cycle times. 
By eliminating some of the most common pain points within the contracting process, CLM software allows legal and sales teams to work more seamlessly together.  
For example, the right CLM solution can: 
Break down silos and eliminate bottlenecks. CLM software puts everything in one central location, unifying data and processes between internal departments and giving everyone access to the same information. Automated workflows streamline the contracting process by clearly defining responsibilities at each stage, ensuring consistent handoffs between teams, and reducing the potential for lengthy delays.  
Improve visibility. For legal teams, control is a key component of mitigating risk—but you can't control what you can't see. CLM software provides a 360-degree view of the entire contract cycle from request to renewal, including negotiations, emails, and other documentation. Its online interface allows secure, real-time collaboration and negotiation, including redlining. Any changes are synchronized across all versions of the agreement, regardless of source.  
Increase speed-to-revenue. A CLM solution provides countless opportunities to improve operational efficiency. For example, it allows legal teams to build a library of approved clauses and standard contract language. Using these pre-approved terms and conditions means sales teams can quickly generate compliant contracts with correct and current language—without waiting for case-by-case legal approval. Legal teams can reduce risk and ensure consistency across contracts, while sales teams are empowered to create, negotiate, and close more deals, faster. 
Enhance the customer experience. Today's customers expect deals to be quick and efficient—and there's little tolerance for mistakes. CLM software cuts down on costly delays, inconsistencies, and errors in the contracting process, improving overall customer satisfaction. It also helps to ensure current messaging and branding on all documentation and integrates with common finance and billing solutions, creating a smoother and more cohesive experience from start to finish. 
Real results from real customers 
Global data center provider Equinix, Inc. knows firsthand the importance of using CLM to keep sales and legal teams connected. Without an automated solution, manual contract processes created several issues, including contract inconsistencies, long and messy sales cycles, and lack of consistent branding. After implementing Conga CLM, they were able to automate their global contract management in a single system and increase visibility across every stage of the contract lifecycle. As a result, human error decreased by 70% and contract lifecycle time dropped from 14 days to 90 minutes.  
Leading chemical manufacturer Huntsman is yet another example of how automating manual contract processes can drive business success. The company was facing several contract challenges, including approval delays and access to documentation for internal and external audits. With Conga CLM, the company was able to standardize its global contract process and introduce instant approvals, leading to a 40% acceleration in the contract lifecycle. They also gained greater visibility into the end-to-end contract process and increased reporting time by 92% to comply with critical business regulations.  
Whatever your needs, Conga's contracting solutions can help. Our CLM solutions can take your contract process to the next level and support both sales and legal to work better together to accelerate the contracting process. Learn more about how Conga CLM can help you drive contract excellence at scale, reduce cycle times, and improve negotiation outcomes—all while reducing risk.