Salesforce Optimizations
Blog
How to boost timelines and efficiencies in clinical trials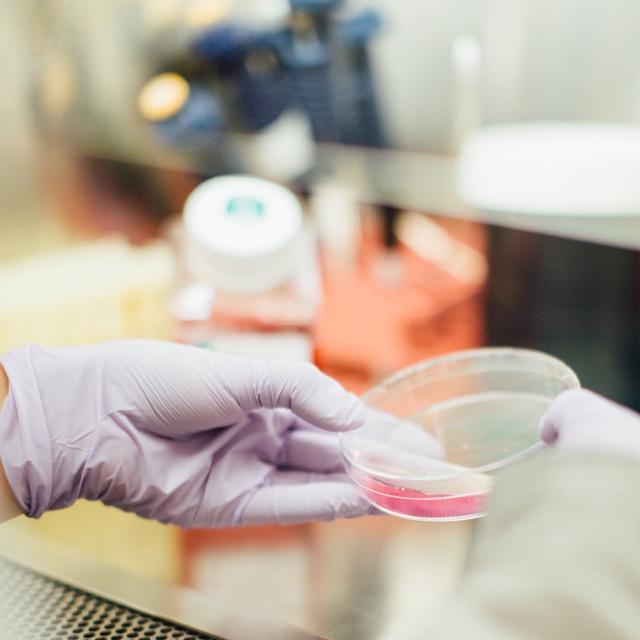 Human clinical trials are a complex process, which often involves orchestrating details across multiple entities and geographies, and a phased execution strategy that can span several years. Understandably so, biopharma manufacturer attempts at implementing systems to support these complex processes present significant challenges. The work involves multiple iterations, resulting in delayed return on investment and critical time lost.  
Conga offers a solution that gives biopharma manufacturers a head start with each phase of project implementation by designing the data model, flows, and building blocks associated with clinical trial budget management and contracting. 
Clinical trials in biopharma manufacturers 
The new drug development value chain for biopharma manufacturers can be broadly characterized as below: 

A clinical trial is a complex process with multiple phases, and could take years and significant financial investment to eventually bring a drug to market. Biopharma manufacturers need to successfully execute an end-to-end clinical trial by orchestrating a multitude of processes, departments, and systems across contract research organizations (CROs), sites, investigators, and other entities in dispersed geographies and diverse subject demographics, economies, and government regulations.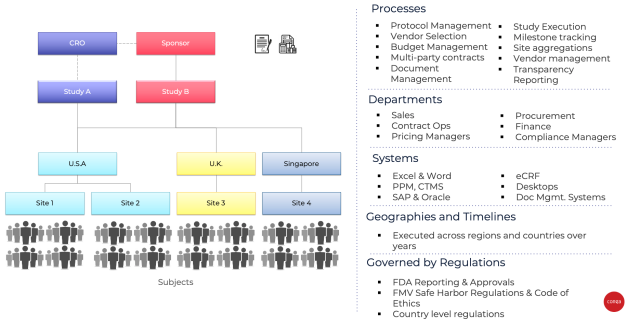 The end-to-end process from the initial study through successful execution is governed by quality, privacy, transparency, fairness, reporting, and ethics requirements from regulatory bodies across countries, and adds significant complexity and overhead to deliver those requirements. 
As can be expected, an expensive, complex process across multiple groups, countries, and regulations is riddled with challenges. Budgeting and contracting inefficiencies, and overhead of managing compliance risk are just some of those challenges, which ultimately lead to cost overruns and timeline delays. These cost overruns can easily run into hundreds of millions of dollars, while regulatory non-compliance can lead to invalidation of the trial, costing even more.
Researchers and analysts have reported that budget and contract negotiations contribute to 50% of study delays. Overhead associated with maintaining regulatory compliance can increase costs by 40%. 
Ways to improve efficiency of clinical research contracts  
With Conga solutions, researchers can boost efficiency and deliver compliance. A pre-packaged, ready-to-use solution from Conga Professional Services is built with proven industry best practices that drive efficiency, accuracy, and compliance, introducing simplicity and speed into your implementations.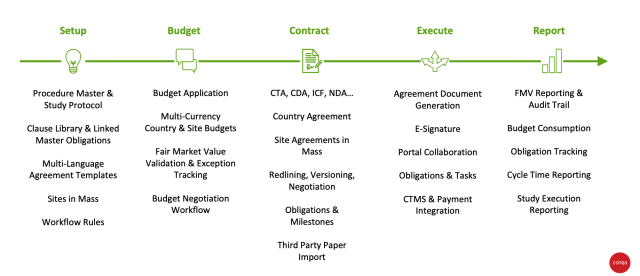 Simplify with easy-to-use foundational tools  
At the core of any solution, a strong foundation is key. Admin capabilities are often part of that foundation, and Conga's solutions allow for: 
Easy setup of study protocol 
Clause libraries and linked master obligations 
Mass creation of sites 
A ready-to-use Excel-based budget application  
The features provide the strong foundation needed to efficiently and accurately manage and negotiate the top-down budget at a granular level across procedures, services, and visits at the country and site level.  
Capture of fair market value (FMV) for services and tracking of exceptions ensures defense against anti-kickback allegations, and compliance towards Stark and anti-corruption laws and regulatory code of ethics. Multi-currency support allows for tracking FMV rates and the country and site budgets in their respective currency for each country, and provide a summarized global view of budgets for clinical trials executed across multiple geographies. 
Multi-language agreement templates created through clicks—not code—and workflow capabilities enable the easy creation of clinical trial agreements, self-service CDA flows, ICFs, and other agreements. Capabilities such as mass creation of site agreements and seamless integration of negotiated budgets into the agreement deliver significant efficiency gains, while some mature contract authoring capabilities aid in effective redlining and negotiation of terms. 
Integration with eSignature tools and vendor portals provide easy collaboration and centralized access to contractual terms, budget, timelines, and obligations across all vendors and parties that come together to execute the study. Proactive management, tracking, and reporting of obligations and tasks, and additional proactive reporting capabilities such as budget consumption, FMV adherence, and cycle time reporting aid in timely execution and adherence to compliance requirements.  
Improved outcomes 
The Conga solution for clinical research contracting delivers the following outcomes for biopharma manufacturers: 
Eliminate inefficiencies and reduce contract cycle times by up to 80% 
Deliver legal and regulatory compliance and transparency reporting requirements 
Ensure on-time trial execution through proactive tracking of milestones and obligations 
Reduce cost overruns through proactive monitoring of budget consumption at site, country, and globally for clinical trials 
Improve collaboration across sponsors, CROs, sites, and other vendors 
Gain centralized visibility to contracts, obligations, and milestones across the global enterprise 
Simplify and speed up vendor management 
Why do clinical research contracting transformations often fail? 
After helping many biopharma manufacturers on their transformation projects, we've identified a few common challenges:  
Business requirements not outlined — This leads to excessive time spent defining business requirements and educating the implementation team on unique aspects of clinical trials contracting 
 
Designing the right data model — With the right data model, teams can avoid significant project rework and allow top-down and bottom-up budget management in concert with contract negotiations and complete lifecycle 
 
Extended build cycles — This happens when development teams need to build complex extensions to support existing processes due to a lack of process best practices 
Conga CLM Accelerator for clinical research 
The Conga CLM Accelerator is a Professional Services pre-packaged offering, tailored to address unique contracting needs for clinical research. It is a turn-key solution, designed by industry experts and built by a Professional Services team with over 15 years of experience helping hundreds of customers in healthcare and life sciences industries. The accelerator introduces simplicity and injects speed into your CLM implementation with proven processes, best practices, and Conga expertise, resulting in predictable implementation success and reduced time-to-return on investment for biopharma manufacturers. 
The accelerator not only simplifies the process and expedites technical implementation of the clinical research contracting solution for biopharma manufacturers and CROs, but also helps expedite the budget creation, negotiation, and contracting process across countries and sites, while also ensuring legal, regulatory, and financial compliance.  
This accelerator includes full contract lifecycle actions with key, pre-built business process flows that include industry-specific process flows for clinical trial agreements, confidential disclosure agreements, and country agreements. It also includes foundational protocol setup, an integrated Excel-based application for budgeting, contract negotiation process, FMV tracking, audit trail, obligation and milestone management, and mass creation of site agreements for a clinical trial. 
The Conga CLM Accelerator for clinical research package includes: 
A robust set of pre-configured data models and capabilities designed to support clinical research contracting use cases 
Ready-to-use documentation to jumpstart the requirements, design, and testing phases 
A team of professional services experts to help implement the solution and provide guidance on best practices during customer readiness and implementation phases  
Preconfigured capabilities 
Each clinical trial is different in terms of the therapeutic area and phase, as well as the intervention being tested, geographic and demographic scope of subjects, and the different entities (biopharma sponsors, CROs, regulatory authorities, trial sites) involved.  
By leveraging industry best practices and experience, Conga has identified and incorporated use cases into our solution that are available to be used on day one of the implementation. We can deliver a solution live in 12 weeks. Key elements include (but are not limited to): 
Maintain procedure and FMV rates master data 
Maintain clinical study / protocol containing critical data required for developing and negotiating budget and agreements 
Develop country budgets for clinical study by identifying the procedures, visits and costs at the detailed procedure and visit level, and summarized to the respective procedure and visit levels in the respective currency for the country 
Self-service flow for confidentiality disclosure agreements starting from mass agreement creation to signatures and execution 
End-to-end flow for creation and negotiations of site clinical trial budgets and agreements all the way through signatures and execution 
Enhanced user experience with visibility for each clinical study on alignment between country budgets and the respective site budgets 
Manage compliance by creating and managing the obligations, the responsible party, and its respective tasks throughout the execution of clinical trial 
Foundational data-model that underpins the development of budget and contracts for multiple sites and countries that is eventually connected to the clinical study 
Preconfigured workflow that manages handoffs between persona throughout the study startup phase 
Report on compliance with obligations and budget deviations from FMV rates; content repository with full text search 
Customer readiness, implementation, and enablement  
Some of the most critical factors for project success are the accuracy of data on procedures and FMV rates, contract templates, and the clause library that facilitate the development and negotiations of clinical trial budgets and agreements. If not started early, the data preparation can continue until UAT (user acceptance testing), resulting in re-work and delays in the project execution. 
To address the above challenge, we have introduced the customer readiness phase. The goal of this phase is to get the critical data ready before the project kick-off.  During this phase, Conga and the customer partner together to work through the existing data set and help Conga understand the pre-built templates and data model.  
This process helps to demonstrate the end-to-end flow for the standard business processes with customer data on the first day of the project. It will ensure that the business users can visualize the flow during the define phase and avoid unintended scope expansion in the later phases.  
Jumpstart each implementation phase with a predefined set of artifacts 
To get the solution live quicker, we have developed the following artifacts that help the project run smoother and faster: 
Welcome packet:  Gives the overview of Conga CLM concepts and a walkthrough of the budget app and underlying master data.  It will be used during the customer readiness phase, which will help customers to provide the data in the required format.
 
Process flow:  Visualize end-to-end process flow diagram for managing clinical studies, country budgets and site agreements (CDA, CTA), and site budgets 
 
User stories:   Jumpstart with requirements for a pre-built use case library based on industry best practices
 
UAT scripts:  End-to-end test scripts that cover critical business use cases and provide traceability to user stories and design 
 
Persona: List of personas and their expectations from the clinical research contracting solution 
Reduce cost and timelines while improving speed to market with Conga 
The CLM Accelerator for clinical research speeds up the implementation of the budgeting and contracting processes of clinical trials for pharma manufacturers and CROs.  
This pre-packaged, ready-to-use solution from Conga Professional Services is built with proven industry best practices that drive efficiency, accuracy, and compliance.