Document Generation
CPQ
CLM
Blog
The critical stages of Revenue Lifecycle Management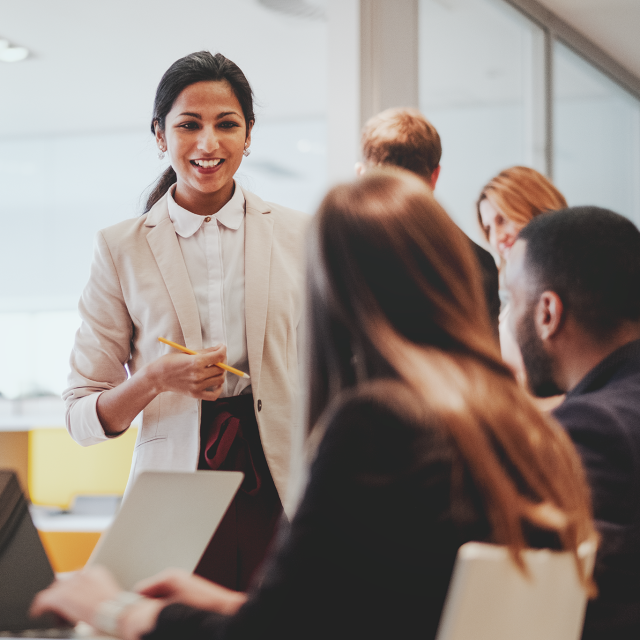 Revenue lifecycle management is a critical process in a business that refers to the systematic management of revenue-generating activities, from lead generation to customer retention and upsell. It is a multi-step process that involves various stages, each of which is crucial. When done right, revenue lifecycle management enables enterprises to manage different revenue models—products, professional services, aftermarket services, and subscriptions—for different lines of business and recurring revenue streams, even as contract values change over time. In turn, companies can provide more consistency across channels, more customer-friendly interactions, and greater efficiency once deals are signed.  
What happens when an organization has gaps in its revenue operations? The result needs to be fixed, or manual processes, siloed data, and rogue discounting can create confusion, inefficiencies, poor customer experiences, and loss of revenue. It's important to note the value of aligning cross-functionally on your current-state operational processes and an ideal state to achieve optimum efficiency. A revenue lifecycle management solution will provide consistency and accuracy across your documentation and, most importantly, your bottom line. Once you've done the people and process work, you are ready for the technology.   
No matter what stage of the process or the maturity of your revenue operations, when you align your processes, teams, and technology under a unified data model with the right revenue lifecycle management solution, you'll be on the road to scalability.  

Importance of a revenue lifecycle management solution 
Getting deals done today can leave teams feeling "document-heavy" in all parts of the business. The right tool offers benefits across departments. From proposal generation to contract signing, invoicing, billing, order management, and renewals, every aspect of the revenue lifecycle can work in seamless coordination among your teams. Not just a sales and marketing tool, but through the automation of documentation and workflows, HR and finance teams can reap the benefits as well. Offer letters, NDA's and contracts can be managed and shared in collaboration leaving more time to focus on growing your business and less time spent wasted on cumbersome tasks.  
Not sure this applies to your business? A well-executed revenue lifecycle management solution ensures streamlined management of diverse revenue models making it ideal for Manufacturing, High Tech, Finance, Health and virtually all industries looking to increase productivity, boost efficiencies and drive revenue.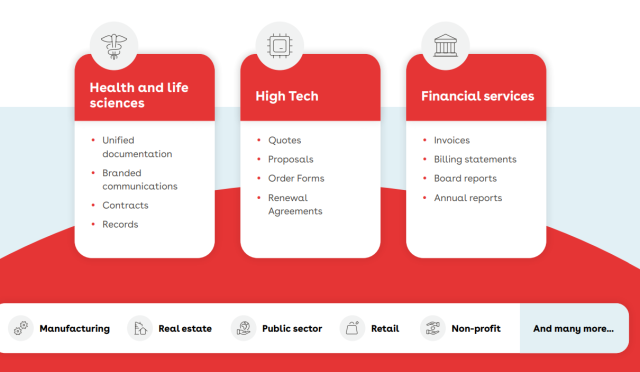 Revenue lifecycle management roadmap  
Revenue lifecycle management isn't just about what you do but how you get there. It's a way of understanding your business like never before, by taking a holistic look into your business practices to create a more efficient lifecycle for improved revenue predictability and long-term business growth. The roadmap to revenue lifecycle management goes like this: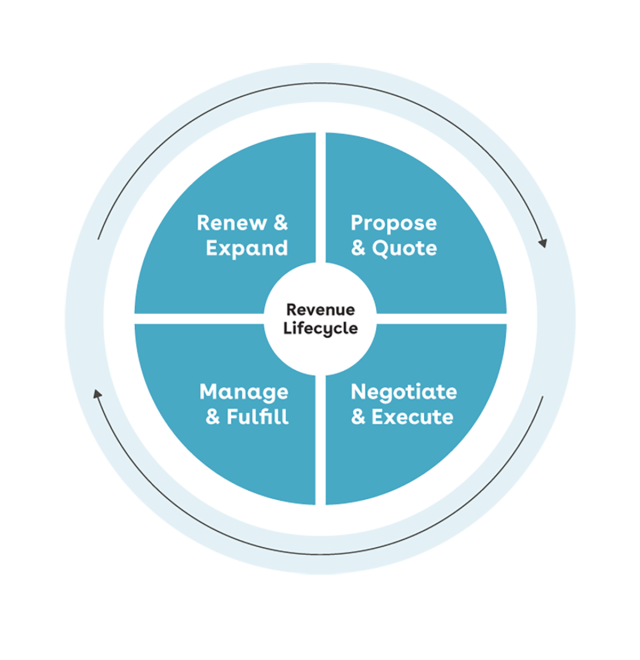 Four key features of revenue lifecycle management  
Now that you've established a roadmap, you can begin your path to predictable revenue and assemble your toolkit. Each step in the process provides an opportunity for improvement with the right revenue lifecycle management tool: 
1. Propose & Quote: 
From the initial generation of quotes and proposals, revenue lifecycle management software lets you templatize and brand your document content. You can also simplify approvals and send with batch and trigger tasks. Conga helps businesses save time and streamline work order processes, reducing hours in manual data entry and reporting work. 
Some of the top benefits include: 
Reduced time to quote  
Improve margins by reducing rogue discounting  
Increase sales volume through creative promotions  
know when prospects are viewing your proposal and quote   
Use case:  Enovate Medical is a manufacturer of innovative point-of-care products, services and solutions designed to improve clinical workflow and enhance patient care. The company is a leading provider of mobile and wall-mounted computer workstations, medication transport-storage systems, and power systems. 
Moving to Conga Composer saves Enovate Medical 5-8 hours a month in manual work, plus the time spent revising incorrect orders. With a predetermined work flow, Conga Composer aggregates data from various fields into one work order or case log. The orders now match the opportunity, thereby reducing errors, and all information lands in Chatter, which creates a permanent log in Salesforce.  
2. Negotiate & Execute:  
Improve contract management while simplifying the execution, approval, and signature process. Conga's contract lifecycle management solutions help you achieve efficiency and gain strategic insights crucial to growth. Streamline both internal and external communication and collaboration on contracts, increasing visibility throughout the entire process. Lower your risk with industry-leading AI to execute obligations and key dates. 
Tackle challenges like: 
Difficulty tracking standard clause language  
Rogue contracting   
Incorrect prices  
Slow, costly sales cycles  
Complicated approval process  
Traditional ink signatures 
Use Case:  PatientPoint works with over 1,000 hospitals and 50,000 medical practices in the country to aid with point-of-care solutions to improve every interaction a patient has with his or her doctor. 
Conga helped PatientPoint reduce the time to process a contract from 30 to 45 minutes to just 3 to 5 minutes. Additionally, implementing Composer contributed to a return on investment equal to a full-time employee. They also saved about $30 per seat over its previous eSignature provider, which added up to savings of about $14,000 annually. 
 
3. Manage & Fulfill:  
When sending out invoices, statements, and orders, a document generation solution can easily create documents directly from the data in your customer relationship management (CRM) or enterprise resource planning (ERP) software. Create beautiful quarterly business reviews, summaries, and reports for your clients with the fastest document generation engine around. You can also collect signatures and approvals seamlessly from internal stakeholders, customers, and outside vendors to ensure all obligations are fulfilled.   
Some of the top benefits include: 
Inflight order modification  
Improved forecast accuracy  
Faster order-to-cash cycle  
Easy generation and sending of invoicing    
Use Case: When sending out your bills, invoices, statements and orders, document generation can easily create said document directly from all the data in your CRM or ERP. You can create beautiful QBRs, summaries, and reports for your clients with the fastest document generation engine around. You can also collect signatures and approvals seamlessly from internal stakeholders. customers, and outside vendors to make sure you fulfill your obligations.  
4. Renew & Expand:  
Maximize the value of your current contracts, meet obligations, and minimize risk—all while saving time. Improve renewal management with automation capabilities to effortlessly stay on top of accounts up for renewal or termination. Revenue lifecycle management works to keep you one step ahead and ensure you never miss out on potential revenue. 
Tackle challenges like: 
Amendment management  
Recommendation configuration  
Missed up-sell and cross-sell opportunities  
Poor customer experiences  
Use Case: RingLead is a salesforce.com ISV partner that provides data quality applications (with an emphasis on duplicate removal and prevention) to users of Salesforce CRM. In the seven years that RingLead's suite of data quality apps have been offered to Salesforce users, they have deduped and prevented the duplication of over one billion records for thousands of companies across the globe. 
Since implementing Conga, RingLead has dramatically increased the efficiency of its sales process and team. As a result of this improved efficiency, RingLead estimates that the company saves $29,000 and 530+ hours annually. The company also benefits from greater adherence to process, which is essential to maintain accurate Salesforce data, especially for a rapidly growing company with sales and finance teams on separate coasts.   
What to look for in a Revenue Lifecycle Management solution 
When considering a new revenue lifecycle management tool, it's important to examine its impact across all areas of your business. To help with your evaluation, ask yourself:   
What products or services did the customer purchase?   
What does the customer currently have installed?  
Which service do we need to deliver? With which products? 
How much should we charge the customer for this combination?   
Is your revenue lifecycle process fully manual? Is it automated and using AI, or is it somewhere in between? Figure out where you are in your digital transformation journey to determine what comes next. Understanding your digital transformation maturity level can increase ROI by identifying use cases across your organization. Our Digital Transformation maturity model can help track your progress and provide concrete next steps to continue transforming your business, like MSAs or NDAs that protect your business from risk.
Customers expect a positive experience to last well beyond the point of purchase. Conga's revenue lifecycle management tools streamline processes for billing, order management, and promotions, so your customers enjoy a seamless end-to-end experience, and your users spend less time managing processes.   
To learn more about the revenue lifecycle transformation process—from evaluating your revenue lifecycle maturity to measuring your success —download our eBook on the revenue lifecycle management roadmap today.