CLM
Document Generation
Blog
Contract management for Life Sciences organizations: a complete guide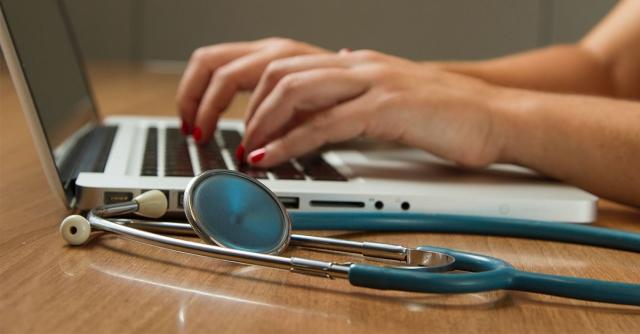 Providing real-time care for patients can also mean passing along large bills associated with that care. While providers seek to keep the cost down for patients, it can be challenging to navigate the complexities with cost of goods, time, insurance companies. When these pieces all come together in an overly complicated contract, it can feel defeating to process or hand-off to the patient. The good news? There is an easy way.
Challenges in the Life Sciences contracting process 
Complex contracts are the lifeblood of the Life Sciences industry; they stipulate terms & conditions, fees, and rebates determining your treatments and costs. Congress seeks to understand the complex web that is today's U.S. Healthcare system, characterized by high prices and oft-misunderstood incentives.  
This blog will look at the contracts that are the foundation of the pill-to-patient and device-to-doctor journey. We will also provide a framework Life Sciences professionals can utilize to manage these contracts. We will focus on the three legs of the Life Sciences contracting stool: 
Sales (market access for pharmaceuticals and managed contracts for medical devices)
Clinical trials 
Suppliers 
For the different contract types under each category, we will place them into two easy-to-understand two-by-twos.  
Our first two-by-two shows a relative plotting of importance (bottom line impact) and complexity (contract length, price/rebate complexity, # of clauses, backend integrations).  
Looking at the below chart, the first wave shows our least complex and important contracts. Having less critical contracts that are easy to get done is ideal. Our second wave strikes a balance. It is our third wave that is filled with many agreement types.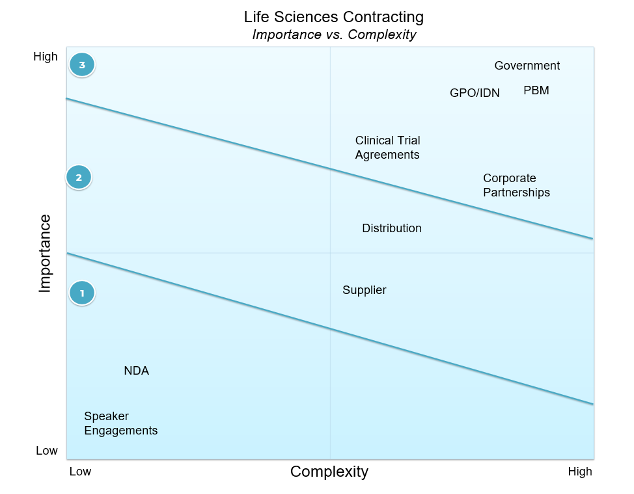 These include government, Pharmacy Benefit Management (PBM), and Group Purchasing Organization (GPO) contracts that can drive 70 to 90% of a Life Sciences company's revenue. 
Where would you place each of these contract types within your company? A small pharmaceutical organization might differ significantly from a large manufacturer of highly configured imaging machines.
Next, we look at two different vectors. Here we will look at volume (# of contracts) and source (Your paper or third- party paper).  
Our opportunity for automation appears in our first wave across agreements, including non-disclosure agreements (NDAs), Clinical Trial Agreements (CTA), and speaking engagements with providers handled under the Sunshine Act. Here automation tools are dynamic assembly, clause library management, and guided wizards. 
In our second wave, third-party paper and the ability to handle it is still vital in supplier agreements and corporate partnerships. 
The monsters that are market access and managed contracts are in the third wave of agreements. In this wave, the balance of power dynamic dictates that business is written on GPO, government, PBM, and distributors' papers. The number of players is small, but the complexity is high and the need to handle a long string of amendments is vital.
How contract lifecycle management (CLM) can automate Life Sciences contracts 
Our outlined framework brings forth key points to effectively managing contracts. These include: 
Gain efficiencies on the simple, less important contracts that tend to appear in greater quantity. 
Reduce or eliminate legal touches on these agreements so your legal teams can focus their time on the monster agreements that drive revenue, contain risk, and have error-prone touchpoints. 
Provide your teams with the tools they need to manage your contract operations. 
Benefits of CLM 
Everything involved with a contract can be made better with Conga CLM—from the generation of the initial contract requests to the reporting and analytics on every executed contract. CLM can:  
Ease the negotiation and approval processes with automation, reminders, and simple tracking.  
Ensure requestors provide the correct and information and requests land in the hands of the right people.
Speed up the initial draft and ensures the inclusion of the correct language.  
Create a single source of all contract documents and data so you can always find what you need.  
During the negotiation and execution phase of the revenue lifecycle, real-time collaboration and tracking are crucial to mitigating risk and closing business faster.  
Contract management software has the potential to transform operations and improve efficiency and productivity. It enables in-house legal teams to significantly reduce the time spent on tedious contract management tasks, allowing for more time and attention dedicated to the higher-value activity.  
How Conga can help 
Conga's Contract Lifecycle Management (CLM), an end-to-end contract management solution, eliminates manual and disjointed contract processes and delivers higher-quality experiences for your internal and external customers. Conga CLM provides the repository and workflow that drive the Life Sciences contracting process. Clause libraries dynamically assemble agreements and accelerate negotiation with customers, suppliers, and partners. Wizards and approvals guide even nascent users through complex processes.  
Put an end to the contract management challenges! Get a demo and learn more about how Conga CLM can help improve processes across your entire organization.