Solutions to you: meet one-on-one with our experts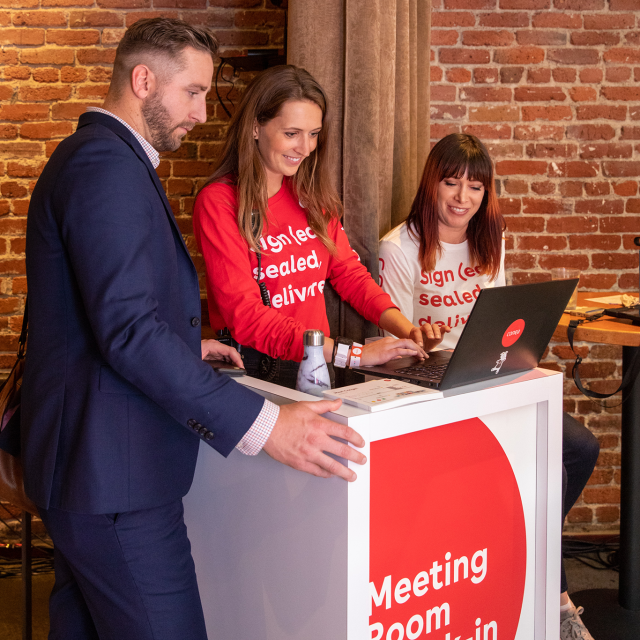 Missing Dreamforce? Us too. You still have our undivided attention. Meet one-on-one with our experts.
Little can replace the casual, comfortable in-person interactions at Dreamforce. But we're going to do everything we can to try—even with a little swag.
There aren't enough hysterically crying emojis in the world to describe our feelings about missing you at Dreamforce this year. 
We missed you on the Moscone Center expo floor, your arms full of the swag of a thousand tech solutions, stopping to ask one of our solutions engineers (SEs) a question or two. 
We missed seeing you at ThirstyBear, sipping on a pint of saison and chatting about your challenges, and maybe catching a quick demo (and later rocking out in our silent disco).
What set those interactions apart from the virtual-event-overload we're all feeling during 2020 is that lack of...pressure. It all happened so naturally, the confluence of like-minded interests working toward a common goal: Making work quicker, easier, and without any wasted steps.
Even though we aren't meeting in person this year—because we can't meet in person this year—it's even more vital to take a hard look around your organization and see where a digital tool (or two) could help eliminate outdated steps and workflows.
We know you're probably overwhelmed by the Dreamforce alternatives out there, and the last thing we want to do is add any sort of pressure to our work-from-home fatigued Conga community. We get it, because we feel that fatigue with you. But we'd love the opportunity to chat about your business challenges, and to show you what our solutions can do to help along the way.
So you're invited to a one-on-one meeting with one of our Conga expert SEs. 
You'll have their undivided attention to answer any outstanding questions you might have, or to look at a specific use case and see where one of our solutions could fit in. And when we say "see," we actually mean it—an SE will demo the best tool to meet your individual needs so you'll feel confident it solves for your needs.
Let's talk about digital document solutions
Meet with an SE to learn more about how Conga's digital document solutions can easily customize and create your docs or proposals with just the push of a button.
Have a CLM question?
Talk to an SE about your contract generation or Contract Lifecycle Management needs. Learn how Conga CLM can make it easy for you to draft, negotiate, send—and sign—your contracts, all in one place. 
Learn more about Conga Sign
Chat with an SE about what a simple, easy-to-implement eSignature solution like Conga Sign can do for you. Conga Sign could save your organization money while delivering legally binding signatures in minutes with clear audit trails, all in an extremely intuitive experience.
We know a virtual hangout won't ever replace what we had at Dreamforce, but we're giving it all we've got, complete with goodies!