How in-house legal teams can help balance risk and revenue: Senior Conga VP James Larsen weighs in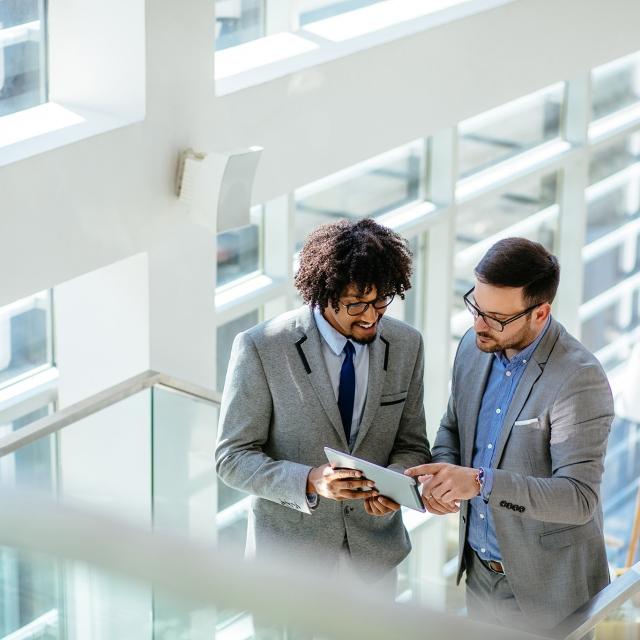 Members of in-house legal teams are forced to wear many hats in addition to all contracting activities, including inbound and outbound. Conga CMO Randy Littleson recently sat down with James Larsen, Senior Vice President and General Counsel at Conga, to discuss his experience working with a sales-friendly mindset and balancing risk levels. Following is their discussion.  
Day in the life of a legal professional  
Randy: "Let's start by talking about the day in the life of a legal professional. How do you go about allocating time and workloads? What's a day in the life look like?"  
Various issues come across our desks, such as intellectual property, patents, trademarks, facilities, leases, and disputes when they arise. We also work with data security and privacy to protect our Conganeers' and customers' information.   
At Conga, each team member has legal focus areas in addition to supporting our sales team and any activities related to closing deals. To help with this workflow, we utilize the Salesforce service request function. This means stakeholders' questions are automatically assigned to the legal team member with that area of focus or expertise.  
"This allows us to help each other out. For example, if there's a very heavy week or month for intellectual property and that particular attorney assigned to that focus area is overwhelmed, I can reassign that particular ask to a different team member for overflow support," said James.   
Additionally, everyone involved with that service request, including the requester, owner, and management, can, at a moment's notice, review the status of their request. This includes viewing specific documents, sharing updates, whether the market is in progress, completed, or dormant. This level of visibility allows me to stay on top of the various work streams on any given day and the myriad of tasks we are asked to perform within the company. 
Balancing risk and revenue 
Randy: One of the significant roles of a legal function is managing risk for the company. But simultaneously, as you articulated, you're also involved in the deal flow. You've got to balance risk and revenue for the company. How do you do that? 
"At Conga, we work hard to be as sales-friendly as we can and find that proper balance," said James. "Not all risk is bad, right? We just need to understand what we're signing up for and going in with our eyes wide open. While a particular wording or contract clause may look really bad on paper, what I refer to is optical risk." 
We try to understand the difference between optical and actual risk. The actual risk may be relatively low based on the nature of our business. For example, we may be asked to provide limited indemnity for incidents involving physical damage to property or persons. Since we're a SaaS company, the likelihood of Conga being responsible and forced to indemnify for bodily injury to people or property is very low. This allows the team to strike the right balance between getting revenue in the door and not exposing the company to a singular event that could bankrupt us. 
Sales and legal collaboration  
Randy: Sales has a motivation to try to streamline and speed up the contracting in negotiating process. How can legal professionals aid them in that quest? 
One of Conga's core products is called contract lifecycle management (CLM). This software has allowed our legal team to automate many of the process steps in negotiating and signing a contract that would otherwise be manual. This tool also aids us in preparing and generating contracts utilizing pre-approved templates. 
Benefits of Conga CLM   
Everything involved with a contract can be made better with Conga CLM—from the generation of the initial contract requests to the reporting and analytics on every executed contract. CLM can:  
Ease the negotiation and approval processes with automation, reminders, and simple tracking.  
Ensure requestors provide the right information and that requests land in front of the right people.  
Speed up the initial draft and ensure inclusion of the right language.  
Enable fast, easy, modern electronic signatures.   
Create a single source of all contract documents and data so you can always find what you need. 
Provide insights and analysis of your contract processes, embedded data, and inherent risks. 
Managing contracts and risk during growth 
Randy: Over time, most companies accumulate a large volume of contracts. You may even acquire a company and bring in even more contracts. How do you stay on top of that? How do you manage risk? How do you know what is in those contracts as the number of contracts continues to grow? 
We utilize a variety of software in our toolsets. We use our CRM (Customer Relationship Management) system as a searchable contract repository. Another tool we use is Conga Contract intelligence that accomplishes two important objectives. It allows us to create customized reports to identify various key terms or data points in our repository.  
For example, I was recently involved in a merger and acquisition event where we needed to identify all contracts with liability exposure over a certain dollar amount. Conga Contract intelligence allows us to do that by setting those parameters. Another key component of Conga Contract intelligence or something like it, it allows companies to ingest large volumes of legacy contracts into their contract management system and treat them as if they were created day one from that system. 
5 benefits of an effective contract intelligence tool 
Maximize the value of every agreement: Contract intelligence enables teams to quickly audit and act upon massive databases of contracts with ease and efficiency. In fact, it has been estimated that teams save almost one day a week of administrative work per employee.  
Capture every revenue opportunity: Advanced machine learning (ML) extracts data-driven events and distills complex contract data into an easy-to-use dashboard. 
Avoid surprise expenses: Get proactive alerts before any key event that will affect your budget, like the auto-renewal of a contract you no longer want to pay for.  
Minimize liability exposure: Avoid risk by reliably meeting SLAs and lowering the likelihood of penalties or unforeseen expenses.  
Eliminate costly manual work: End manual data entry and information-seeking. Automate key operations tasks and gain immediate access to answers. 
To learn more and get first-hand insights, watch the full video with Conga's CMO Randy Littleson and Senior Vice President and General Counsel James Larsen. 
This blog post is an abbreviated version of the video that's been condensed and edited for readability.