How automating proposals can improve sales performance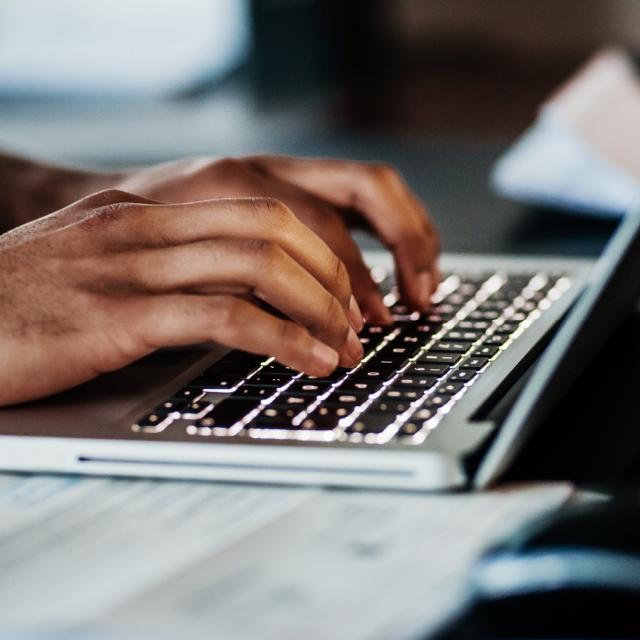 The proposal and quoting process is one of the most important steps in the sales cycle and automating these processes can help improve sales and develop long-lasting customer relationships. Proposals create the customer's first impression in today's competitive marketplace and delivering accurate and professional proposals can help you stand out from the competition.  
For proposals to be effective, they must deliver everything the customer is expecting in a clear format. To do this, sales teams need the right tools to quickly develop and deliver their proposals to help customers move through the sales cycle. But outdated proposal processes prove to be inefficient and burdensome for many businesses. During the proposal or quote generation process, teams can face a lot of challenges, like spending too much time on manual data retrieval, pulling inaccurate data or information, incorrectly using branded proposal templates, and delays in obtaining signatures. These challenges slow down proposal creation and delivery, plus impact accuracy, all of which impact the customer's experience and overall speed to revenue.  
Businesses today need their proposals to work for them without the headache of manual processes that hold up the sales cycle. Streamlining and automating proposals and quotes with digital tools and software is the answer.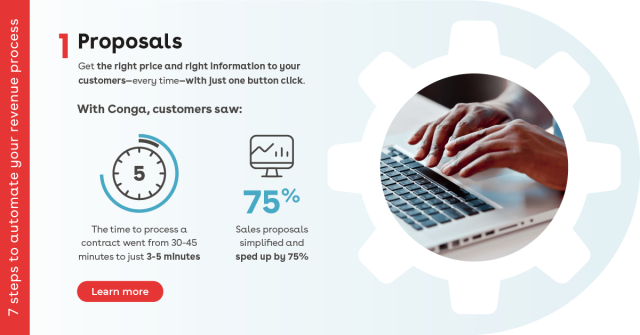 Automate proposal data retrieval and increase accuracy 
Human errors happen, especially when document generation processes are manual and tedious, which requires employees and teams that develop proposals and quotes to pull data manually, oftentimes from multiple different data sources. Manual data retrieval and entry open the door to human error and can result in more time spent fixing issues, affecting the speed of delivery to your customers and the customer experience overall.  
With Conga's digital document solutions, teams can streamline their document generation process and ensure customers receive error-free and accurate digital proposals and quotes. Conga's document automation software pulls accurate and error-free data from your system of record, populating it into the right place in your proposal or quote. This easy-to-use solution will simultaneously save proposal generation time and increase accuracy for sales teams.  
Deliver a consistent brand experience  
Marketers aren't the only representatives of the brand; sales teams are, too. Each interaction between sales teams and your customers should reflect your company's brand, including delivering branded proposal templates. With Conga Composer, teams have access to customized and branded templates that ensure every proposal is accurate and on-brand. Plus, the process is automated, saving time.  
With a branded template, creating a professional, consistent look and feel is easy. Sales reps can then customize the proposal with personalized information that speaks directly to their customer's challenges, delivering relevant and specific solutions. This, in turn, helps create a great customer experience and relationship.  
Send and sign with ease  
More clients are starting to expect digital documents and processes. Paper proposals and quotes are more and more often seen as outdated and capturing signatures the old-fashioned way proves to be slow and inefficient. Conga gives your teams modern, digital tools to automate proposals which satisfy customer expectations, helps you stay competitive and improves sales.  
With Conga Sign, say goodbye to signature delays that come from ink signature on paper—or scanned documents emailed as attachments. With eSignature, customers sign on the dotted line easily and efficiently, moving them through the sales cycle quicker. Obtaining electronic signatures is not only more efficient and more secure, it creates a better experience for customers, too. Conga Sign integrates with other Conga solutions in the Conga Suite helping to further automate and integrate the proposal process, saving time and money.  
T-Mobile beefs up sales proposal capabilities with Conga 
T-Mobile for Business is focused on transforming the wireless mobile industry with better connectivity for their enterprise cell customers. To create a better customer experience, T-Mobile wanted to improve the sales and proposals process.  
One of the challenges that T-Mobile sales representatives faced was their proposals lacked a necessary capability: customized promotional pricing offers for their customers. This was a potential risk since the customer would have to rely solely on the word of their sales representatives without seeing the offer in writing.  
T-Mobile decided to implement Conga Composer to solve the issues with their existing proposal process. T-Mobile can now quickly and accurately include promotional pricing in their proposals. Since implementing Conga solutions T-Mobile has seen: 
A 25 percent increased adoption rate with their users. 
Time and money saved with efficient proposal generation. 
Sales team members only log in to one system, making the proposal generation process easier and more accurate. 
Get time back and improve sales by automating proposals  
An automated proposal and quoting process is a key factor in achieving efficiency in the sales process and increases time to revenue, all while delivering a great experience for customers. With Conga's solutions, it's simple to create accurate and branded, proposals, see the status of your proposal, and obtain signatures quicker. An automated proposal solution results in a faster, more accurate, and headache-free process so teams can focus their energy on developing customer relationships and spend more time selling.  
Whether you are just getting started in automating key business processes or ready to take your revenue process to the next level, the Conga Suite can help you create, send and store important proposal or quote documents so you can focus on what matters most – your business and your customers. Learn how to maximize revenue in every deal with proposal solutions from Conga.