Future-proofing manufacturing automation through digital transformation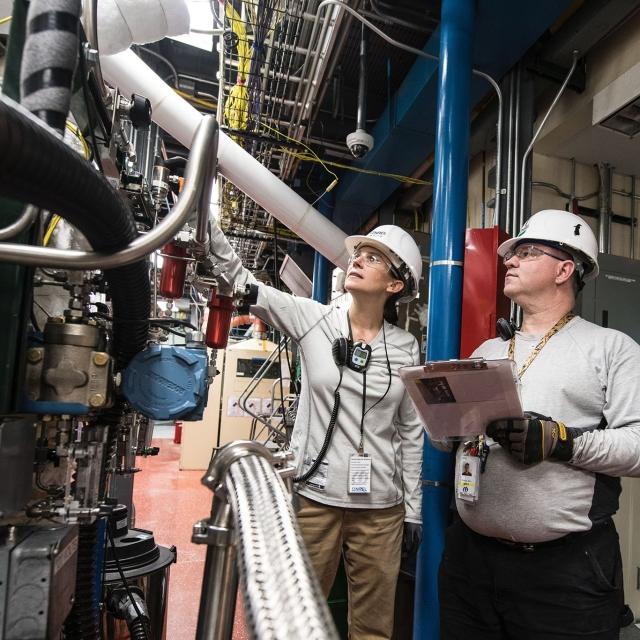 Manufacturing companies today are at a crossroads: adapt to the new world of digital transformation or risk becoming obsolete. Certain sectors of manufacturing in the U.S., such as aerospace and pharmaceuticals, have seen an uptick in production, possibly as a direct result of digital transformation, but new digital improvements bring possible setbacks alongside the benefits. For instance, dealing with global partners and suppliers, managing data security, and finding the right talent for the labor force all play a factor in staying competitive. The question for most manufacturing companies isn't whether or not to transform; it's where to start that transformation. 
Identifying how your business operations intersect with the digital world is the first step in starting digital transformation. You need accurate data on a global scale, including everything from fulfilling orders to shipments to employee and customer relations. But the data has to be more than accurate; it has to be something you can access and analyze in order to make more informed decisions. You need to get a holistic view of your commitments, risks, and exposure, while keeping the customer experience top of mind throughout the digital transformation process. 
There are many common problems rising in the world of manufacturing that can be addressed through digital transformation. Manufacturing companies who want to stay at the leading edge need professional documents, contracts, and the new technology necessary to attract an increasingly digital workforce. 
Dealing with new distribution channels and new products
As manufacturing business is changing—new revenue streams with new pricing models and different products to produce and sell—another factor to consider is how that impacts your distribution channel. In order for sales documents like sales agreements and contracts to be consistent and professional, those pricing models need to be updated in the system of record—such as customer relationship management software like Salesforce—and then be accurately reflected in the sales agreement. Digital document transformation can help sales teams easily create, share, and collaborate on sales agreements, without the risk of manual errors, thanks to automated processes. Additionally, during the negotiation and execution stages, suppliers and vendors can participate digitally, which saves time and effort for everyone and vastly improves the customer experience. 
Delivering for new vendors and suppliers
Beyond the products that a manufacturing company produces, customer experience is also a big part of the push for digital transformation. As your company sells to an increasingly global marketplace or vendors with entities from around the world, the many regulations and currencies can have an impact on your ability to deliver products in a timely manner. Automation can provide consistency across a variety of manufacturing processes that would require hours of manual efforts to update, such as sales agreements and forecasting.
Digital transformation can save on frustration and lost revenue in the long run, both by streamlining internal processes and reducing risk by automating compliance with external partners. Overall, manufacturing automation will lead to a better customer experience across the board. 
Mitigating impending labor shortages
You may have heard or read lots of hand-wringing think pieces about how artificial intelligence, automation, and robots are going to replace most manual labor, making jobs in manufacturing a thing of the past. In fact, automation is creating a different problem for manufacturing: as digital transformation changes the manufacturing landscape, more skilled laborers with both technical and trade skills are becoming more critical, and are increasingly hard to find. As the current manufacturing workforce retires, manufacturing companies have to find new ways to attract, train, and retain workers. 
By participating in digital transformation, employers can make their businesses more attractive places to work by reducing frustration and increasing time employees have to engage in creative, fulfilling work. At the same time, automation provides data into how you get your work done, helping you and your employees find more efficient workflows to keep the manufacturing line running smoother than ever before. 
Digital transformation also changes how manufacturing companies are sourcing new talent, such as through digital marketing and social channels. By communicating the benefits of working for the company in modern, attractive ways, manufacturing companies can help find those imperative workers and train them to do the jobs that they'll find fulfilling. 
Keeping up with the Internet of Things
According to a recent study by Capgemini, 47 percent of all manufacturing products will be smart, connected, and capable of generating product-as-a-service revenue by 2020. This means that new technology like 5G, the Internet of Things (IoT), and the Industrial Internet of Things (IIoT) are all driving how manufacturing companies get their work done. New gadgets are quickly becoming essential to increasing productivity, lowering costs, and improving product quality. 
But another advantage that these connected tools bring to the table is data. Not only do manufacturing companies need to have the newest technology on the market to keep their production line functioning at the same level as (or better than) competitors; they need a way to manage the piles of data that will be made available through these new tools. Through digital transformation, manufacturers can be better prepared to implement new solutions, and to make sense of the data that they accrue. Enterprise resource planning (ERP) software is one such technology, which can provide valuable insights and cut a path to better decision-making. 
As manufacturing companies are looking into the future, digital transformation is a make-or-break initiative that will affect all aspects of planning, production, and internal processes, leading to gaining that coveted competitive edge.