Getting results: a closer look at Forrester's® TEI™ study on Conga CLM and how it empowers businesses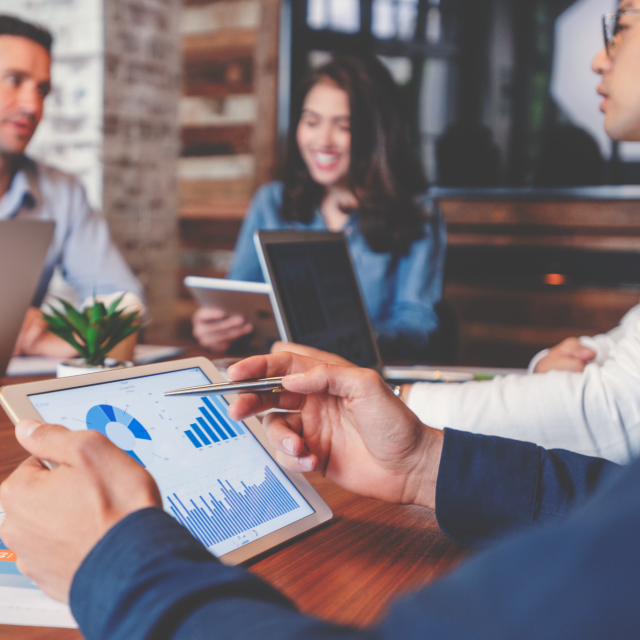 To better understand the benefits, costs, and risks associated with Conga CLM, Conga commissioned Forrester Consulting® to interview six decision-makers and conduct a Total Economic Impact™ (TEI) study. The key takeaways from this study are huge. In fact, the report has shown that a composite organization using Conga CLM would experience a 294% return on investment (ROI). That's not just worth it—that's a game-changer!
Not just extreme cost savings, Conga CLM creates a new standard in contract intelligence.
In the 2022 study, Forrester's analysis also found that a composite organization based on all interviewed decision-makers achieved a net present value (NPV) of $14.40 million and a payback period of less than six months. That's something to talk about—so let's talk about it.
The cases
Forrester examined business cases for Conga CLM in Enterprise organizations as well as small and medium-size businesses (SMBs), focusing on interviews from a healthcare provider, a utility company, and a software services provider.
The issues
These organizations struggled with legacy and homegrown contract management solutions due to manual processes, poor process rigor, and lack of consistency. This led to significant amounts of time spent creating and finding contracts. These bottlenecks created lost business opportunities from inefficient renewal tracking and missed contract obligations.
The solutions
The interviewees' organizations also wanted a managed contract solution, a single source of truth for all contract details, and better tracking and reporting tools so they could easily identify key renewal dates and review contract obligations. Conga CLM empowered these organizations to accomplish all of this and more.
The results: key takeaways from Forrester's TEI report
Forrester's financial analysis and customer interviews found that a composite organization using Conga CLM would experience an ROI of 294% and NPV of $14.4M with key savings using Conga CLM from the following:
Faster contract creation. Contract artificial intelligence reduced labor on average from 25 hours to 15 hours per contract for the composite organization.
Accelerated existing contract requests. Conga CLM seamlessly enables organizations to centralize contract storage for employees to use rich search features to find an existing contract, then to distribute to the appropriate teams such as leadership, finance, and procurement.
Forrester found that contract cycle times were reduced from eight hours to 30 minutes for the composite organization.
Recovered revenue from optimized renewals. Conga CLM allows teams to evaluate terms for upcoming renewals and consider negotiation as needed to boost profits or revenue, while also ensuring they don't neglect any manual renewal deadlines and miss out on a potential service up-sell to increase revenue.
Improved contract obligation management. Conga CLM helps customers track and manage contract obligations more effectively, reducing at-risk contracts from 3% to 1.4% for the composite organization.
Are you ready to see impactful results like these at your organization? Allow us to show you how Conga CLM gives you the power to transform. We will tailor our solutions to meet your specific needs for greater agility and better business outcomes.
Read The Total Economic Impact™ of Conga CLM study.
But wait, what is Conga CLM?
Before we dive any deeper, let's define what Conga CLM does and how it could benefit your organization. Conga CLM is an end-to-end contract lifecycle management solution built to automate highly complex contracting processes that span geographies, multiple departments, and both buy- and sell-side contracts.
It empowers everyone involved in the contracting process, increases contract visibility, and enforces compliance to mitigate risk.
How Conga CLM empowers teams through contract intelligence.
As you likely already know, technology, digitization, and AI tools are no longer nice to have but are essential in the ever evolving and increasingly complex corporate environment. Empower your team to be proactive instead of reactive in this environment with Conga CLM. Contract intelligence gives you essential information like contracts up for expiration or termination, redlined clauses that are stopping deals, and insight into the contract pipeline so your team is aligned with sales.
Avoid spending hours manually searching for contracts to bring to the board room and instead come prepared with deep insights aligning legal with the rest of your organization.
Benefits of automated data extraction.
The global business and regulatory landscapes are constantly shifting. Legal teams need to be able to respond quickly to new developments, anticipate risks, and identify opportunities to maximize revenue.
Automated data extraction and contract analytics bring valuable insights to Legal's attention and reduces the manual work required by the contract review
process. Review and update clauses quickly and at scale to minimize liability exposure.
Who is Conga CLM for?
You may find Conga CLM helpful if you're looking to:
Remove friction in your sales cycle
Simplify complex contracting processes
Standardize contracts to mitigate risk
Support buy-side and sell-side contracts
How Conga CLM can ensure due diligence and risk management for your legal contracts
Contracts are an absolute necessity for conducting business—any kind of business. But the contracting process can be a major source of tension—especially between the sales and legal teams.
Empower your sales and legal teams to work together and faster without disparity. For legal teams, the right contract lifecycle management (CLM) solution provides increased control over the contracting process and avoids exposing the company to unnecessary risk, all while creating greater efficiency and faster cycle times. For sales teams, the benefits of CLM software lies in its ability to streamline the contracting process and accelerate sales.
By eliminating some of the most common pain points within the contracting process, CLM software allows legal and sales teams to work more seamlessly together.
Contract management software also ensures greater accuracy in contracts for both departments. Manual contract management and inefficient or incomplete processes can lead to human error, approval delays, decreased productivity, compliance issues, increased risk, and—ultimately—lost business due to dissatisfied customers.
To address these shortcomings, reduce risk, and ensure contract consistency, many organizations are turning to automated CLM software. With CLM, automated data extraction, artificial intelligence, legal document review, contract analytics, and risk mitigation all become a part of the process.
Conga CLM is made for any organization looking to improve accuracy and reduce time spent on administrative tasks. Those without time to spend on strategic activities, who have too many manual tasks, or limited staff and budget can all experience streamlined workflows as well as optimized efficiency with the right CLM software.
Benefits and features for your team
There's no question—streamlining and accelerating contract cycles fuels sales velocity. However, the very nature of legal's work can put them in direct conflict with sales velocity and financial goals.
Legal teams are up against impossible odds. Some might say that the contract management process is inflexible and time-intensive, slowing revenue cycles.
But this is where Conga CLM really shines. We work to find new and improved ways to creatively and strategically reduce friction and to resolve complex issues for the optimal outcome.
With Conga CLM, contract cycle times and costs can be drastically reduced. You will have a centralized, up-to-date, and automated system that connects all departments across the organization. Teams can streamline workflows to boost collaboration, productivity, accuracy, and time to revenue.
Time is money. The proof is in the numbers.
Forrester found the composite company would see $14.4M in savings because after all, time is money. Spending fewer days finalizing an agreement means you have more time to recognize the revenue from that deal and your sales team has more time to spend on closing the next one.
With the right systems in place, supported by advanced end-to-end revenue management solutions, the opportunities to transform business operations are endless.
The right CLM solution can:
Improve visibility. Legal, sales, and financial teams all have access to the same dashboard with a 360-degree view of the contract lifecycle, making it easy to streamline negotiation and electronic approval processes, track renewal opportunities, and avoid risky terms and clauses with excellent risk mitigation.
Increase speed-to-revenue. Advanced revenue management solutions create more accurate revenue and cash-flow forecasts to increase financial gains. Automated features alert teams of upcoming renewals—including any scheduled markups or discounts—so sales can proactively pursue and capture revenue opportunities while spending more time improving the customer experience.
Break down silos and eliminate bottlenecks. CLM solutions combined with AI eliminate complicated error-prone spreadsheets that inevitably lead to lost revenue and increased risk. Conga CLM changes all that, allowing you to seamlessly capture and view data from a variety of sources.
Enhance the customer experience. Time is not only money but care as well. With more time you can take better care of clients and customers.
Smarten up your contract management process with Conga CLM. Learn more about how Conga CLM can offer contract intelligence and simplified workflows between legal and sales. Read The Total Economic Impact™ of Conga CLM, a commissioned study by Forrester Consulting® on behalf of Conga and learn how to reduce turnaround times and improve legal spending.