Digital Transformation: Holly Muscolino from IDC Explains the 3 Key Stages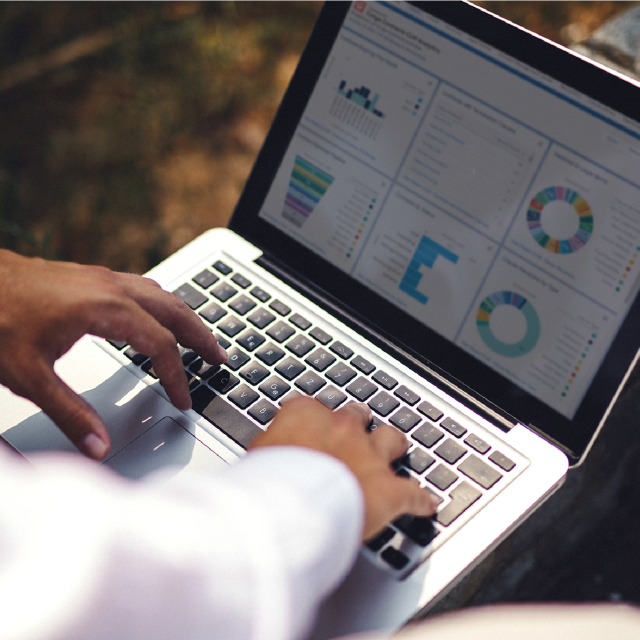 Digital transformation is a complex process—and a complex topic. Why not learn from the experts? In a recent conversation, Conga's Chief Marketing Officer, Randy Littleson, and Holly Muscolino, Group Vice President at global market intelligence firm IDC, took a deep dive into digital transformation journeys, including best practices, benefits, and how companies can evaluate their progress. Following are some key takeaways from their discussion.   
Tangible benefits of digital transformation 
Randy: You've often spoken about "digital-first businesses." What do you mean by that, and what benefits can companies gain by becoming a digital-first business?  
Holly responds, "Digital transformation isn't a finite destination; it's an ongoing journey. At IDC, we've modeled out the stages of this journey based on extensive research with senior decision makers across all industries and company sizes." 
As IDC defines it, there are three stages of digital transformation (DX): 
DX 1.0: Siloed processes with a short-term focus on immediate projects and limited scalability; metrics are primarily financial (e.g., cost savings). 
DX 2.0: Digitization at scale across the organization; metrics expand to include things like customer experience and employee satisfaction. 
Digital-first business: Organizations leverage digital capabilities to generate additional value, including operational efficiency, new ways of engaging customers, new ways of attracting and retaining employees, and new digital products and services. 
She continues, "We did some research this year to assess where organizations are in this journey. Interestingly, over half of the companies we surveyed said they have already shifted to a digital-first strategy. Of course, this means the other half are still trying to figure it out. But the good news is that investments in digital transformation are driving significant business outcomes." 
IDC's IT spending survey shows consistent results month-over-month, including: 
20% increase in revenue, profits, and cost savings 
30% increase in business agility 
20% increase in operational efficiency 
Up to 30% increase in customer satisfaction 
Evaluating your progress on the transformation journey 
Randy: You've also written about a document-centric process maturity model. What is that, and how can companies use that approach to map their journey? 
"Documents and content are the heart of any business, so the automation of document-centric processes needs to be part of any digital transformation." Holly replies. "We designed a document process maturity model with five distinct stages, each of which includes many dimensions and sub-dimensions. This detailed model allows organizations to determine where they stand in terms of document workflow maturity and identify gaps in their digital transformation strategy." 
Holly explains that the IDC document process maturity model includes things like: 
Vision, strategy, and budget 
Processes, including governance and security 
Technologies deployed 
Impact on work transformation 
Holly continues, "We see very few organizations at the lowest level of document maturity, with entirely manual and paper-based processes. But a surprising number of companies are just one step above that. They digitize their documents and have some automation technology, but they're basically creating digital versions of their paper-based processes. The processes aren't more efficient, and they aren't taking advantage of technological innovation." 
She explains that true digital transformation is more than just digitizing and automating; it's entirely possible to automate a broken process. To reach higher levels of maturity, organizations must understand how to leverage a common technology stack to break down silos and re-engineer processes. And at the highest maturity level, companies also incorporate AI and advanced analytics for decision making and process orchestration.   
How to measure success in digital transformation 
Randy: Can you talk about the metrics that companies use to measure the success of their digital transformation project? And how do you recommend building the internal business case? 
"Success can mean many different things, depending on the goals of the project," Holly says. "You could have metrics around leverage or quality. It could be about training and service, or business impact. So my advice is to follow what Stephen Covey said years ago: 'Begin with the end in mind.' That will help you determine what success looks like and how to measure it." 
She suggests the first step is measuring where you are today and considering all the key business outcomes. This includes not only traditional business metrics like revenue and cost savings, but also things like customer satisfaction and employee engagement. 
She concludes, "From there, you can measure your progress to build a business case for digital transformation. And when you find areas that aren't successful, you can fine tune and move forward."   
Transforming revenue management processes 
Randy: How does digital transformation of document-centric processes apply to revenue management, and where do you see companies getting the most business value? 
Holly answers, "It's all about breaking down silos, and making sure that processes are integrated both within your organization and with your customers. That means deploying a modern, cloud-enabled technology stack, a common data set, and a shared document repository." 
Some technologies that are critical to creating seamless end-to-end revenue processes include: 
Automated document generation, so you can lock down your brand and important clauses, while reducing repetitive manual work for document authors. 
Electronic signature, which took center stage during the pandemic as organizations needed to keep their business running without printing, signing, scanning, and sending physical documents.  
She adds, "End-to-end integration doesn't mean that humans are excluded from the process. Signing a document is a perfect example of where humans are needed. But those human interactions should be intentional—not a way to bridge disparate systems or processes. Automation allows you to free up resources by eliminating routine, repetitive tasks so people can focus on higher value work. It can also complete tasks that humans can't do in a reasonable amount of time, like extracting information from a large number of documents."   
Advice for starting the digital transformation journey 
Randy: You've explained that digital transformation projects are not a destination, but a journey. What advice do you have for companies looking to start that journey? 
Holly responds, "Start by evaluating your existing document workflows and identifying the biggest pain points. Specifically, consider processes that are still paper based—especially where paper is used to bridge disparate processes or systems. Look for processes that have bottlenecks, and those that are causing missed deadlines. And of course, identify any processes that create security risks or compliance issues." 
She shares three additional pieces of advice for starting the digital transformation journey: 
Involve all of your stakeholders, which may include employees, customers, and partners. 
Understand your starting point and measure your progress as you go, then use those metrics to make the business case. 
Make sure you're working with vendors who can deliver modern solutions that enable end-to-end automation and transformation. 
To learn more and get first-hand insights, watch the full video with Conga CMO Randy Littleson and IDC's Holly Muscolino.      
This blog post is an abbreviated version of the video that's been condensed and edited for readability.