Combatting supply chain disruptions, increasing revenue, and reducing risk with Mauro Caputi of Mainspring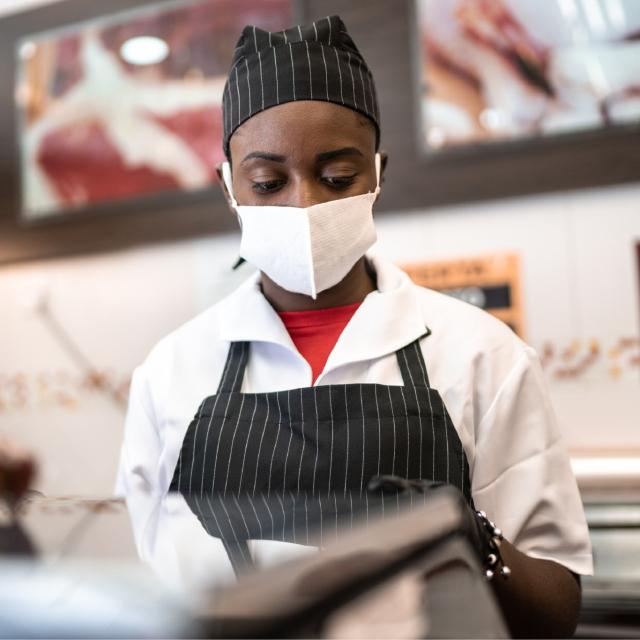 What important trends from today's digital transformation environment are impacting the middle office? 
In a recent discussion, Conga's Chief Marketing Officer, Randy Littleson, and Mauro Caputi, partner at Mainspring, talk about the middle office, supply chain disruptions, and broken processes in 2022. The following are key takeaways from that discussion.  
Defining the middle office 
mid·dle of·fice [noun] 
Middle office operations are the functions associated with management of information that is in the possession of a company. 
"For those of you that don't know what middle office means, [it] consists of disciplines like contract lifecycle management (CLM), configure price quote (CPQ), or supplier relationship management (SRM)," says Mauro. "It's really the space that bridges the gap between the front and back office. And so for that reason, it's why we're seeing the middle office take such a prominent role in digital transformations today." 
Middle office challenges 
Post-COVID supply chain challenges, as well as economic and political turmoil, have posed several challenges for businesses of all shapes and sizes. "It's become increasingly clear that in order for companies to continue to succeed and minimize and mitigate against the risk of a supply chain disruption, it's important to establish more vertical integration with the suppliers and customers that it works with," says Mauro. 
It has become paramount that businesses are able to minimize the gaps not just within their organizations, but outside of their organizations as well. 
Mauro says it is essential that "sales, procurement, and legal—as the key business functions that support the middle office—work in a very seamless fashion. It's no longer okay to work in silos. As a matter of fact, McKinsey calls out in one of their most recent reports that in order for companies and organizations to escalate and get to that next generation operating model, that the front office and back office work in a seamless, overarching manner." 
Finding solutions in new products and services 
Randy asks: How can we design products, services, and experiences to deliver this value urgently? 
Mauro says that "given the urgent nature in which these challenges need to be addressed, we would urge you to consider an agile approach. Agile being an approach where you're releasing new products or services and/or capabilities in a frequent manner…in a compressed timeframe. We recommend a hybrid approach of leveraging waterfall and agile, something that we term a wagile, where you're taking advantage of the features of both methodologies to again roll-out, whether it's a new product, a new service, or new capabilities urgently or to solicit feedback early and often so you can make adjustments." 
Reading the data on the wall 
While there's certainly a sense of urgency to move forward it's also very important to collect benchmark data of your journey along the way.  
Mauro adds, "We ask that [businesses] consider an approach where [they're] taking advantage of the data that already exists in-house that is virtually untapped and underutilized." Mauro adds, "We often get pushback that the data isn't available. While that might be true, there's an abundance of data that sits within agreements and proposals that isn't being recognized and used in a more effective manner. Data such as the average duration of agreements, the types of discounts and payment structures that might be contained within those agreements, and how current agreements deviated from standard templates. Those are some examples of data that can be used as part of this analysis and used to establish that benchmark." 
Breaking down silos with AI 
"One of the global financial services institutions we work very closely with gather all their buy-side contracts from a variety of different repositories and locations, have a really good sense of the risk exposure and the payment terms that existed within their buy-side agreements. Leveraging AI as a service, we were able to put together and develop a database to use as a staging area in which all of [their] contracts could be collected, stored, and more importantly, understood," Mauro explained. 
With data in hand, organizations are then given the opportunity to properly evaluate their processes and get to the root cause of what's contributing to the friction within their business. 
Increasing revenue while reducing risk 
What's the fastest way that you recommend companies stabilize and redesign stretched, and in some cases, broken processes? And what capabilities will [businesses] need to increase resilient cost controls and increase revenue while also reducing risk? 
"We recommend an approach that leverages a technology-enabled process, explained Mauro. "Solutions like Conga CLM and CPQ are certainly among them. Derive process insights about your current state today, above and beyond insights that you would not normally receive just based on your gut alone."  
With the right AI, businesses can have new improved capabilities such as requiring approvals for only those contracts which get redlined the most or establishing key alerts and notifications that matter most to your business. 
"It's also important to look at and collect this data empirically to start to derive those process insights so that you can make very solid and good decisions during the implementation, not just once the capabilities have gone live," says Mauro. 
Getting started with middle office digital transformations 
Randy asks Mauro: How can businesses set priorities and organize to direct all of this activity? Where and how do organizations begin their digital transformation journey? 
Mauro responds by saying that "It's important to start collecting, analyzing your analog data which you'll find in your contracts and proposals. This analog data will help you formulate a fact-based hypothesis of where value can be obtained in relation to your business objectives to help minimize friction within your operations." 
With this hypothesis established, businesses can now engage the rest of its organization. Starting at the top with its leaders, it will now be possible to set a clear mandate for objectives, establish a roadmap, and shepherd the organization towards implementing and embracing the new processes. 
Mauro concludes, "While you might be determined to lead the digital transformation effort, and we certainly support that, it's super important that you begin, at least with a first phase implementation, with an SI that has the experience with those said technologies. And if you are again determined to lead the digital transformation effort, then leverage that phase one and shadow the SI so that you are able to perform the subsequent phases in a more effective and efficient manner because as Gucci once said, Quality is remembered long after price is forgotten." 
To learn more and get first-hand insights, watch the full video with Mauro Caputi and CMO, Randy Littleson as they discuss digital transformations in the middle office.   
This blog post is an abbreviated version of the video that's been condensed and edited for readability.