CLM
Salesforce Optimizations
Blog
Automate onboarding to create a better customer experience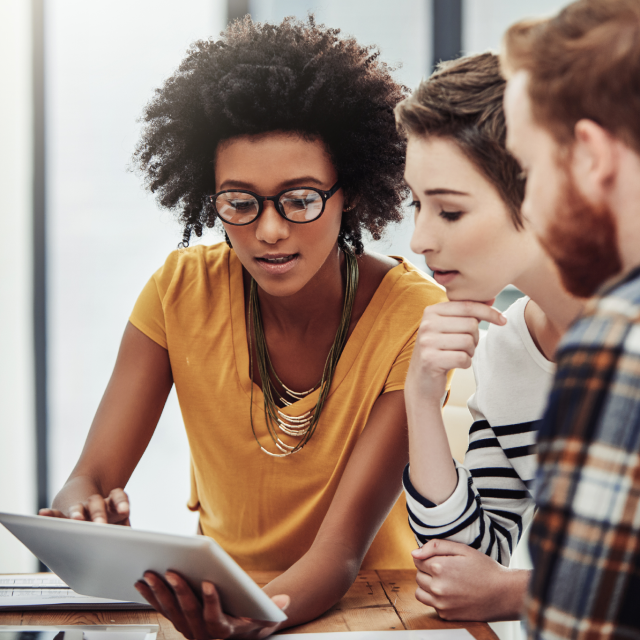 The customer onboarding process is an important step in your customer's journey with your company. 
And, a successful, seamless and relatively simple onboarding process is confirmation to your clients that they've made the right decision in deciding on your product or service.
If your company is not paying close attention to the customer onboarding process, you might be missing out on important relationship-building opportunities which could turn your first-time customers into repeat and loyal customers.  
One way to create a better process for internal teams and customers alike is to invest in customer onboarding software to help automate this process. Automating this key process will allow your company to spend more time properly getting your customers acclimated with your solution while simultaneously building the customer relationship and less time sorting, creating and managing documents and paperwork. 
What is customer onboarding? 
During the customer onboarding process, sales reps or product and service onboarding specialists are tasked with getting customers comfortable with the product or solution. This process can include multiple different training programs including step-by-step tutorials, assets such as product guides, eBooks, instruction manuals, and hands-on support and guidance.  
A great onboarding process and strategy allows your company to start off on the right foot with your new customer. Customer onboarding allows you to be a helpful guide as the customer gets acclimated to the new product or solution, but it puts the customer's goals and needs front and center. That means that tutorials, working sessions, and resources should be tailored and useful to customers' goals. 
Why is customer onboarding important? 
The customer onboarding process sets the tone for how the rest of their experience will be when interacting with your product or employees.  
When the onboarding process goes great for customers, you'll notice: 
Customers will be more likely to renew their contracts 
You'll receive more referrals from happy customers 
Engaged customers and better customer relationships 
The customer onboarding process is an important part of the revenue cycle and can help your customer renewal strategy, improve customer satisfaction, and potentially open the door for opportunities to upsell and cross-sell since you've proven ease and immediate value after they've signed on the dotted line. 
Common challenges in a manual customer onboarding process 
The customer onboarding process is not without its challenges—especially if you are doing it all manually. The onboarding process is resource- and time-intensive, with most of that work going towards managing paperwork and customer onboarding documents instead of spending time on building the relationship with the customer and helping them feel comfortable with your product or solution. 
Further, document creation creates room for errors, especially since data is most likely sorted, copied, and pasted from a spreadsheet to a Word document, manually. Not to mention that the document templates could be outdated or off-brand, opening the door to inconsistency for your customer.   
When the onboarding process proves to be difficult for the customer, the goal of this process is lost—which is to show immediate value of the product and ways to incorporate the solution into their everyday work to help solve their biggest pain point that brought them to your solution in the first place.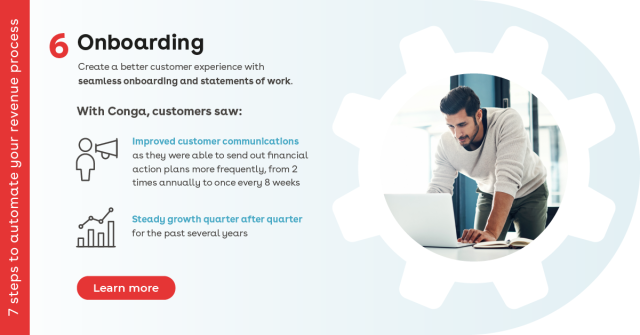 The benefits of an automated client onboarding process 
By automating the client onboarding process, not only are you shifting your internal team's focus to the customer, but you are also allowing your customer time to focus on the product and solution instead of sifting through multiple documents and ensuring they are accurate. Here are the three major benefits your organization will notice with client onboarding automation: 
1. Provide a consistent customer experience, end-to-end 
When your customers receive different documents from multiple different people, it proves to be more work for them. They are tasked with sifting through those documents, checking the accuracy, and "meeting" new people in your organization that they might've not worked with yet.  
Streamline your document creation and sending activities with Conga Composer. Not only will all your onboarding documents be branded, but creating these documents using predefined templates will prove to be a time-saver. What's more, tracking documents is simple, allowing for visibility into the process for all internal teams involved.  
2. Ensure data stays accurate and up to date 
Creating complex documents, manually, is labor-intensive and opens the door to errors. If you notice your teams manually filling in documents after referencing the CRM, spreadsheets, other documents, physical notes, etc., then you can expect that there will be errors in the documents. Plus, if sending documents manually via email is part of your process, chances are that you might have (or could in the future) made the embarrassing mistake of sending the wrong document to the wrong customer. 
With Conga's end-to-end solutions, it's easy to pull data from your Salesforce CRM right into your document which ensures accuracy every single time. When the document is sent to the right customer for signature or review, all that information is automatically updated so you know exactly where you are in the process with your customers. Once the document is signed, that data is also updated, and your teams can focus on your customer instead of manually updating your CRM. 
3. Improve efficiency and collaboration for internal teams 
The onboarding process is collaborative between both your internal teams and your customers. Chances are your organization is interacting with multiple members of your client's organization. Making collaboration from the start simple will not only make your internal team's job easier, but it will be a seamless experience for the customer.  
With Conga, you can break down the silos and provide access to key information to everyone who needs it. The benefit of this is you can ensure that every interaction with your customer is relevant and beneficial to them. Don't waste time providing your customer information they already have and work on developing a relationship that will keep them coming back for more.  
HFM Investment Advisors save considerable time, while improving customer relationships with Conga Solutions 
Private and commercial clients alike have relied on HFM Investment Advisors for nearly 30 years. HFM helps clients plan for their financial futures while delivering guidance that requires accountability in the form of client action plans.  
These multi-page action plans are sent regularly to clients and highlight their personal financial goals and exact steps needed to achieve those goals. HFM was struggling with manually updating these action plans, pulling data from various spreadsheets, copying and pasting data into the document, formatting the report, and sending PDFs to the client. This process was inefficient and would typically take an hour or more to produce a single report. This resulted in a drain of resources as the team struggled to keep up with the 150 plus clients that needed these reports twice a year.  
HFM turned to Conga Composer to help make their process more efficient by reducing manual data entry and increasing the quality of their financial action plans. Using Composer, the HFM team can automatically pull client information directly from Salesforce.  
Since the switch HFM has seen:  
Time savings: Reduced time to develop financial action plans from 1 hour to 30 seconds. 
Improved customer communications: Financial action plans sent out more frequently — increased from 2 times annually to once every 8 weeks. 
Increased productivity: Eliminated up to 20 hours per week of manual data entry for the advisor team or additional part-time headcount. 
Errors eliminated: Improved data accuracy and quality in documents sent. 
Provide your customers with a better onboarding experience with Conga's solutions 
With an automated customer onboarding process, you can build strong connections and consistent document flows from the get-go. Save your team valuable time by automating manual tasks like document generation, data entry, and more, and allow them to focus on their customer's onboarding experience.  
It's time to streamline your welcome process with Conga's automation solutions. Learn how you can get started.