Ultimate guide to revenue lifecycle management
See how revenue management tools can accelerate revenue velocity, eliminate errors and risk, and give you more insight into customer behaviors.
In this download, we'll cover:
The revenue management process and why it's important.
How revenue management completes the quote-to-cash process by supporting multiple billing models, eliminating manual errors, and maintaining ease-of-business once the customer signs.
Top considerations for companies looking to invest in a revenue management solution.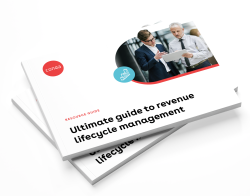 Get the guide
The importance of a revenue lifecycle management solution 
Why is revenue lifecycle management important? Effective revenue lifecycle management is nearly impossible without a solid solution in place. 
In this ultimate guide to revenue management, we provide details on how revenue management solutions and tools allow you to accelerate revenue velocity, eliminate errors and risk, and gain more insight into customer behaviors and expectations.  
Why revenue lifecycle management 
Customers and internal teams—particularly finance and sales—see a variety of benefits from effective revenue lifecycle management. Some of the benefits you should expect from your revenue lifecycle management solution include: 
Managed cash flow 
Billing schedules that match customer expectations 
Reduced revenue leakage 
Ability to avoid money left on the table due to invoice and billing mismanagement. 
Revenue lifecycle management where it counts 
There is a wide spectrum of revenue lifecycle management activities, but two key processes to focus on: 
Order management: Entering and processing orders 
Once a customer signs a contract, order management is initiated. This is the process of coordinating, scheduling, building, shipping, and installing the acquired products and services. 

Because order management is based on the order information found inside contracts, the process must be integrated with a contract lifecycle management (CLM) tool in order to take place smoothly and seamlessly. 
 
Billing management: Creating and managing invoices 
At the end of the day, the goal for effective billing is to generate an accurate and easy-to- understand invoice. If customers are unable to understand the bill, they will need questions answered before they pay.  However, if the bill is clear and easy to understand, customers are more likely to pay quickly and have a positive experience. 

As the revenue management process matures, it's important to adopt a solution that can meet your needs today, scale with growth tomorrow, and integrate well with other internal systems.  
Get the facts about a revenue lifecycle management solution that works for you 
In this guide we discuss some of the most important things to consider during the evaluation process in order to ensure you get the most out of your revenue lifecycle solution. 
Some things to consider during the evaluation process are: 
Contract visibility for revenue protection 
Global scalability for revenue assurance 
Simplified management 
Do you have a solution that offers these important benefits? Say goodbye to complexity with Conga. Our holistic approach to the revenue lifecycle can not only provide increased revenue but reduce revenue leakage, prevent invoice errors, offer higher contract renewal rates, and lower administrative costs.  
The return on investment 
Revenue lifecycle management addresses critical revenue processes that occur after customers have signed an initial sales contract, including order management and billing. By providing visibility into contract detail–including agreed-upon prices, milestones, and expiration dates–automated revenue lifecycle management ensures that businesses can accurately fulfill orders and intelligently renew contracts. 
ROI for your revenue lifecycle management solution should include: 
Increased revenue over customer lifetime 
Reduced revenue leakage 
Fewer invoice errors 
Higher contract renewal rates 
Lower administrative costs 
Transform the revenue lifecycle with our powerful, scalable solution 
Throughout the revenue lifecycle, Conga's solutions help you sell more easily and effectively. Confidently fulfill business faster with the most scalable solution on the market. 
Revenue lifecycle processes can be complicated and difficult to manage. Conga's Revenue Lifecycle Solution connects and standardizes processes across all teams to create one unified system—not several fragmented ones.
From proposals to negotiations to fulfillment and renew and expand, our revenue lifecycle management solution will transform your unique complexities with a single critical insights data model that adapts to ever-changing business requirements and aligns the understanding and efforts of every team. 
Learn how revenue management solutions help effectively collect revenue, predict budgets, and efficiently manage billing and customer agreements.