CLM
CPQ
Document Generation
Blog
The benefits of digitally transforming commercial operations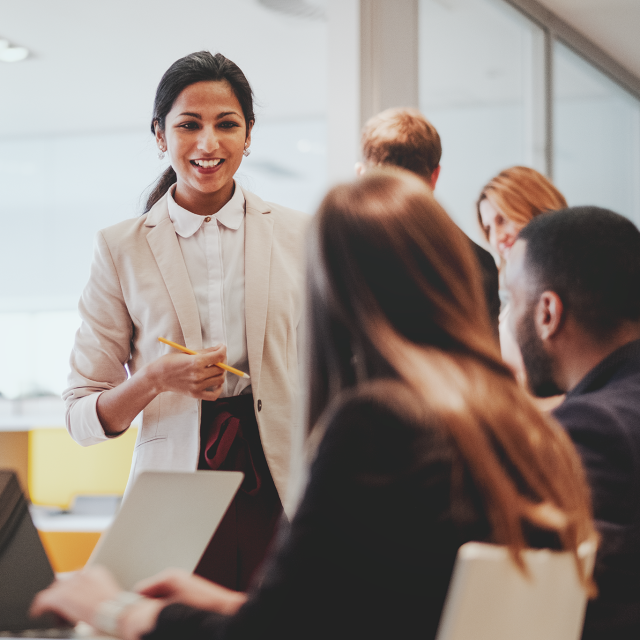 Business process automation is happening widespread, but where does everyone stand in their digital transformation journey to keep up with these fast-paced times?  
We surveyed and collected global data from business decision makers in sales, legal, and IT roles to see how companies are navigating the digital transformation of their commercial operations. We were able to gather solid data on the benefits of commercial operations transformation and see how the coronavirus disease 2019 (COVID-19) pandemic has affected respondents' progress. 
Our results show that the benefits of choosing to automate and transform your digital business operations outweigh the challenges it takes to reach success. This is even more true when seeking to transform your commercial operations.
Organizations committed to transforming their revenue operations can expect to increase employee productivity, support faster processes, boost revenue growth, improve the customer experience, and save time and money to create greater efficiency.
According to our recent report, State of Commercial Operations transformation, organizations are committed to transforming their revenue operations despite any hurdles in their way. 
Why companies are digitally transforming commercial operations  

Digital transformation is a necessary undertaking for all businesses as they seek to grow, to remain agile, and to thrive, regardless of the challenges they face. That's why nearly every organization surveyed already has a digital transformation strategy in place (99%).  
Commercial operations are integral to nearly every digital transformation roadmap, with nearly every organization reporting that they are working to transform at least some elements of their commercial operations as part of this strategy.      
Commercial operations are a key component of a winning digital transformation strategy. Successful companies consistently report fully implementing automated solutions more often in the following key functional areas: 
Contract lifecycle management (CLM) 
Configure, price, quote (CPQ)/eCommerce 
Electronic signature (eSignature) 
For example, KUKA invested in Conga solutions to help digitally transform their commercial operations and they were able to deliver new sets of applications and services for CPQ and E-commerce to meet the demands of our customers.
The bottom line: a solid commercial operations digital transformation plan is key to future success and to pulling ahead of the competition.  
The current state of revenue operations digital transformation 
While digitally transforming your commercial operations is a highly beneficial path to business process automation, only 37% of the survey respondents reported their efforts as mostly successful.  
Many admit that there are barriers to overcome to optimize their business operation, such as difficulties with siloed data and processes that lead to challenges in streamlining, integrating, and automating the functions and elements that drive commerce. 
Workforce readiness for change was reported as the most significant barrier to digital transformation success, according to the survey, rather than companies experiencing technical issues or factors beyond company control. Conga provides end-to-end solutions for these barriers, meeting customers wherever they are in their automation journey. 
Unprecedented times for digital transformation solutions 
For many organizations, the challenges of the COVID-19 pandemic have changed the landscape and added time sensitivity to their need for digital transformation. With remote work being the norm in the business world, there's little to no room for unnecessary cost or time spent on inefficient business processes.  
Effectiveness is more critical than ever to remain profitable. Even with limited success so far, digital transformation is worth the barriers, with companies still seeing meaningful benefits from their decision to implement digital transformation solutions. 
While so many organizations have invested in digital transformation initiatives, and even accelerated those initiatives to buoy their companies, successful transformation is a work in progress for many. Most organizations agree that digitally transforming their commercial operations would improve the customer experience, optimize commercial performance, and put them ahead of the competition.  
Impact of business process automation 
Commercial operations include key elements foundational to any organization's path to growth and profitability, including document-based automation, contract and lifecycle management, and revenue operations. Business process automation outcomes include boosted efficiencies, operating without silos, and harmonizing processes, teams, and vision.     
The chances of successfully implementing end-to-end technology solutions are much higher when used strategically to target transformation initiatives with expert guidance.
Organizations that do follow these initiatives report that they can more easily navigate barriers to their success, such as siloed, inefficient solutions, processes, and teams.  
Concrete benefits of digital business transformation 
Transforming your business operations and switching to a system built on workflow intelligence is worth the investment. Survey respondents ranked the following benefits in order of importance for them to achieve successful revenue operations optimization: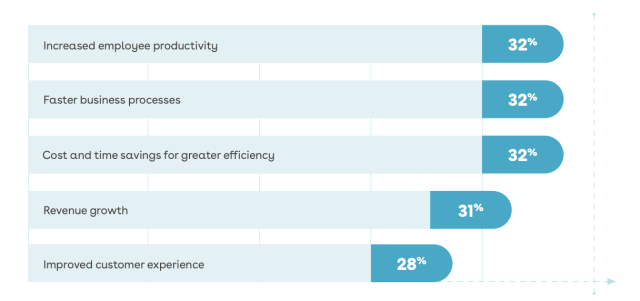 Truly effective digital transformation across an organization requires a cohesive strategy that embraces key processes for an end-to-end solution. 
Focusing your efforts for successful commercial operations transformation  
Transforming every area of commercial operations takes time both to implement the changes and see the success of the changes. As a whole, respondents reported that they most often implemented digital automation in the following areas of commercial operations: 
Documents 
Billing 
Contracts 
eSignature    
These diverse areas of focus show how complex effective commercial operations transformation really is, and how many companies still need to transform on a comprehensive level to reap the benefits. 
Documents are naturally the most common area for transformation, though roadblocks are inevitable. Many inefficient processes are being used today, with some companies still shuffling real paper and using typewriters.
For Hilton Worldwide, the barriers to automating document processes were clear, but so were the benefits of partnering with Conga. They were able to improve their customer relationships, save their employees time on manual tasks, and save money for a heftier ROI. 
Transforming business operations today for a better tomorrow 
Organizations who reported greater revenue and greater profit in the survey have fully implemented technologies across every area of commercial operations more often than the average of all companies. The differences in fully implemented solutions are greatest when it comes to companies with growing profits and revenue.  
Many companies have accelerated their plan to implement digital transformation because of the COVID-19 pandemic. While successful initiative rates are low, the benefits remain great. Even small degrees of commercial operations transformation can reap high rewards, making it worth the risk.  
Download the full Survey report: the state of commercial operations transformation.