Documents for every interaction
Conga Composer is a critical component of Conga Revenue Lifecycle Cloud, a set of unified products built on Conga Platform that enable you to crush your unique revenue lifecycle complexities and increase revenue certainty. Conga's open, flexible, and high-performance solution unifies, automates, and standardizes revenue processes across all teams to maximize customer lifetime value.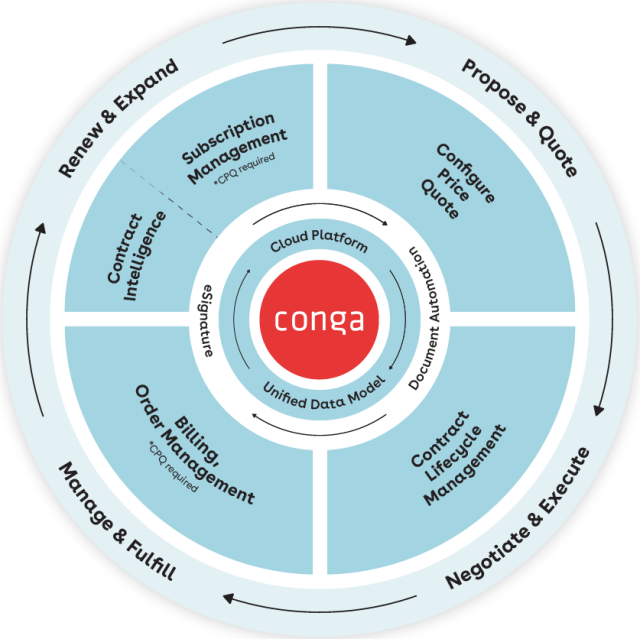 Conga Composer features
Document generation 

Streamline the document creation process using personalized templates. Boost business cycles and increase responsiveness to customers while reducing manual work—all within Salesforce.

Document accuracy 

Get the correct data into the right template. Merge data directly from Salesforce, or other external sources, into your documents to eliminate copy-and-paste errors.

Document presentation 

Control the consistency of your brand while maintaining your corporate messaging. Make it easy to ensure that everyone is sending professional documents.

Document efficiency  

Create documents within Salesforce with one or even no clicks. Add our automation solutions, Conga Batch and Conga Trigger, to increase operational efficiency.

Document delivery 

Get documents into the right hands. Send directly to your contacts via email and save to a single source to maintain access to the most up-to-date versions.

Document signature 

Save time by integrating with Conga Sign, an easy-to-execute and secure eSignature solution available on any device, initiated from Salesforce.

Document REST APIs

Embed document generation solutions into any website, portal, or application for a more seamless customer experience.
Document generation to accelerate revenue
Less time spent updating documents manually
Hours saved annually in document generation
Faster grant agreement generation
Dollars generated in quotes using Conga Composer
Faster detailed quote generation
Statistics provided by Conga customers
If I look at our users, they keep telling me that they couldn't actually live without Conga. It's loved by everybody and it really makes their job much, much easier.

Alexander Bender

Global Head of CRM

Allianz Care

Without Conga's ability to automate essential document creation, updating, and delivery, we'd have to hire a part-time employee to do it all manually and it would be difficult to run our business effectively and efficiently.

Jason Gabrieli

Financial Advisor

HFM Investment Advisors

Conga Composer has cut quote change turnarounds by about one week...Redoing documents was a huge task for sales directors, and revisions were unnecessarily time-consuming. Now, they can quickly change entries in Salesforce and generate a new price quote with one click.

Audrey Child

Salesforce Admin

accesso
Customer success
Get end-to-end support on Conga Composer
With support from Conga Services, Conga Community, and our technical team, we're able to support our customers and to solve any Composer questions that come up along the way.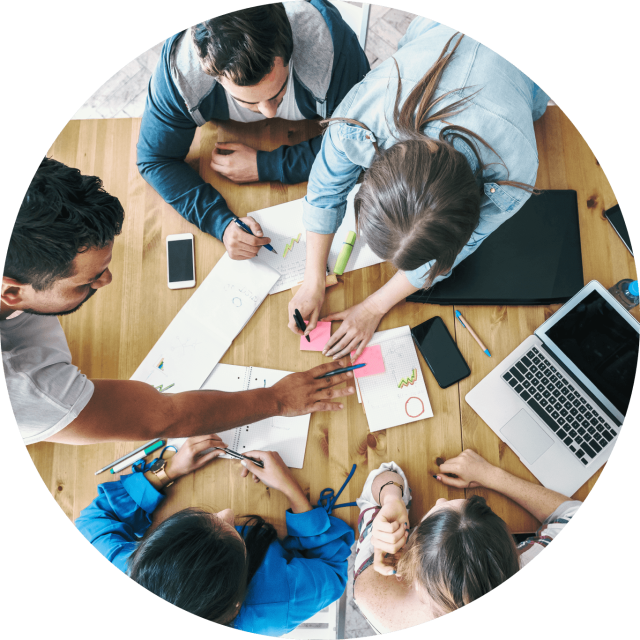 Conga Composer plays well with others
Conga's products are purpose-built to work together seamlessly, so you can automate and streamline commercial operations end-to-end.
Dig a little deeper
Success with Conga: T-Mobile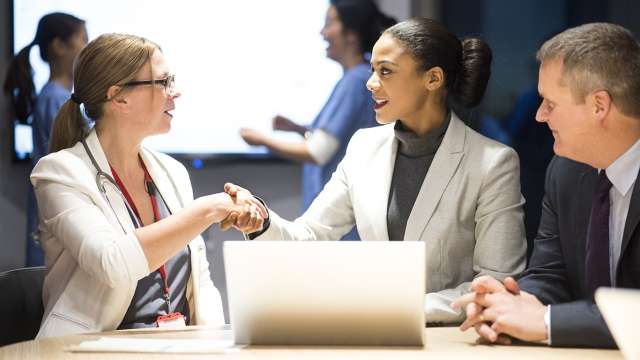 Business document automation: a complete guide
CLM
CPQ
Document Generation
Business document automation: a complete guide
20 min read
Download now
State of Revenue Lifecycle Management transformation
Document Generation
eSignature
Industry insights
State of Revenue Lifecycle Management transformation
17 min read
Download now
View all