Facets and features 
Conga Grid is a productivity tool within Salesforce that allows users to view, sort, and manage batches of data from a single screen. The ability to quickly interact with batches of data allows users to be more productive with their time and increase organizational efficiency, accuracy, and consistency. Overall, this leads to a better employee experience. 
Click the links below to jump to a product category:
Core features | Configure | View and update | Automation and integration
Core features
Conga Grid's core features give you the opportunity to get started immediately with a variety of pre-built templates to meet a variety of needs, making it quicker and easier to understand the solution and start using it at its fullest potential.  
Configure 
The ability to configure the way that your data is managed makes a monumental difference to the overall productivity of your team. With Conga Grid you can customize your data pulls in countless different ways to cater to your specific needs.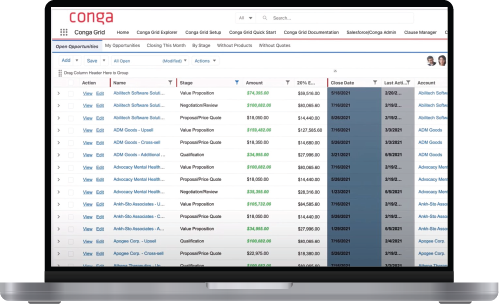 View and update 
Conga Grid offers countless ways to quickly generate customized sets of data to fit your business's needs, resulting in less time spent on data management, new ways to view updates to data and collaborate with your team, and the ability to generate key insights to help improve the way that you turn your data into action.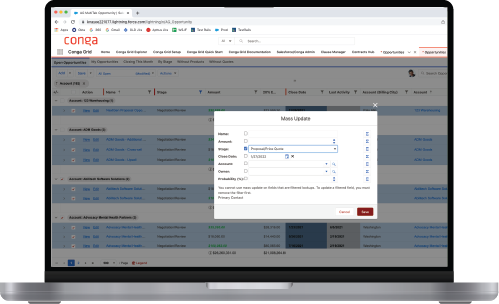 Automation and integration 
Ensuring products across your tech stack work seamlessly together and automating as much of any given process as you can is a key part of digital transformation and improving the way that an organization conducts business.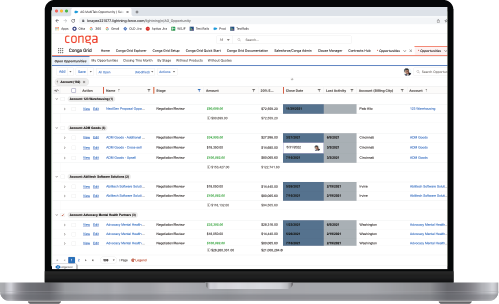 Automate 

Conditionally format cells and rows that need action based on pre-set conditions, such as time-based or user-based actions to automatically be flagged in different ways.  
Reviewing large sets of data to identify actions needed is far more efficient when you have the ability to add visual aids to your Grids. Highlight contacts that haven't been contacted in the last 30 days, opportunities that haven't moved stages within a set amount of time, and much more.  

Integrate 

Use Conga Grid in tandem with other Conga products, such as Conga Composer or Conga Sign, to insert accurate data into generated documents for sending and signature. 
Seamless integration with other Conga products extends process optimization beyond data management and into processes such as document generation and eSignature.  
Conga Grid for sales

Sales managers benefit greatly from Conga Grid because it provides the ability to mass add and edit data to increase productivity. Conga Grid also makes it possible to merge information to get a top-level view, like opportunities and overlay fields like activities, orders, and more to see trends.   

Conga Grid for operations

Conga Grid helps operations managers by offering the ability to create unique Grid views for data analysis, advanced smart filtering, and Excel-like functionality to easily find the data you need.  
See how Conga Grid can help your team
Conga Grid is your one place in Salesforce to view, sort, and manage your data. Simply put, anyone with a Salesforce license should be using Conga Grid.