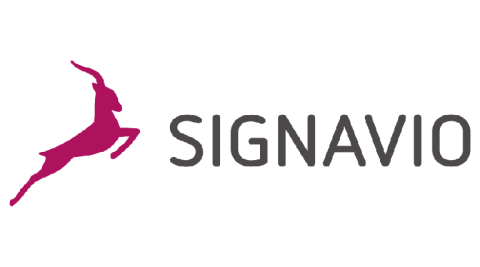 Signavio speeds up sales cycles with an end-to-end Conga solution
With "game-changer" Conga, Signavio took its contract process from days to hours
Challenge
Berlin-based SaaS provider Signavio strives to help businesses navigate change by working with them to analyze, improve, and reinvent their processes and operations. 
In Signavio's early years, a small sales team could more easily generate documents using templates of standard documents like non-disclosure agreements and data-processing agreements. But Signavio's legal department found it increasingly more difficult—if not impossible—to manually manage the rapidly growing volume of documents.
Since its founding in 2009, the company has seen significant growth, especially recently. Signavio now operates 11 entities internationally, and to keep up with that rapid expansion, they needed to reduce administrative work as well as shorten their sales cycle. 
Solution
Signavio found an end-to-end solution with Conga Composer, Conga CLM, Conga Orchestrate, and Conga Sign. These four solutions work together seamlessly to help them drastically shorten their sales cycle, while enabling their legal department to work more efficiently. 
The digital transformation of Signavio's sales process took place in three phases. First, Composer allowed them to automatically create common definitions, such as NDAs, and to pull the data from Salesforce to create contract documents.
The second phase included implementing Conga CLM and Orchestrate. With these two products, Signavio can create contracts using predefined boilerplate language. This language has already been approved by the legal department before being stored in the CLM clause library. The sales team can generate standard contracts without legal's oversight, saving both sales and the legal team considerable time. The legal department can now update these clauses centrally in the library and every new proposal that the sales department sends after the change will contain these new, adjusted T&Cs. Additionally, the sales department can fall back on alternate, pre-approved terms and conditions if needed during negotiations.
The final phase was the addition of Sign, which allows the customer to click a single button to accept the quote and add a signature electronically. Before, they would have to print out the quote, manually sign with a pen, scan the document as a PDF, and email it back to the sales rep. 
The new process made the sales cycle faster and liaising with the legal department smoother. The most significant improvement for the sales team is time saved for approvals and for sending out standard agreements. What once took up to three days to send out signed standard agreements and offers now only takes a few hours.
This time savings frees the legal department from administrative busywork to redirect time toward more strategic initiatives that further Signavio's business.

Business outcomes
15%, or 20 hours per week, workload shift for the legal department, from manual tasks to strategic projects
90% of all offers are now automatically approved immediately
75% of C-level signatures are now carried out electronically